M13/40/M14/41 & M15/42 Medium Tanks
Modèle initial avec moteur Diesel SPA TM40 de 125 ch et canon de 47 mm M37 L/32 avec vitesse initiale de 630 m/s.
Initial model with diesel engine SPA TM40 of 125 hp and gun of 47 mm M37 L/32 with initial speed of 630 m/s.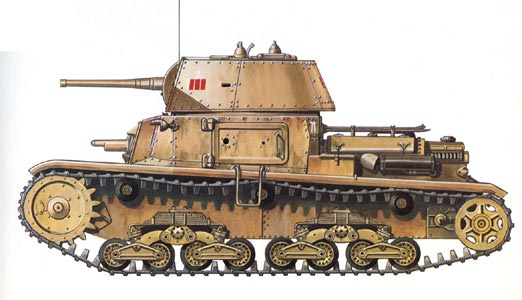 M13/40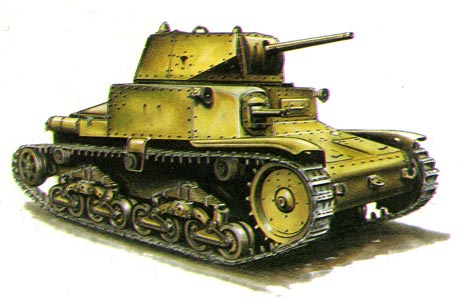 M13/40 Carro Armato Medio

Version améliorée du M13/40 équipée d'un moteur Diesel SPA 15T de 145 ch. Cela permit d'augmenter la vitesse légèrement et de porter l'autonomie à 280 km.
Version improved of M13/40 equipped with a Diesel SPA 15T engine of 145 hp wich allowed to increase speed slightly and to increase range to 280 km.
M14/41
M14/41
Le M15/42 fut la dernière tentative d'améliorer le M13/40. Il était équipé d'un canon de 47 mm plus long (calibre 40) avec une vitesse initial de 900 m/s, et d'un nouveau moteur essence 15TB développant 192 ch (170 ch en pratique). Le retour à un moteur essence est la conséquence de la décroissance des réserves de diesel de l'Italie. Le M15/42 était légèrement plus long et plus large que le M13/40.
M15/42 was the last attempt to improve M13/40. It was equipped with a 47 mm M39 L/40 gun wit a 900 m/s initial speed, and a new gasoline 15TB engine developing 192 hp (170 hp in practice). The return to a gasoline engine is the consequence of the decrease of the reserves of diesel of Italy. M15/42 was slightly longer and broader than M13/40.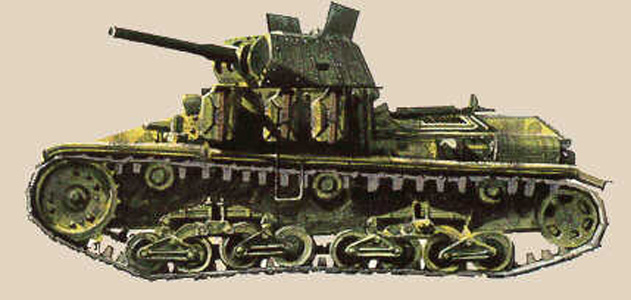 M15/42
Seulement 90 chars furent produits (à partir de 1943) avant l'armistice en septembre 1943. 28 autres exemplaires furent fabriqués par les Allemands en 1944.
Only 90 tanks were produced (from 1943) before the armistice in September 1943. 28 other specimens were manufactured by the Germans in 1944.
M15/42


Sources: