Le M13/40 était un char acceptable pour le début de la deuxième guerre mondiale, mais il fut vite dépassé par les réalisationsétrangères. Les Italiens ne trouvèrent jamais les ressources pour le remplacer. Les M13/41 et le M15/42 ne présentèrent que peu d'améliorations par rapport au modèle initiale. LE M13/40 fut conçu comme le cheval de bataille des divisions blindées italiennes. Les divisions blindées étaient composées de régiments à trois bataillons, formés de 3 compagnies à 3 pelotons, Chaque peloton était composé de 5 chars. Le total de chars par régiment atteignait 50 chars avec les chars de commandement et les réserves.
M13/40 was a tank acceptable for the beginning of the second world war, but it was quickly exceeded by the stranger designs. The Italians never found the resources to replace it. M13/41 and M15/42 presented only little improvements compared to the model initial. M13/40 was conceived as the war-horse of Italian armored divisions. Armored divisions were made up of regiments with three battalions, formed of 3 companies with 3 platoons, Each platoon was composed of 5 tanks. The total of tanks per regiment reached 50 tanks with the tanks of command and the reserves.
Le 32me régiment de la division Ariete fut la première unité à accueillir le M13/40 dans ses effectifs. En raison de la situation périlleuse en Afrique du Nord, le 32me régiment fut envoyé seul en Lybie et incorporé à la brigade blindée spéciale. Contrairement à la tactique allemande de l'emploi de blindés en masse, les Italiens utilisèrent leurs chars par petits paquets, qui furent rapidement balayés durant les contre-offensives britanniques de décembre 1940.
The 32th regiment of Ariete division was the first unit to accomodate M13/40 in its strenghts. Because of the perilous situation in North Africa, the 32th regiment was sent single in Lybie) and was incorporated to the special armored brigade. Contrary to the German tactic of use of tanks in mass, the Italians used their tanks by small packages, which were quickly swept during the British counter-offensives of December 1940.
Trois bataillons furent envoyés en renfort mais ce fut insuffisant pour reprendre la maîtrise de la situation en Afrique du Nord. A Beda Fomm, plus d'une centaine de M13/40, coupés de leur base, furent détruits et capturés par les Britanniques. Ceux-ci utilisèrent 112 M13/40 capturés en état de marche pour former leur 6me Royal Tank Regiment. Lorsque Rommel lança sa grande offensive, ces chars furent cependant repris, les Britanniques étant en déroute. En 1941, les M13/40 furent utilisés durant la campagne de Grèce au sein d'un bataillon de la division Centauro et de Yougoslavie. En 1941-1942, au sein des divisions Ariete et Littorio, les M13/40 partagèrent les succès, ainsi que les échecs de Rommel. Durant 1942, beaucoup de M13/40 furent remplacés par des M14/41.
Three battalions were sent in reinforcement but it was insufficient to take again the control of the situation in North Africa. At Beda Fomm, more of a hundred of M13/40, moved away of their base, were destroyed and captured by the British. Those used 112 M13/40 captured in operating condition to form to them 6th Royal Tank Regiment. When Rommel launched its great offensive, these tanks were however taken again, the British being in rout. In 1941, M13/40 were used during the campaign of Greece within a battalion of Centauro division and Yugoslavia. In 1941-1942, within divisions Ariete and Littorio, M13/40 shared successes, as well as the failures of Rommel. During 1942, much of M13/40 were replaced by of M14/41.
| | |
| --- | --- |
| | |
| Le blindage de ce M13/40 na pas resisté. La porte ouverte de la caisse peut laisser supposer que l'équipage a réussi à quitter le char. | M13/40 de la Division Littorio à El Qattara (Egypte) en juillet 1942. Remarquez le blindage artisanal composé de sacs de sable et de jerrycans. |
| Shielding of this M13/40 has not resisted. The open door of the hull can let suppose that crew succeeded to leave the tank. | M13/40 of Littorio Division in El Qattara (Egypt) in July 1942. Notice the artisanal shielding made up of sandbags and jerrycans. |
| | |
Après l'Armistice de Septembre 1943, 22 M13/40 furent capturés par les Allemands et utilisés par ceux-ci sous le nom de PzKpfw M13/40 735(i). Les troupes de la RSI (groupes Leoncello et Leonessa) furent équipés partiellement avec des M13/40. Ces M13/40 furent utilisés contres les Partisans en Italie du nord.
After the Armistice of September 1943,22 M13/40 were captured by the Germans and were used by those under the name of PzKpfw M13/40 735 (I). The troops of the RSI (groups Leoncello and Leonessa) were equipped partially with M13/40. These M13/40 were used counter the Partisans in North Italy.
| | |
| --- | --- |
| | |
| M13/40 abandonné et examiné par un soldat américain, probablement en 1943. | M13/40 et son transporteur. |
| M13/40 abandoned and examined by an American soldier, probably in 1943. | M13/40 ans its tank transporter. |
| | |
Le M14/41 arrivèrent en Lybie durant l'été 1942 et furent versés dans la division Centauro et dans la Division Littorio. Le M14/41 fut beaucoup employé à El Alamein et en Tunisie. Le 16 mars 1943, la Division Centauro disposait de 38 M14/41 lors de la bataille de la ligne Mareth. Le 25 avril 1943, le Raggruppamento Piscicelli avec ses 17 M14/41 remporta une victoire contre les Anglais à Gebel bou Koutnine. Un M14/41 participa même à la dernière bataille de chars en Afrique du Nord, le 8 mai 1943. On retrouva ensuite le M14/41 en Sardaigne au sein des XVIIIe battaglione et XVIe battaglione mixte.
M14/41 arrived in Lybia during summer 1942 and were versed in Centauro division and Littorio Division. M14/41 was employed much in El Alamein and in Tunisia. On March 16, 1943, Centauro Division had 38 M14/41 at the time of the battle of the Mareth line. On April 25, 1943, the Raggruppamento Piscicelli with its 17 M14/41 gained a victory against the English at Gebel bou Koutnine. A M14/41 took part even in the last battle of tanks in North Africa, on May 8, 1943. One found then M14/41 in Sardinia within the XVIIIth battaglione and XVIth mixed battaglione.
| | |
| --- | --- |
| | |
| Très belle vue d'un M14/41 abandonné toute trappe ouverte. | Sur ce M14/41 le blindage supplémentaire est obtenu au moyen de jerrycans et de patins de chenilles. |
| Very beautiful view of an abandoned M14/41 any hatch open. | On this M14/41 the additional shielding is obtained by means of jerrycans and track-links. |
| | |
Les Allemands n'utilisèrent qu'un seul exemplaire du M14/41 (Pz.Kpfw M14/41 736(i)) après l'Armistice du 8 septembre 1943. Ils fut plus aperçu dans les unités de la RSI, qui récupèrent quelques chars dans les casernes et les dépôts de l'Armée Royale. Ils furent utilisés par la RSI contre les partisans. Une des rare exception à cet usage; le 26 avril 1945, 2 M14/41 (avec 2 Semoventi L40 da 47/32) du Groupe Leonessa combattirent des chars US pendant 3 heures.
The Germans used one specimen of M14/41 (Pz.Kpfw M14/41 736 (I)) only after the Armistice of September 8, 1943. They was seen more in the units of the RSI, which recovers some tanks in the bases and deposits of the Royal army. They were used by the RSI against the partisans. One of the rare exception to this use; on April 26, 1945, 2 M14/41 (with 2 Semoventi L40 da 47/32) of the Leonessa Group fought US tanks during 3 hours.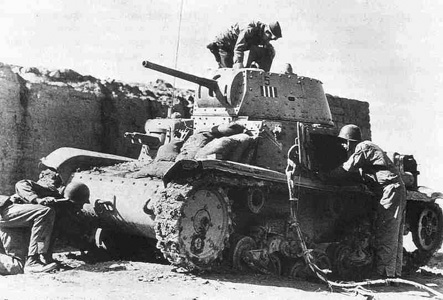 Soldats US fouillant un M14/41 de la Division Centauro, abandonné en Tunisie au printemps 1943, après les combats de la passe de Kasserine.
US soldiers inspecting a M14/41 of Centauro Division, abandoned in Tunisia in spring 1943, after the combat of the pass of Kasserine.
L'armée italienne (Regio Esercito) recevra en totalité, 82 exemplaires du M15/42. Ces chars allèrent équiper; une compagnie des XVIIIe et XIXe battaglioni, trois groupes blindés mixtes du 10e Reggimento Cavalleria Corazzata Lancieri di Vittorio Emanuele II (chacun sur 2 escadrons de Semoventi 75/18 et 1 escadron de M15/42), au sein de la Division Ariete II. Les M15/42 de la Division Ariete II participèrent à la bataille de Rome contre les anciens alliés allemands en septembre 1943.
Italian army (Regio Esercito) will receive entirely, 82 specimens of M15/42. These tanks went to equip; a company of XVIIIth and XIXth battaglioni, three mixed armored groups of 10th Reggimento Cavalleria Corazzata Lancieri di Vittorio Emanuele II (each one with 2 squadrons of Semoventi 75/18 and 1 squadron of M15/42), within Division Ariete II. M15/42 of the Division Ariete II took part in the battle of Rome against the old German allies in September 1943.
M15/42 de la Division Ariete II durant des manoeuvres en Italie, en mai 1943.

Un M15/42 parmi de nombreux véhicules capturés par les Alliés lors de l'Armistice de septembre 1943.

M15/42 of Division Ariete II during training operations in Italy,
May 1943.

M15/42 among many vehicles captured by the Allies at the time of the
Armistice of September 1943.
La firme Ansaldo continua la production du M15/42 après l'Armistice pour le compte des Allemands. Ceux-ci récupérèrent entre 28 et 40 exemplaires de cette nouvelle production (Pz.Kpfw M15/42 738(i)), qu'ils utilisèrent en Italie du Nord et dans les Balkans contre la guérilla des partisans. Certaines unités de la RSI, comme les groupes Leoncello et Leonessa furent dotés de M15/42.
The Ansaldo firm continued the production of M15/42 after the Armistice on behalf of the Germans. Those recovered between 28 and 40 specimens of this new production (Pz.Kpfw M15/42 738 (I)), that they used in North Italy and in Balkans against the guerrilla of the partisans. Certain units of the RSI, like the groups Leoncello and Leonessa were equipped with M15/42.
| | |
| --- | --- |
| | |
| M15/42 appartenant à la Wehrmacht, abanonné en Italie du nord. | M15/42 de la Whermacht. |
| M15/42 pertaining to Wehrmacht, abandoned in Italy of north. | M15/42 of the Wehrmacht. |
| | |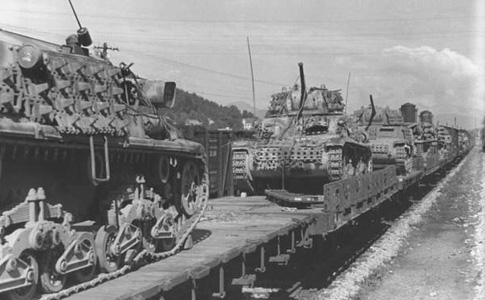 M15/42 assignés à la protection de convois ferroviaires.
M15/42 assigned with the protection of railway convoys.