M13/40/M14/41 & M15/42 Medium Tanks
Genesis
Le char moyen M11/39 avait démontré toutes ses limites, tant au niveau de la puissance du canon, tant au niveau de sa disposition sur la caisse; il fut décidé de monter une arme plus puissante sur tourelle. Le Regio Esercito (Armée royale italienne) sous l'égide du Général Caracciolo di Feroleto (Inspecteur-en-chef du Service Technique) donna son accord au design du M13/40 en décembre 1937. En raison de nombreux retards, le premier prototype fut présenté par Ansaldo-Fiat qu'en Octobre 1939, et celui-ci ne fut accepté pour la production qu'en mars 1940. Une commande de 538 exemplaires fut passée rapidement et la production débuta en Juin 1940. L'arme principale était maintenant installée dans une tourelle pivotante bien mieux conçue que celle du M11/39.
The medium tank M11/39 had shown all its limits, so much on the level of the firepower, so much on the level of its layout on the hull; it was decided to mount a more powerful weapon on turret. Regio Esercito (Italian Royal Army) under the aegis of the General Caracciolo di Feroleto (Inspector-in-chief of the Technical service) gave his agreement to the design of M13/40 in December 1937. In reason of many delays, the first prototype was presented by Ansaldo-FIAT only in October 1939, and this one was only accepted for the in March 1940. An order of 538 specimens had placed quickly and the production began in June 1940. The mainly weapon was now installed in a swivelling turret well better designed than that of M11/39.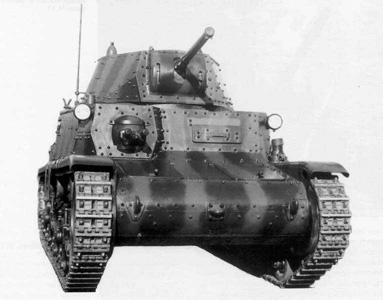 M13/40 Prototype
Le M13/40 avec le M14/41 fut produit à environ 3000 exemplaires par la firme Ansaldo-FIAT jusqu'en 1942. Le modèle final, le M15/42 ne fut produit qu'à 82 exemplaires pour concentrer les efforts de l'industrie italienne sur les canons automoteurs "Semoventi".
M13/40 with M14/41 was produced to approximately 3000 specimens by firm Ansaldo-FIAT until 1942. The final model, M15/42 was only produced to 82 specimens to concentrate the efforts of Italian industry on the self-propelled guns " Semoventi".
M13/40 Carro Armato Medio


Sources: