M13/40/M14/41 & M15/42 Medium Tanks
Design: Front Compartment
L'équipage du M13/40 était composé de 4 hommes. Le pilote et le mitrailleur de caisse prenaient place dans le compartiment de conduite à l'avant; le pilote à gauche et le mitrailleur à droite. L'accès à la caisse se faisait via une large trappe montée sur charnières (équipée d'une fente de vision sur le prototype) située sur la partie gauche de la superstructure. Sur le glacis, deux autres trappes (boulonnées) permettaient d'atteindre la transmission de type monodisque (à 5 rapports: 4/1 - 6 rapports pour le M15/42: 5/1) et les commandes finales qui actionnaient les barbotins situés à l'avant. La direction était obtenue en freinant sur un des deux chenilles.
The crew of M13/40 was composed of 4 men. The driver and the bow machine-gunner took seat in the steering compartment in front; the driver on the left and the machine-gunner on the right. Access to the hull was made via a broad hatch assembled on hinges (equipped d' a slit of vision on the prototype) located on the left part of the superstructure. On the glacis, two other trap doors (bolted) allowed reach transmission of monodisc type (5 speeds: 4/1 - 6 speeds for M15/42: 5/1) and the final commands which actuated the sprocket-wheels located in front. The steering was obtained while slowing down on one of the two tracks.
Glacis

Nose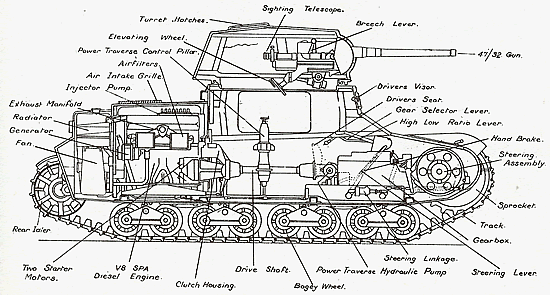 Side Cutaway
La plaque frontale de la superstructure accueillait sur sa droite dans une saillie, deux mitrailleuses Breda de 8 mm jumelles, et sur sa gauche la trappe de conduite du pilote. Cette trappe était fermée durant le combat et la vision du pilote était assurée par une simple fente.
The frontal plate of the superstructure accomodated on its right side in a projection, two twins Breda machine-guns of 8 mm, and on its left the vision hatch of the driver. This hatch was closed during the combat and the vision of the driver was ensured by a simple slit.

Superstructure Front Plate
M14/41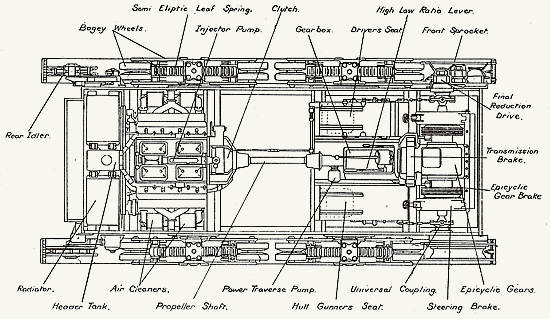 Top Cutaway
A partir du 150ème exemplaire environ, des équipements radio furent installés.
From the 150th tank approximately, radio equipment was installed.

Left side of the prototype

Left side of the first production models

Left side of the last production models
Design: Combat Compartment
Le M13/40 était armée d'un pièce de 47 mm calibre 32 (calibre 40 pour le M15/42) aux capacités suffisantes pour l'époque, comme une vitesse initiale 670 m/s (900 m/s pour le canon du M15/42). Le canon pouvait être actionné manuellement ou au moyen d'une pédale de tir. L'armement secondaire de la tourelle était constituée d'une mitrailleuse coaxiale Breda de 8 mm. Une deuxième mitrailleuse Breda pouvaient être installée sur le toit de la tourelle pour la défense anti-aérienne. L'emport en munitions était de 104 obus de 47 mm (111 pour le M15/42) et 3048 projectiles de 8 mm pour les Breda. La rotation de la tourelle pouvait être obtenue manuellement ou au moyen d'un système hydraulique. Notons que certains équipages démontaient ce système hydraulique pour gagner de la place dans la tourelle.
M13/40 was armed with a 47 mm L/32 gun (L/40 on the M15/42) with sufficient capacities for this time, like an initial speed 670 m/s (900 m/s for the gun of M15/42). The gun could be actuated manually or by the means of a firing pedal. The secondary armament of the turret was made up of a coaxial machine-gun Breda of 8 mm. A second Breda machine-gun could be installed on the roof of the turret for the anti-aircraft defence. The carrying in ammunition was of 104 rounds of 47 mm (111 for M15/42) and 3048 projectiles of 8 mm for Breda MGs. The traverse of the turret could be obtained manually or by the means of a hydraulic system. Let us note that certain crews dismounted this hydraulic system to gain place in the turret.

Prototype Turret

Production Model (left side)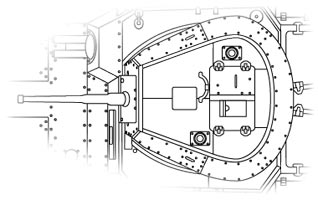 Turret Top

Turret Front & Rear
La tourelle accueillait les deux derniers membres de l'équipage; le chef-de-char-tireur (à droite) et le chargeur du canon (à gauche). La double fonction de chef-de-char et de tireur du commandant ne manquait pas de poser problème (surcharge de travail, surtout en situation de combat). La vision sur la tourelle était procurée sur chaque côté par une simple fente de vision (un troisième fente était présente à l'arrière de la tourelle sur le prototype, mais fut supprimée sur le modèle de production), sur le toit par deux périscopes rotatifs. La lunette de pointage était située à la droite du canon sur le bouclier. L'accès à la tourelle se faisait grâce à une trappe en deux parties montées sur charnières sur le toit.
The turret accomodated the last two crewmen; the chief-of-tank-gunner (on the right) and the loader of the gun (on the left). The double function of chief-of-tank and gunner of the commander did not fail to pose problem (extra work, especially in situation of combat). The vision on the turret was gotten on each side by a simple slit of vision (a third slit was present at the back of the turret on the prototype, but was removed on the model of production), on the roof by two rotary periscopes. The pointing sight was located at the right side of the gun on the shield. Access to the turret was done thanks to a hatch in two parts assembled on hinges on the roof.
47 mm Cannone M37 L/32

Penetration of a shielding plate (mm) under a plunging angle of 30°

Weight

Velocity

100 m

500 m

1000 m

1500 m

2000 m

1.45 kg

670 m/s

57

44

32

23

17
47 mm Cannone M39 L/40

Penetration of a shielding plate (mm) under a plunging angle of 30°

Weight

Velocity

100 m

500 m

1000 m

1500 m

2000 m

1.45 kg

900 m/s

71

57

43

32

24


Sources: