Iosef Stalin Heavy Tanks
Le IS-1, première version de la famille IS était armé du canon de 85 mm D-5T comme le KV-85 développé en même temps. Le IS-1 avait pour avantage d'être mieux blindé (blindage frontale max. de 120 mm) tout en gardant un mobilité similaire. Le IS-1 était équipé de la même tourelle moulée que le KV-85. La superstructure qui dépassait au dessus des chenilles permit l'installation de cette tourelle.
The IS-1, first version of family IS were armed with the gun of 85 mm D-5T like the KV-85 developed at the same time. The IS-1 had the advantage of being better armoured (max. shielding frontal of 120 mm) while keeping a similar mobility. The IS-1 was equipped with the same cast turret as the KV-85. The superstructure which exceeded over the top of the tracks allowed the installation of this turret.
IS-1 (IS-85)
Le canon de 85 mm pourtant assez efficace contre les chars lourds allemands (à 1000 m max.) fut vite jugé insuffisant pour assurer aux Russes la suprématie sur le champ de bataille et la production du IS-1 fut vite abandonnée au profit du IS-2 armé du canon de 122 mm.
The rather effective gun of 85 mm however against the German heavy tanks (to 1000 m max.) was quickly judged insufficient to ensure the Russians supremacy on the battle field and the production of the IS-1 was quickly abandoned to the profit of the IS-2 armed with the gun of 122 mm.

Le IS-2 était armé d'un canon-obusier de 122 mm A-19 modèle 1931, doté de performances anti-chars inférieures aux canons allemands mais dont l'obus explosif très puissant pouvaient infliger de graves dégâts structurels à ses adversaires. Cependant le développement de cette arme et de son frein de bouche se révéla laborieuse. De plus la cuirasse du JS-2 pourtant épaisse restait vulnérable aux armes anti-chars allemandes. En effet, lors des impacts, des morceaux se détachaient souvent à l'intérieur, devenant ainsi autant de projectiles pouvant blesser (dès fois mortellement) l'équipage. Le glacis à l'avant de la caisse est le principal point faible du blindage de ce char. La copie doit être revue pour que ce char puisse tirer profit de son grand potentiel face aux chars allemands, cela bien sûr au détriment des cadences de production.
The IS-2 was armed of a gun-howitzer of 122 mm A-19 model 1931, with anti-tank performances lower than the German guns but with a very powerful high-explosive round could inflict serious structural damage to its adversaries. However the development of this weapon and its muzzle brake appeared hard. Moreover the armor of the JS-2 however thick remained vulnerable to the German anti-tank weapons. Indeed, at the time of the impacts, more pieces were often detached inside, becoming thus as many projectiles being able to wound (as of time mortally) the crew. The frontal glacis is the principal weak point of the shielding of this tank. The copy must be re-examined so that this tank can benefit from its great potential vis-a-vis the German tanks, that of course to the detriment of the production paces.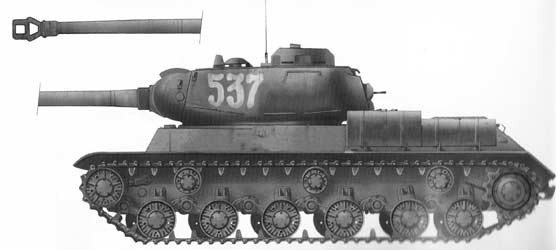 IS-2 (IS-122)
Models: IS-2M, IS-2 Model 44 (IS-122)
En 1944, le IS-2 bénéficia d'un programme de modernisation en vue de gommer ses principaux défauts. Le dessin du glacis est modifier pour le rendre plus efficace et la trappe d'accès du pilote est supprimée, améliorant ainsi la résistance structurelle de l'avant de la caisse tout en simplifiant la production. La tourelle accueille désormais un canon de 122 mm D-25T doté d'un frein de bouche différent et surtout d'un système de chargement semi-automatique. Cependant comme pour le IS-2, les obus sont toujours conditionnés en deux parties en raison de leur taille. Cet état de fait est bien entendu nuisible au niveau de la cadence de tir par rapport à ses opposants sur le champ de bataille. Ce nouveau modèle sera baptisé IS-2 modèle 1944 ou IS-2M (M pour Modernisé). Notons encore que le char reçoit de nouveaux optiques, positionnés différemment et que les trappes d'observation sont supprimées.
In 1944, the IS-2 profited of a modernization program in order to gum its principal defects. The drawing of the glacis is to modify to make it more effective and the driver's hatch is removed, thus improving structural resistance of the front part of the hull while simplifying the production. The turret accomodates from now a gun of 122 mm D-25T equipped with a different muzzle brake and especially a semi-automatic system of loading. However as for the IS-2, the rounds are always conditioned in two parts because of their size. This fact is of course harmful on the level of the rate of shooting compared to its opponents on the battle field. This new model will be baptized IS-2 model 1944 or IS-2M (M for Modernized). Still let us note that the tank receives new optics, positioned differently and that the hatches of observation are removed.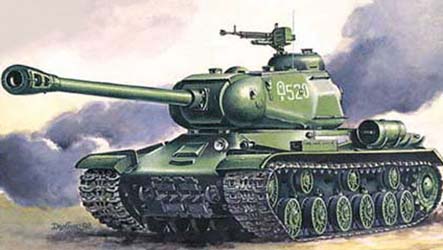 IS-2M (modernized version)
IS-2 redessiné avec une silhouette plus basse et une tourelle en forme de carapace.
IS-2 redesigned with a lower silhouette and pointed hull and the turret was carapace shaped.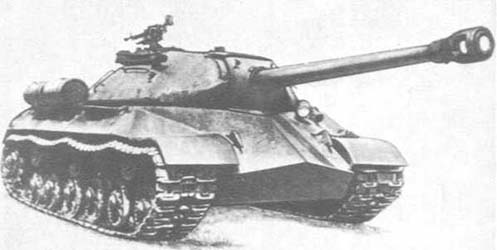 IS-3



Sources:
Les blindés de la Seconde Guerre Mondiale, Ed. Atlas