Iosef Stalin Heavy Tanks
IS-3 Genesis & Design
Durant l'été 1944, les Russes lancèrent un programme de chars lourds, le Kirovets-1 en raison des lourdes pertes subies à cause des armes antichar allemandes. Deux projets concurrants furent s'opposèrent. Le premier projet était basé sur les projets 244, 245 et 248. Il devait être équipé d'un glacis composé de deux plaques soudées entre-elles dont l'arête était disposée longitudalement (nez de brochet). Cette disposition permettait de réduire le poids du char et et les ingénieurs espéraient que ce type de nez offrirait plus de résistance au feu ennemi. Cette version n'avait pas de radio-opérateur et le pilote était assis au centre du poste de pilotage. La caisse était soudée car beaucoup de foundries étaient occupée par la production des tourelles du IS-2 et du T-34 et que les Russes avaient faits de gros progrès dans l'assemblage par soudure.
During the summer 1944, the Russians launched a program of heavy tanks, Kirovets-1 because of the heavy losses undergone because of the German anti-tank weapons. Two concurrants projects were were opposed. The first project was based on projects 244, 245 and 248. It was to be equipped with a glacis composed of two plates welded enters of which the edge was laid out in longitude (pike nose). This provision made it possible to reduce the weight of the tank and and the engineers hoped that this type of nose would offer moreresistance to the enemy's fire. This version did not have an radio-operator and the driver had sat in the center of the cockpit. The hull was welded because much foundries were occupied by the production of the turrets of the IS-2 and T-34 and that the Russians had made large progress in the welding assembly.
First prototype of the IS-3
Le deuxième projet était équipée d'une tourelle révolutionnaire en forme de galet de rivière applati et armée du 122 mm D-25T, qui ressemble fortement à celle des chars russes modernes. Elle avait pour particularité de dévier plus facilement les obus perforants ennemis. Fait important, la bonne disposition des éléments permis sans accroitre les dimensions d'installer un blindage nettement plus épais (250 mm max. à la place de 100 mm pour le IS-2).
The second project was equipped with a revolutionary turret in the shape of a flat roller of river and was armed with 122 mm D-25T, which strongly resembles that of the modern Russian tanks. It had as a characteristic to deviate the enemy's piercing rounds more easily. Important fact, the good provision of the elements allowed without increasing dimensions to install a shielding definitely thicker (250 mm max. in the place of 100 mm for the IS-2).
Final protoptype of the IS-3
Les deux prototypes furent montrés au Ministre de l'industrie des blindés, V.A. Malyshev. Ce dernier décida de mélanger les éléments intéressants des deux projets pour constituer un seul modèle: la tourelle du projet n°2 devait être montée sur la caisse du projet n°1. Le premier prototype de ce char de rupture appelé projet 703 fut finalisé en octobre 1944. Stalin accepta peu après le nouveau char pour la production.
The two prototypes were shown to the Minister of Industry of the armoured tanks, V.A. Malyshev. This last decided to mix the interesting elements of the two projects to constitute only one model: the turret of the n°2 project was to be assembled on the hull of the n°1 project. The first prototype of this breakthrough tank called project 703 was finalized in October 1944. Stalin accepted little after the new tank for the production.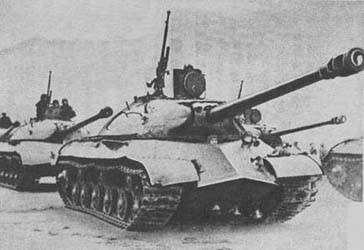 IS-3
Le IS-3 disposait d'une excellente caisse et d'une excellente tourelle, dotées d'un blindage incliné qui procurait au char une excellente protection. A l'avant le pilote disposait d'une petite trappe avec un épiscope rotative (flanquée sur la gauche de l'unique phare avant), juste au dessus du glacis typique type "nez de brochet". Notons que le périscope devait être enlevé pour ouvrir la trappe. La plaque arrière de la caisse penchait vers l'arrière. Les côtés de la superstructure étaient aussi pentus et surplombaient les chenilles.
The IS-3 had of an excellent hull and an excellent turret, equipped with a tilted shielding which provided the tank an excellent protection. In front of the driver had a small trap door with a rotary episcope (flanked on the left of the single front headlight), just on the top of the "nose of pike" glacis typical type. Let us note that the periscope was to be removed to open the trap door. The back plate of the hull leaned backwards. The sides of the superstructure were also sloping and overhung the tracks.
Le canon de 122 mm D-25T semi-automatique était équipé d'un frein de bouche et possédait une cadence de tir de 2-3 tirs par minute. Le IS-3 transportait comme le IS-2 28 munitions de 122 mm: 18 obus explosifs à fragmentation et 10 obus perforants. On peut en déduire, que l'infanterie ennemie et les cibles légères étaient les principaux objectifs de ce char. Les optiques étaient de type TSh-17 et POP. L'armement était complété par une mitrailleuse DT de 7.62mm montée à l'avant de la tourelle avec le canon et par une mitrailleuse lourde anti-aérienne DShK de 12.7mm montée sur un affût circulaire sur le toit de la tourelle. La tourelle n'avait pas de coupole de commandant mais deux trappes montées sur charnières. Elle était également équipée de trois épiscopes rotatifs. L'équipage du IS-3 était composé de 4 hommes: le pilote, le commandant, le tireur et le chargeur.
The gun of 122 mm D-25T semi-automatic was equipped with a muzzle brake and had a rate of shooting of 2-3 shootings per minute. The IS-3 carried like the IS-2 28 ammunition of 122 mm: 18 high-explosive rounds with fragmentation and 10 piercing rounds. One can deduce from it, that the enemy infantry and the light targets were the principal objectives of this tank. Optics was of type TSh-17 and POP. The armament was supplemented by a machine-gun DT of 7.62mm assembled in front of the turret with the gun and by an anti-aircraft heavy machine gun DShK of 12.7mm assembled on a circular mounting on the roof of the turret. The turret did not have a cupola of commander but two trap doors assembled on hinges. It was also equipped with three episcopes rotary. The crew of the IS-3 was composed of 4 men: the pilot, the commander, the gunner and the loader.
122 mm D-25T L/43 (1943) armor penetration table

Penetration of an armor plate (mm)

Ammo type

Weight

Muzzle velocity m/s

Angle

100 m

500 m

1000 m

1500 m

2000 m

BR-471

24.90 kg

800 m/s

60°

-

122

115

107

97

90°

-

152

142

133

122

BR-471B

24.90 kg

60°

125

120

110

100

90°

-

155

143

132

116
IS-3
Le IS-3 était équipé de 4 réservoirs internes (520 L au total) disposés par pairs des deux côtés du moteur. On pouvait y ajouter 4 réservoirs externes cylindriques (90 L chacun) disposés par pairs de chaque côtés du plateau arrière. Ces réservoirs externes pouvaient être ejéctés facilement en cas d'attaque subite de l'ennemi. Le IS-3 était également équipé du même moteur que le IS- 2 (V-12 diesel V-2-IS de 600 cv) et de la même transmission (4 vitesses en marche avant et une marche arrière) et la même suspension. Les performances des deux chars étaient fort similaires. Notons que si les deux chars avaient à peu près le même poids, le IS-3 était mieux protégés surtout au niveau de la tourelle.
The IS-3 was equipped with 4 inboard tanks (520 L on the whole) laid out by pars on the two sides of the engine. One could add to it 4 cylindrical external tanks (90 L each one) laid out by pars on each sides of the rear deck. These external tanks could be ejected easily in the event of sudden attack of the enemy. The IS-3 was also equipped with the same engine as the IS- 2 (V-12 diesel V-2-IS of 600 hp) and with the same transmission (4 forward speeds and a reverse speed) and the same suspension. The performances of the two tanks were extremely similar. Let us note that if the two tanks had about the same weight, the IS-3 were protected better especially on the level from the turret.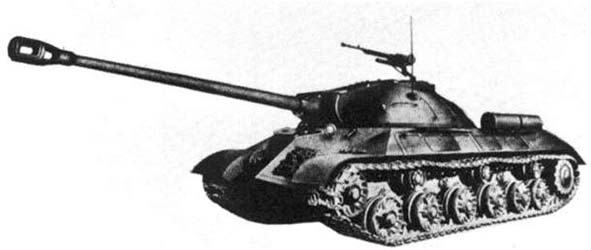 IS-3
Les premiers IS-3 quittèrent l'usine (ChKZ) vers la moitié de mai 1945, trop tard pour participer aux dernières batailles sur le front oriental. Il est possible que des IS-3 furent utilisés sur le front d'extrême orient contre les Japonais en août 1945. En tout 350 IS-3 furent produits durant 1945.
The first IS-3 left the factory (ChKZ) towards half of May 1945, too late to take part in the last battles on the Eastern front. It is possible that IS-3 were used on the Far East front against the Japanese in August 1945. In all 350 IS-3 were produced during 1945.


Sources:
Les blindés de la Seconde Guerre Mondiale, Ed. Atlas