T-28 Medium Tank
Principal modèle produit. Ce modèle se distinguait du prototype au niveau de l' assemblage qui était obtenu désormais par soudure (rivetage pour le prototype) et de l' armement principal qui consistait désormais en un canon de 76.2 mm KT-28 à canon court (à la place du canon de 45 mm du prototype). Le châssis et la transmission furent également améliorés (T-35A).
Main production model. This model was distinguished from the prototype on the level of the assembly which was obtained from now on by welding (riveting for the prototype) and the principal armament which consisted from now on of a gun of 76.2 mm KT-28 to short gun (in the place of the gun of 45 mm of the prototype). The chassis and the transmission were also improved.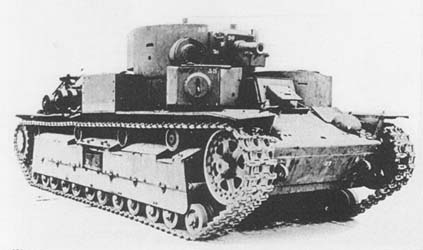 T-28A
src: Les Blindés de la deuxième guerre mondiale, Ed. Atlas
En 1938, le T-28 fut réarmé avec le canon de 76.2 mm L-10.
In 1938, T-28 was rearmed with the gun of 76.2 mm L-10.
T-28B
A partir de décembre 1939, la protection fut amélioré par le montage de plaques de blindage supplémentaire. Le blindage était de 80 mm à l' avant et de 40 mm sur les côtés et le poids était désormais de 32 tonnes. Ce modèle fut baptisé T-28e (ekranirovannij - super protégé).
From December 1939, protection was improved by the assembly of additional armour-plates. The shielding was 80 mm in front and 40 mm on the sides and the weight was from now on 32 tons. This model was baptized T-28e (ekranirovannij - extra protected).


En 1940 le T-28 fut équipé d'une tourell conique comme sur les derniers T-35.
In 1940 T-28 was equipped with a conical turret as late-production T-35 tanks.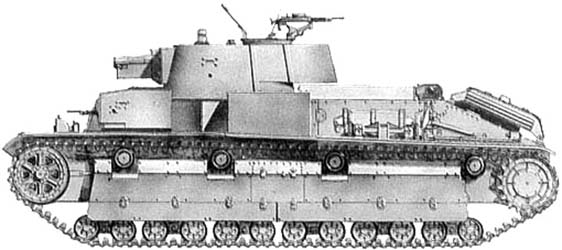 T-28 Model 1940.


Sources:
site WWII Vehicles
Les blindés de la Seconde Guerre Mondiale, Ed. Atlas