T-28 Medium Tank
Genesis
Le T-28 avec son grand frère T-35 fut le char emblématique de l' armée rouge d' avant la Grande Guerre Patriotique. Il participa à de nombreuses parades sur la Place rouge. En 1931, des ingénieurs russes (Bureau de développement OKMO - Opytnij Konstruktorsko-Mekhanicheskij Otdel) débutèrent le travail sur un char à trois tourelles à Leningrad. A la fin de 1931, le premier prototype fut testé sur terrain. Le nouveau char avait été conçu comme char de rupture (soutient d' infanterie à grande distance). Son architecture devait beaucoup aux conceptions étrangères contemporaines. La disposition à tourelles multiples comprenait une tourelle principale et deux tourelles secondaires.
T-28 with its big brother T-35 was the emblematic tank of the Red Army of before the Great Patriotic War. It took part in many parades on the Red Square. In 1931, Russian engineers (Office of design OKMO - Opytnij Konstruktorsko-Mekhanicheskij Otdel) began work on a tank with three turrets at Leningrad. With the end of 1931, the first prototype was tested on proving ground. The new tank had been designed as tank ofbreakthrough (supports of infantry at long distance). Its architecture had much to the contemporary foreign designs. The provision with multiple turrets included a principal turret and two secondary turrets.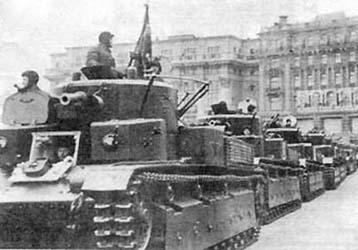 T-28A
La tourelle principal de ce nouveau char était armé d' un canon de 45 mm et une mitrailleuse de 7.62 mm DT. Les deux autres tourelles (plus petites) étaient armée d' une mitrailleuse de 7.62 mm DT. La tourelle principale pivotait grâce à un moteur électrique (une innovation pour l' époque). Les tests sur terrain révélèrent de nombreux défauts au niveau du châssis et de la transmission. En 1932, la section de production de chars de l' usine Bolshevik fut séparée de cette dernière et réorganisée en unité indépendante, l' usine n°174. La 174 fut réservée à la production du char léger T-26 et la production du char moyen T-28 fut donc confié au plant industriel Krasniji Putilovetz à partir de novembre 1932.
The main turret of this new tank was armed with a gun of 45 mm and a machine-gun of 7.62 mm DT. The two other turrets (smaller) were armed with a machine-gun of 7.62 mm DT. The principal turret swivelled thanks to an electric motor (an innovation for the time). The tests on ground revealed many defects on the level of the chassis and transmission. In 1932, the section of production of tanks of the Bolshevik factory was separated from the latter and was reorganized in independent unit, the factory n°174. The 174 was reserved for the production of the light tank T-26 and the production of the medium tank T-28 was thus entrusted to the industrial plant Krasniji Putilovetz as from November 1932.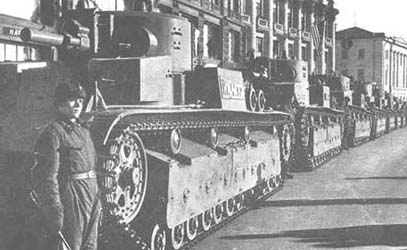 T-24B
Production
Pour assurer la production du T-28n un bureau spécial de développent fut créé (SKB-2), dirigé par O.M. Ivanov. Le 25 février 1933, les 8 premières caisses furent produits et l' assemblage des 4 premiers chars débuta. Le 1er mai, 12 T-28 étaient complétés dont 10 prirent part à une parade militaire à Moscou et 2 à une autre parade à Leningrad. Le 11 août 1933, le nouveau char fut accepté pour le service sous la désignation T-28.
To ensure the production of T-28n a special office of design was created (SKB-2), directed by O.M. Ivanov. February 25, 1933, the 8 first hulls were produced and the assembly of the 4 first tanks began. May 1, 12 T-28 were completed of which 10 took part in a military parade in Moscow and 2 with another parade in Leningrad. August 11, 1933, the new tank was accepted for the service under T-28 designation.
T-28 at the factory
La première commande, stipulait une production de 90 exemplaires mais à la fin de 1933, seulement 41 véhicules purent être complété. Au total 503 exemplaires furent produits jusqu' à la fin de la production en 1938.
The first order, stipulated a production of 90 specimens but at the end of 1933, only 41 vehicles could be completed. On the whole 503 specimens were produced until the end of the production in 1938.


Sources:
site WWII Vehicles
Les blindés de la Seconde Guerre Mondiale, Ed. Atlas