Semoventi da 75/18 Scafo M40/M41 & M42 (Assault Guns)
Genesis
Plus les événements s'enchaînaient en Afrique du Nord, il devenait évident que les chars moyens italiens ne pouvaient plus faire face efficacement aux nouveaux chars alliés. Comme le char lourd promis ne pouvait être prêt avant 1943, une solution intérimaireétait nécessaire. La solution allemande du canon d'assaut fut proposée par le colonel Sergio Berlese en décembre 1940 à l'ingénieur Rosini de la firme Ansaldo-Fossatti. Le 10 janvier 1941, une maquette en bois fut finalisée à l'usine Ansaldo à Gênes. Une commande immédiate de 30 exemplaires fut passée, suivie d'une autre de 400 autres exemplaire, peu après. La production débuta après les essais de tirs qui eurent place à Cornigliano le 10 février 1941.
At the view of the events in North Africa, it became obvious that the Italian medium tanks could not face effectively with the new allied tanks any more. As the promised heavy tank could not be ready before 1943, an interim solution était necessary. The German solution of the assault gun was proposed by colonel Sergio Berlese in December 1940 to the engineer Rosini of the Ansaldo-Fossatti firm. On January 10, 1941, a model out of wooden was finalized at the Ansaldo factory in Genoa. An immediate order of 30 specimens had placed, followed of another of 400 other specimen, shortly after. The production began after the tests of fire which had place at Cornigliano on February 10, 1941.
Prototype
C'est le châssis du M13/40 qui fut choisi pour réaliser ce canon automoteur. La tourelle du char moyen fut supprimée et un obusier de 75/18 fut installé dans une superstructure complètement fermée. Cela permettait d'augmenter fortement la puissance de feu tout en utilisant le maximum d'éléments d'un char produit en série. La suppression de la tourelle abaissa également la silhouette du char le rendant moins vulnérable aux attaques ennemies. Le blindage fut également augmenté, pour atteindre au maximum 50 mm. Le nouvel engin fut baptisa Semovente da 75/18 M40.
It's the chassis of M13/40 which was selected to produce this self-propelled gun. The turret of the medium tank was removed and an howitzer of 75/18 was installed in a completely closed superstructure. That allowed to increase strongly the firepower while using the maximum of elements of a tank produced in series. The removal of the turret also lowered the silhouette of the tank making it less vulnerable to the enemy attacks. The shielding was also increased, to reach to the maximum 50 mm. The new vehicle was baptized Semovente da 75/18 M40.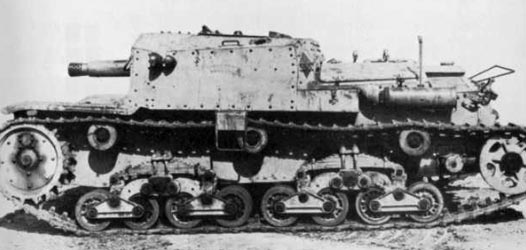 Semovente da 75/18 M40.
Contrairement au M13/40 peu apprécié, le Semovente M40 connu rapidement un franc succès auprès des équipages italiens dès sa mise en service au début 1942. Seulement 60 exemplaires furent construits sur base du M13/40 qui seront suivis par 162 exemplaires fabriqués sur base du M14/41 (Semovente da 75/18 M41) et 243 exemplaires fabriqués sur base du M15/42 (Semovente da 75/18 M42)
Contrary to little appreciated M13/40, Semovente M40 quickly known a big hit near the Italian crews from its startup at the beginning of 1942. Only 60 specimens were built on the basis of M13/40 which will be followed by 162 specimens manufactured on basis of M14/41 (Semovente da 75/18 M41) and 243 specimens manufactured on basis of M15/42 (Semovente da 75/18 M42).


Sources: