M11/39 Medium Tank
Design: Front Compartment
L'équipage du M11/39 était composé de 4 hommes. Le pilote et le canonnier prenaient place dans le compartiment central; le pilote à gauche et le canonnier à droite. L'accès à la caisse se faisait via une large trappe montée sur charnières située sur la partie gauche de la superstructure. Sur le glacis, deux autres trappes permettaient d'atteindre la transmission de type monodisque (à 5 rapports: 4/1) et les commandes finales qui actionnaient les barbotins situés à l'avant. La direction était obtenue en freinant sur un des deux chenilles.
The crew of M11/39 was composed of 4 men. The driver and the gunner took seat in the central compartment; the driver on the left and the gunner on the right. The access to the hull was done via a broad hatch assembled on hinges located on the left part of the superstructure. On the glacis, two other hatches allowed to reach transmission of the monodisc type (5 speeds: 4/1) and the final commands which actuated the sprocket-wheels located in the front. The steering was obtained while slowing down on one of the two tracks.
Glacis & Superstructure

Nose
La plaque frontale de la superstructure accueillait sur sa droite dans une casemate, son canon de 37 mm Vickers Terni, et sur sa gauche la trappe de conduite du pilote. Cette trappe était fermée durant le combat et la vision du pilote était assurée par une simple fente. Le canon de 37 mm possédait un champ de tir horizontal limité (15° à gauche comme à droite) et était approvisionné avec 84 projectiles de 37 mm. Le canon était également équipé d'une lunette de visée téléscopique.
The frontal plate of the superstructure accomodated on its right in a casemate, its gun of 37 mm Vickers Terni, and on its left the driver's window. This Window was closed during the combat and the vision of the driver was ensured by a simple slit. The gun of 37 mm had a limited traverse (15° on the left like on the right) and was supplied with 84 rounds of 37 mm. The gun was also equipped with a telescopic sight tube.

Superstructure Front Plate
37 mm Cannone Vickers Terni L/40

Penetration of a shielding plate (mm) under a plunging angle of 30°

Ammo

Weight

Velocity

100 m

500 m

1000 m

1500 m

2000 m

Amor Piercing Mk.I

0.68 kg

640 m/s

47

35

28

22

16
Chaque côté de la superstructure était équipé de sabords de tir au pistolet (2 pour le côté droite). Sur le toit de la superstructure à la droite de la tourelle on trouvait une trappe d'accès montée sur charnières.
Each side of the superstructure was equipped with ports of pistol shooting (2 for the right side). On the roof of the superstructure to the right of the turret one found an access hatch assembled on hinges.

Left side
Design: Combat Compartment
La petite tourelle du M11/39 actionné par le chef de char était armée de deux mitrailleuses Breda de 8 mm modello 1938, approvisionnées avec 2808 projectiles. Les mitrailleuses jumelles étaient montées sur un affût moulé doté d'une lunette de visée télescopique. Un périscope rotatif était installé sur le toit.
The small turret of M11/39 actuated by the chief of tank was armed with two Breda machine-guns of 8 mm modello 1938, supplied with 2808 rounds. The twin machine-guns were assembled on a cast mount equipped with a telescopic sight tube. A rotary periscope was installed on the roof.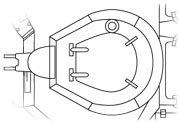 Turret
La tourelle installée sur la gauche de la superstructure était accessible par une large trappe montée sur charnière. Elle pouvait pivoter sur 360°.
The turret installed on the left of the superstructure was accessible by a broad hatch assembled on hinge. It could swivel on 360°.


Sources: