KV-1 Heavy Tank
Conversions
Les lance-flammes étaient généralement utilisés contre des positions renforcées en raison de leurs grands effets psychologiques. On décida donc de monter sur le KV-1 un tel équipement. Le travail sur cette conversion débuta en novembre 1941 à Chelyabinsk (ChKZ) sous flagellation de KV-8. Avant-celà des chars légers comme le T-26 étaient utilisés comme base pour une telle conversion, mais ils étaient trop peu protégés. En effet les chars-lance-flammes étaient des objectifs prioritaires pour les canons anti-chars allemands. Malheureusement sur le KV-1, il n' était pas possible d' installer de concert le canon de 76.2 mm et le lance-flamme ATO-41 dans la tourelle et le canon de 76.2 mm fut supprimé au profit du canon de 45 mm M1932 moins encombrant. Pour ne pas rendre ce changement trop évidant à l' ennemi un tube factice était installé sur le tube du 45 mm pour simuler le 76.2 mm. Le KV-8 transportait 92 obus de 45 mm et 960L d' un mélange inflammable permettant 107 projections. L' armement était complété par une mitrailleuse de 7.62 mm DT montée à l' avant de la caisse et par une autre mitrailleuse DT montée à l' arrière de la tourelle. Certains modèles furent équipés d' une mitrailleuse anti-aérienne. Le total de munitions de 7.62mm transportées étaient de 3400 coups.
The flame throwers were generally used against heavy entrenchments because of their great psychological effects. One thus decided to mount on the KV-1 a such equipment. Work on this conversion called KV-8 began in November 1941 in Chelyabinsk (ChKZ).. Before light tanks as T-26 were used as bases for such conversion, but they were protected too little. Indeed the flame-thrower tanks were top priority for the German anti-tank guns. Unfortunately on the KV-1, it was not possible to install the gun of 76.2 mm and the ATO-41 flame-thrower together in the turret and the gun of 76.2 mm was removed to the profit of the gun of 45 mm M1932 less cumbersome. So that this change is not too visible for the enemy a factitious tube was installed on the tube of the 45 mm to simulate the 76.2 mm. The KV-8 transported 92 rounds of 45 mm and 960L of a flammable mixture allowing 107 projections. The armament was supplemented by a machine-gun of 7.62 mm DT assembled in front of the hull and by another machine-gun DT assembled to the back of the turret. Certain models were equipped with an anti-aircraft machine-gun. The total of transported ammunition of 7.62mm were of 3400 rounds.
KV-8 & KV-8s
Le lance-flamme ATO-41 monté coaxialement, avait une cadence de tir de 3 projections toutes les 10 secondes. Chaque projection consommait 10L de liquide inflammable. La production du KV-7 débuta en 1942. Par rapport au OT-34 (version lance-flamme du T-34), le KV-8 embarquait plus de liquide inflammable. Les deux chars étaient versés dans des bataillons indépendants lance-flammes. Chaque bataillon était équipé de 2 compagnies de KV-8 (2x10) et 1 compagnie de OT-34. Quand la production du KV-1 fut supprimée, le KV-1s fut utilisé pour réaliser la conversion et le nouveau modèle fut baptisé KV-8s. Le KV-8s transportait 114 coups de 45 mm, 600L de liquide inflammable (60 projections). Notons encore que durant la production l' ATO-41 fut remplacé par l' ATO-42.
Lance-flame ATO-41 assembled coaxialy, had a rate of shooting of 3 projections every 10 seconds. Each projection consumed 10L of flammable liquid. The production of the KV-7 began in 1942. Compared to the OT-34 (version lance-flame of T-34), the KV-8 embarked more flammable liquid. The two tanks were versed in independent flame thrower battalions. Each battalion was equipped with 2 companies of KV-8 (2x10) and 1 company of OT-34. When the production of the KV-1 was cancelled, KV-1s was used to realize the conversion and the new model was baptized KV-8s. KV-8s transported 114 rounds of 45 mm, 600L of flammable liquid (60 projections). Still let us note that during the production the ATO-41 was replaced by the ATO-42.
Le projet 150 ou T-150 fut développé sur base du KV-1 et différait de ce dernier par l' épaisseur plus importante du blindage maximum de la caisse qui passa de 75 mm à 90 mm. La tourelle du T-150 avait une coupole de commandant dotée d' un périscope et de trois blocs de vision. En raison de l' augmentation du blindage, le char pesait maintenant 50 tonnes, ce qui nécessita l' installation d' un moteur diesel V-2K dopé à 700 ch. Entre le 15 janvier et le 14 février 1941, le T-150 fut testé sur terrain et révéla plusieurs déficiences au niveau du moteur qui avait tendance à surchauffer trop rapidement. Le T-150 fut donc renvoyé à l' usine de Kirov pour que le système de refroidissement soit renforcé.
Project 150 or T-150 was developed on the basis of KV-1 and differed from this last by the greater thickness of the maximum shielding of the hull which passed from 75 mm to 90 mm. The turret of T-150 had a cupola of commander equipped with a periscope and three blocks of vision. Because of the increase in the shielding, the tank weighed 50 tons now, which required the installation of a diesel engine V-2K doped to 700 hp. Between January 15 and February 14, 1941, T-150 was tested on ground and revealed several deficiencies on the level of the engine which tended to overheat too quickly. T-150 was thus returned to the factory of Kirov so that the system of cooling is reinforced.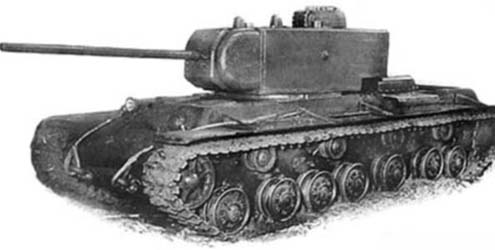 KV-220
Conjointement, une autre version avec une caisse allongée, le KV-220 fut mise au point. Cette nouvelle caisse avait maintenant de chaque côté 7 galets de route et non plus 6 comme sur le KV-1 et le T-150. Le KV-220 était également équipée d' une nouvelle tourelle, armée du canon de 85 mm F-30 (qui fut testé avec succès sur le T-28 à la fin de 1940). Le KV-220 pesait 62 tonnes et fut en conséquence équipé du moteur V-5 de 700 cv. Les tests sur le KV-220 débutèrent le 30 janvier 1941 mais ne durèrent que quelques jours en raison de la mauvaise qualité du moteur.
Jointly, another version with a lengthened hull, the KV-220 was developed. This new hull now had each side 7 road wheels and either 6 as on the KV-1 and T-150. The KV-220 was also equipped with a new turret, armed with the gun of 85 mm F-30 (which was tested successfully on T-28 at the end of 1940). The KV-220 weighed 62 tons and consequently was equipped with the V-5 engine of 700 hp. The tests on the KV-220 began on January 30, 1941 but lasted only a few days because of the bad quality of the engine.
KV-3 with new turret and 107 mm gun ZIS-6 (proposal)
Le 15 mars 1941, le T-150 fut accepté pour la production de masse sous la désignation KV-3. Cependant ce fut la caisse du KV-220 qui fut finalement utilisée pour servir de base au KV-3. Le 20 avril 1941, un nouveau moteur fut installé sur le KV-220 qui pesait désormais 70 tonnes. Cependant l' ensemble moteur-transmission-suspension était insuffisant pour supporter un tel poids comme le démontrèrent les essais effectués en mai 1941. Le 20 mai 1941, le KV-220 fut renvoyé à l' usine pour réparation où il reçut un nouveau moteur, le V-2SN diesel de 850 cv. Le KV-220 fut d nouveau testé entre le 30 mai et le 22 juin 1941. Pendant ce temps le développement de la tourelle forgée avait pris du retard qui se répercuta sur le développement global du KV-3.
March 15, 1941, T-150 was accepted for the mass production under designation KV-3. However it was the hull of the KV-220 which was finally used as a basis for the KV-3. April 20, 1941, a new engine was installed on the KV-220 which weighed from now 70 tons. However the engine-transmission-suspension unit was insufficient to support a such weight as the tests carried out in May 1941 showed it. May 20, 1941, the KV-220 was returned to the factory for repair where it accepted a new engine, the diesel V-2SN of 850 hp. The KV-220 was D new tested between May 30 and June 22, 1941. During this time the development of the forged turret had taken delay which was reflected on the global development of the KV-3.
107 mm ZIS-6 armor penetration table

Penetration of an armor plate (mm)

Ammo type

Weight

Muzzle velocity

Angle

100 m

500 m

1000 m

1500 m

2000 m

BR-420

?

830 m/s

60°

-

120

108

92

86

90°

-

140

130

110

95
Durant cette période, les services secrets soviétiques prirent connaissance que le développement de chars lourds en Allemagne était déjà bien avancé et qu'aucune arme anti-char russe n' étaità ce jour capable de percer le blindage de de ces nouveaux modèles. Il s' agissait en fait de désinformation de la part des Allemands. En fait les Russes crurent que les essais effectués avec des canons anti-aériens de 88 mm Flak 18/36 sur des chars capturés étaient les prémices du développement de nouveaux canons anti-chars destinés à de nouveau modèles ultra-blindés. Cette méprise eut pour conséquence, le 7 avril 1941, de modifier les spécifications requise pour le KV-3, qui seront en fait reprises pour le KV-4 et le KV-5.
During this period, the Soviet secret service took note that the development of heavy tanks in Germany was already quite advanced and that no Russian anti-tank weapon was at this day able to bore the shielding of these new models. It was acted in fact, misinformation from the Germans. In fact the Russians believed that the tests carried out with anti-aircraft guns of 88 mm Flak 18/36 on captured tanks were the first steps of the development of new anti-tank guns intended for ultra-armoured tanks. This mistake had as a consequence, April 7, 1941, to modify the specifications necessary for the KV-3, which in fact will be taken again for the KV-4 and the KV-5.


KV-3 with KV-1 turret
Finalement en octobre 1941, les caisses de KV-3 et de KV-220 qui avaient été sauvée des Allemands avant la prise de Kirov par ceux-ci, furent équipés de tourelles de KV-1. Ces chars furent effectivement utilisés au combat. Tous ces modèles étaient équipés du canon de 76.2 mm F-32.
Finally in October 1941, the hulls of KV-3 and KV-220 which had been saved of Germans before the catch of Kirov by those, were equipped with turrets of KV-1. These tanks were actually used to the combat. All these models were equipped with the gun of 76.2 mm F-32.
KV-4 Super Heavy Breakthrough Tank
Le développement du KV-4 débuta en avril 1941 à Kirov. Tous les ingénieurs du bureau de conception de cette usine furent engagés dans une compétition afin de concevoir un char armé de deux canons et doté d' un blindage de 125-130 mm, ce qui n' avait jamais été tenté auparavant. Il fut donc nécessaire de rallonger le châssis du KV-1 et inévitablement augmenter le poids du char. Cette compétition donna naissance à plusieurs concepts originaux de chars de 80 à plus de 100 tonnes. Des versions armées d' un canon de 107 mm et de de canons de 45 mm ou de 76.2 mm, sur une ou deux tourelles ou encore en casemate virent le jour sous le crayon des ingénieurs de Kirov. Un seul rejeta l' idée d' un char multi-canons et proposa une version armée d' un canon de 107 mm dans une tourelle conventionnelle avec mécanisme d' auto-chargement (N. Tseits). Certains ingénieurs recommandèrent l' installation d' un lance-flamme sur ce modèle.
Sur certaines propositions, le moteur et la transmission étaient placés à l' avant. En tout 20 variantes furent mises sur papier durant la période trouble qui précéda le début de la grande guerre patriotique en 1941. Tous ces concepts originaux ne furent jamais réalisés.
The development of the KV-4 began in April 1941 in Kirov. All the engineers of the office of design of this factory were engaged in a competition in order to design a tank armed with two guns and equipped with a shielding of 125-130 mm, which had never been tried before. It was thus necessary to lengthen the chassis of the KV-1 and to inevitably increase the weight of the tank. This competition gave rise to several original concepts of tanks from 80 to more than 100 tons. Versions armed with a gun of 107 mm and guns of 45 mm or 76.2 mm, with one or two turrets or casemate were born under the pencil of engineers of Kirov. Only one rejected the idea of a tank multi-guns and proposed a version armed with a gun of 107 mm in a conventional turret with mechanism of autoload (N Tseits). Certain engineers recommended the installation of a lance-flame on this model.
On certain proposals, the engine and the transmission were placed at the front. In all 20 variants were put on paper during the turbid period which preceded the beginning by the great patriotic war in 1941. All these original concepts were never carried out.
KV-5 Super Heavy Breakthrough Tank
Le développement du KV-5 (projet 225) début en juin 1941. Il s' agissait d' un char lourd à l' aspect plutôt étrange. A l' avant., le pilote et le radio-mitrailleur disposaient chacun d' un coupole. Derrière ces coupoles, il y avait l' imposante tourelle qui accueillait le commandant, le tireur et le chargeur. Cette tourelle était équipée d' une coupole de commandant et d' une coupole de tir avec mitrailleuse DT. La tourelle pivotait sur une large circulaire d' un diamètre de 1.84 m. Le blindage maximum atteignait les 150-180 mm.
The development of the KV-5 (project 225) beginning in June 1941. It acted of a heavy tank to the rather strange aspect. With the front one, the pilot and the radio-machine gunner had each one a cupola. Behind these cupolas, there was the imposing turret which accomodated the commander, the gunner and the loader. This turret was equipped with a cupola of commander and a cupola of shooting with machine-gun DT. The turret swivelled on a broad turret ring of a diameter of 1.84 m. The maximum shielding reached the 150-180 mm.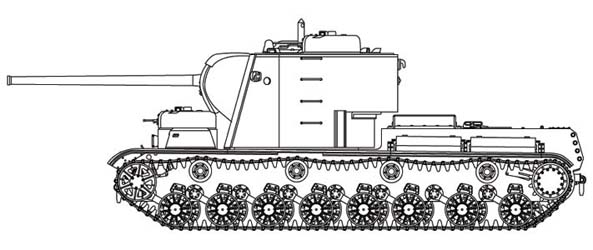 KV-5
Par après, la notion de tourelle forgée fut abandonnée au profit d' une tourelle soudée. De plus comme il n' y avait pas de moteur diesel de 1200 cv disponible, deux moteurs diesel de 600 cv furent installés parallèlement. En août 1941, le KV-5 était pratiquement finalisé et la production de certains équipements avait déjà commencée. Cependant en raison de l' avancée des armées allemandes vers Kirov, la production fut stoppée et remplacée par celle des modèles standards.
By after, the concept of forged turret was abandoned to the profit of a welded turret. Moreover as there was no diesel engine of 1200 hp available, two diesel engines of 600 hp were installed in parallel. In August 1941, the KV-5 was practically finalized and the production of certain equipment had already started. However because of advanced German armies towards Kirov, the production was stopped and replaced by that of the standard models.
KV-7 Heavy Turretless Tank (Variant I)
A la fin de 1941, alors que la production de la série KV avait été déménagée derrière l' Oural, le SKB-2 reçut l' ordre de développer un modèle amélioré doté d' un meilleur canon et avec une mobilité améliorée. En 1942, plusieurs variantes furent proposées. Une de cette version, fut le projet 227, un canon automoteur sans tourelle mais avec une superstructure blindée avant dotée d' un blindage de 100 mm. A cette époque il n' y avait guère de calibre important disponibles, et le canon de 76.2 mm fut conservé. Cependant pour augmenter la puissance de feu du nouveau modèle, deux canons de 45 mm furent également montés (coaxialement).
With the end of 1941, whereas the KV series production had been moved behind the Ural, the SKB-2 accepted the order to develop an improved model equipped with a better gun and with an improved mobility. In 1942, several variants were proposed. One of this version, was project 227, a self-propelled gun without turret but with a frontal armoured superstructure equipped with a shielding of 100 mm. At that time there was hardly heavy gun available, and finally the gun of 76.2 mm was preserved. However to increase the fire power of the new model, two guns of 45 mm were also assembled (coaxialy).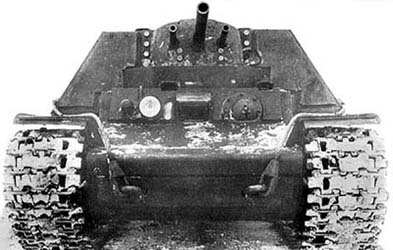 KV-7 I
76.2 mm F-34(ZIS-5) L/42.5 (1940 & L/41.5 (1942) armor penetration table

Penetration of an armor plate (mm)

Ammo type

Weight

Muzzle velocity m/s

Angle

100 m

500 m

1000 m

1500 m

2000 m

BR-350A

6.3 kg

662 m/s

60°

69-86

59-70

50-63

43-52

-

90°

80-89

70-78

63-73

58-65

-

BR-350B

?

60°

62-76

55-71

48-55

-

90°

86-94

75-84

68-78

62-69

-

BR-350P

3.04 kg

965 m/s

60°

92

77

-

-

-

90°

102

92

-

-

-
45 mm 20K (1938) armor penetration table

Penetration of an armor plate (mm)

Ammo type

Weight

Muzzle velocity m/s

Angle

100 m

500 m

1000 m

1500 m

2000 m

BR-240SP

1.43 kg

757 m/s

60°

43

36

31

28

-

90°

51

43

38

38

-
Le développement qui avait débuté à la mi-novembre 1941, se termina le 29 décembre. Ce modèle désigné KV-7 (également KV-7 I) fut envoyé à Moscou avec le KV-8 et la seconde version du KV-7, le KV-7 II, pour y être jugé par Staline. Le KV-7 I comme son frère le KV-7 II ne fut pas accepté pour la production. Comme précité, le KV-7 I était armé d' un canon de 76.2 mm ZIS-5 et deux canons coaxiaux de 45 mm Mod. 1938. Ce montage multiple avait une élévation de +15° et une dépression de -5° et pouvait pivoter sur 7.5° de chaque côté. Le KV-7 I transportait pour le canon de 76.2 mm, 93 obus et pour ses deux canons de 45 mm, 200 obus. L' armement était complété par trois mitrailleuses de 7.62 mm DT (deux montées sur rotule à l' avant. et à l' arrière du compartiment de combat et une autre sur une coupole sur la trappe du compartiment de combat). Ce modèle pesait 45 tonnes et avait un équipage de 6 hommes.
The development which had begun in mid-November 1941, finished on December 29. This model indicated KV-7 (also KV-7 I) was sent in Moscow with the KV-8 and the second version of the KV-7, the KV-7 II, to be judged there by Stalin. The KV-7 I as its brother KV-7 II was not accepted for the production. Like above mentioned, the KV-7 I was armed with a gun with 76.2 mm ZIS-5 and two coaxial guns of 45 mm Mod. 1938. This multiple assembly had an elevation of +15° and a depression of -5° and could swivel on 7.5° on each side. The KV-7 I transported for the gun of 76.2 mm, 93 rounds and for its two guns of 45 mm, 200 rounds. Armament was supplemented by three machine-guns of 7.62 mm DT (two on ball mount in the front and the rear of the compartment of combat and another on a cupola on the trap door of the compartment of combat). This model weighed 45 tons and had a crew of 6 men.
KV-7 Heavy Turretless Tank (Variant II)
Parallèlement à la première version, une seconde version du KV-7 fut également développée. Cette version était aussi équipée de canons multiples, consistant en deux canons de 76.2 mm ZIS-5 montés coaxialement L' armement était complété par deux mitrailleuses de 7.62 mm DT (face avant et face arrière). Pour ses canons, le KV-7 II transportait 150 obus de 76.2 mm. Finalisé à la fin de décembre 1941, le prototype fut envoyé à Moscou.
In parallel to the first version, one second version of the KV-7 was also developed. This version was also equipped with multiple guns: two guns of 76.2 mm ZIS-5 assembled coaxialy. Armement was supplemented by two machine-guns of 7.62 mm DT (front face and back face). For its guns, the KV-7 II transported 150 rounds of 76.2 mm. Completed at the end of December 1941, the prototype was sent in Moscow.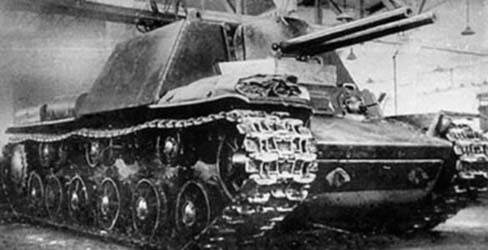 KV-7 II
Le KV-7 II fut jugé inutilisable et la préférence fut donnée au char lance-flammes KV-8. En fait la concept de canons multiple n' était plus très populaire, Saline à lui même dit qu' il fallait mieux monté un seul canon, mais un bon !.
The KV-7 II was considered to be unusable and the preference was given to the tank flame thrower KV-8. In fact the concept of multiple guns was not any more very popular, Stalin said that it was necessary mounted only one gun better, but a good!.
Le KV-9 fut la dernière tentative de réarmer le KV-1 avec un plus gros calibre, ici l' obusier de 152 mm U-11. Le travail sur ce nouveau canon automoteur débuta en novembre 1941 à la ChTZ (avec l' aide d' ingénieurs de l' Uralmash) et continua jusqu' en avril 1942. Le projet 229 fut accepté pour le service dans l' armée rouge sous la désignation de KV-9. En plus du prototype, 10 exemplaires devaient tout d' abord être produits mais en fait un seul fut effectivement assemblé. Le KV-9 fut conçu comme un char multi-fonctions capable aussi bien d' être utilisé comme canon d' assaut contre les fortifications ennemies que comme char de combat contre les chars adverses.
The KV-9 was the last attempt to rearm the KV-1 with a larger caliber, here the howitzer of 152 mm U-11. Work on this new self-propelled gun began in November 1941 in ChTZ (with the assistance of engineers of Uralmash) and continued until April 1942. Project 229 was accepted for the service in the Red Army under the designation of KV-9. In more of the prototype, 10 specimens were first of all to be produced but in fact only one was actually assembled. The KV-9 was conceived like a tank multifunction able as well to be used like assault gun against the enemy fortifications as likebattle tank against the opposing tanks.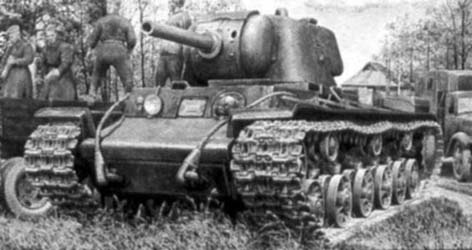 KV-9 Heavy Assault Tank
Le KV-9 pesait 47 tonnes et avait un équipage de 4 hommes. Le KV-9 possédait également une nouvelle tourelle moulée et un blindage maximum de 135 mm, ce qui était énorme pour l' époque. Le blindage du toit de la tourelle était de 40 mm. Le 122 mm U-11 avait une élévation de +19.5° et une dépression de -4°, et était équipée d' une lunette télescopique TMFD. La charge utile en munitions était de 48 obus de 122 mm et de 2646 cartouches de 7.62 mm.
The KV-9 weighed 47 tons and had a crew of 4 men. The KV-9 also had a new cast turret and a maximum shielding of 135 mm, which was enormous for the time. The shielding of the roof of the turret was 40 mm. The 122 mm U-11 had an elevation of +19.5° and a depression of -4°, and was equipped with telescopic sight TMFD. The basic load in ammunition was of 48 rounds of 122 mm and 2646 rounds of 7.62 mm.
Conversions Listing
Comme les Russes en avaient coutume, le KV-1 servit de base à la réalisation de plusieures variantes et conversions dont voici la liste:
KV (Klim Voroshilov): Prototype
KV-1A: Modèles équipés du 76.2 mm F-32
KV-1B: aussi appelé KV-1E, modèles dotés de plaques de blindage additionnelles de 35 mm
KV-1C: Modèles équipés de la tourelle moulée, d'un blindage plus épais
KV-1K: KV-1 avec lanceurs pour 8 missiles RS-82
KV-2 1940: Obusier d'assaut (152 mm M10) avec une tourelle surdimensionnée sur un châssis standard
KV-2-1: KV-2 armé d'un canon de 85 mm
KV-2-2: KV-1s armé d'un canon anti-aérien de 122 mm
KV-2B: KV-2 avec tourelle redessinée
KV-2B Flamethower: KV-2 équipé d'une lance-flamme
KV-3 (Obyekt 222): Modèle doté d'un meilleur blindage, d'un nouveau moteur, d'une coupole de commandant et d'un canon F-34
KV-3 M1941: KV-3 équipé du canon F-32
KV-3 (Obyekt 223): Char lourd de 75 tonnes, armé d'un canon de 107 mm F-42 ou ZIS-6
KV-4 (Obyekt 224): Char multi-tourelles (2) de 92 tonnes armé d'un canon de 107 mm
KV-5 (Obyekt 225): Char multi-tourelles (2) de 150 tonnes armé d'un canon de 107 mm
KV-6 (Obyekt 226): Canon automoteur armé avec un canon de 76.2 mm et 2 canons de 45 mm
KV-6 (Obyekt 226) Variant 1: Char lourd lance-flamme expérimental
KV-7 (Obyekt 227): Canon automoteur armé avec deux canons de 76.2 mm
KV-7 (Obyekt 227) Variant 1: Canon automoteur armé avec un canon de 76.2 mm et 2 canons de 45 mm
KV-8 (Obyekt 228): Char lance-flamme équipé d'un projectreur ATO-41/42 à la place de la mitrailleuse coxiale et d'un canon de 45 mm à la place du canon de 76.2 mm (basé sur le KV-1)
KV-8s (Obyekt 238): idem que KV-8 mais basé sur le KV-1s
KV-9 (Obyekt 229): KV-1 armé d'un obusier de 122 mm U-11 (1 seul prototype)
KV-10 (Obyekt 230): Char lance-roquettes ou KV-85 non complété (?)
KV- 11 (Obyekt 231): ?
KV- 12 (Obyekt 233): Char lourd expérimental équipé pour la guerre chimique
KV-13: Version d'assaut du KV-12, armé d'un obusier de 122 mm
KV-14 (Obyekt 236): Obusier d'assaut lourd (152 mm) connu en tant que SU-152
KV-85 (Obyekt 239): Installation d'un canon de 85 mm dans une nouvelle tourelle et une caisse redessinée
KV-220: Char lourd de rupture expérimental de 63 tonnes armé d'un canon de 85 mm
KV-222: Char lourd expérimental doté d'un blindage de 90-105 mm, pesant 51 tonnes et armé d'un canon de 76.2 mm
KV-T: Version de récupération sans tourelle
Obyekt 220: Modèle avec un blindage de 100 mm et un canon de 85 mm F-30
As the Russians had habit of it, the KV-1 was used as a basis for the realization of several variants and conversions of which here the list:
KV (Klim Voroshilov): Prototype
KV-1A: Models armed with the 76.2 mm F-34
KV-1B: also KV-1E, models with 35 mm additional armor plates
KV-1C: Models with cast turret and thicker armor
KV-1K: KV-1 with launchers for 8 RS-82 missiles
KV-2 1940: Assault howitzer (152 mm M10) with oversized turret on standard chassis
KV-2-1: KV-2 armed with a 85 mm gun
KV-2-2: KV-1s armed with a AA 122 mm gun
KV-2B: KV-2 with redesigned turret
KV-2B Flamethower: KV-2 equiped with a flame-thower
KV-3 (Obyekt 222): Model aquiped with a better armor, a new engine, a commander's cupola and a F-34 gun
KV-3 M1941: KV-3 equiped with F-32 gun
KV-3 (Obyekt 223): 75 tons heavy tank armed with 107 mm gun F-42 or ZIS-6
KV-4 (Obyekt 224): Multi-turret tank of 92-ton armed with a 107 mm gun
KV-5 (Obyekt 225): Multi-turret tank of 150-ton armed with a 107 mm gun
KV-6 (Obyekt 226): Self-Propelled gun armed with a 76.2 mm gun and also two 45 mm guns
KV-6 (Obyekt 226) Variant 1: Heavy flame-thrower experimental tank
KV-7 (Obyekt 227): Self-propelled guns armed with two 76.2 mm gun
KV-7 (Obyekt 227) Variant 1: Self-Propelled gun armed with a 76.2 mm gun and two 45 mm guns
KV-8 (Obyekt 228): Flame-thrower tank equiped with ATO-41/42 projector wich replaced the coaxial MG and a 45 mm gun wich replaced the 76.2 mm gun
KV-8s (Obyekt 238): similar to KV-8 but based on KV-1s
KV-9 (Obyekt 229): KV-1 armed with 122 mm U-11 howiter (only one prototype)
KV-10 (Obyekt 230): Rocket launcher tank or unfinished KV-85 (?)
KV- 11 (Obyekt 231): ?
KV- 12 (Obyekt 233): Experimtental heavy tank equiped for the chemical war
KV-13: Assault version of KV-12, armed with a 122 mm howitzer
KV-14 (Obyekt 236): Assault howitzer (152 mm) also known as SU-152
KV-85 (Obyekt 239): Installation of a 85 mm gun on a new turret and a modified hull
KV-220: Experimental heavy breakthrough tank armed with a 85 mm gun
KV-222: Experimental heavy tank with a 90-105 mm armor, weight of 51 tons and armed with a 76.2 mm gun
KV-T: Turretless recovery version
Obyekt 220: Model with 100 mm armor and 85 mm F-30 gun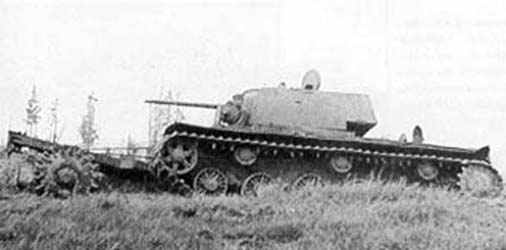 KV1 with mine-clear device


Sources:
Les blindés de la Seconde Guerre Mondiale, Ed. Atlas