KV-1 Heavy Tank
Ce premier modèle connu de nombreux ennuis au niveau de l' embrayage et de la transmission. Il était propulsé par le même moteur que le T-34, le V12 diesel V-2K développant 600 cv et armé du même canon que les premiers T-34, le 76.2 mm L-11. Les plaques de blindage était soudée entre-elles et le blindage frontal maximum était de 75 mm (90 mm pour le bouclier du canon). Son poids était de 43500 kg. Ce modèle n' avait pas de mitrailleuse de caisse.
This first model known many troubles on the level of the clutch and the transmission. It was propelled by the same engine as T-34, V12 diesel V-2K developing 600 hp and armed with the same gun as first T-34, the 76.2 mm L-11. The armour-plates was welded and the maximum frontal shielding was 75 mm (90 mm for the shield of the gun). Its weight was 43500 kg. This model did not have a machine-gun of hull.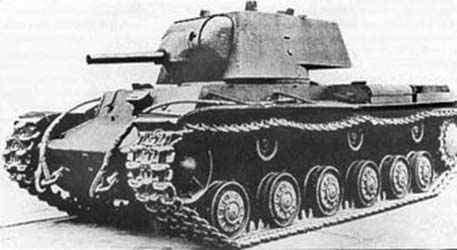 KV-1 model 1939

Le canon de 76.2 mm était trop compliqué à produire et peu performant au combat. Il fut donc remplacé par un canon plus long F-32. Une troisième mitrailleuse DT fut installé sur rotule sur la caisse. Ce modèle fut fabriqués par deux usines; l'usine n°100 Kirovski à Leningrad (LKZ) et l'usine de Chelyabinski (ChTZ) ou Tankograd. Les chars provenant de la 1re usine étaient assemblés par soudures uniquement alors que ceux provenant de la seconde étaient assemblés par boulonnage suivi d'une soudure.
The gun of 76.2 mm was too complicated to produce and not very powerful into the combat. It was thus replaced by a longer F-32 gun. A third machine-gun DT was installed on ballmount on the hull. This model was manufactured by two factories; factory n°100 Kirovski at Leningrad (LKZ) and factory of Chelyabinski (ChTZ) or Tankograd. The tanks coming from the 1st factory were assembled by weldings only whereas those coming from the second were assembled by bolting followed of a welding.
KV-1 model 1940

src: TNT HS n°3

src: TNT HS n°3
En 1940 sortit un nouveau modèle doté de plaques de blindage supplémentaires et d' un nouveau canon de 76.2 mm, le KV-1E (E pour "s ekranami" = blindage appliqué). Ces plaques de 35 mm d' épaisseur étaient boulonnées sur la plaque frontale du bas de caisse, la plaque frontale de la superstructure, les côtés de la superstructure et de la tourelle. Ce nouveau modèle était armé du canon de 76.2 mm F-32 (munitions plus performantes) dans une nouvelle tourelle moulée. L' augmentation du blindage fit passer le poids du char à 47500 kg, ce qui réduisit sa vitesse maximum (30 km/h à la place de 35 km/h). Pour compléter l' armement une mitrailleuse de caisse montée sur rotule fut installé sur la plaque frontale de la superstructure, à droite.
In 1940 came a new model equipped with additional armour-plates and with a new 76.2 mm gun, the KV-1E (E for "s ekranami" = shielding applied). These 35mm thickness plates were bolted on the frontal plate of the lower hull , the frontal plate of the superstructure, the sides of the superstructure and the turret. This new model was armed with the gun of 76.2 mm F-32 (improved ammunition) in a new cast turret. The increase in the shielding made pass the weight of the tank to 47500 kg, which reduced its maximum speed (30 km/h in the place of 35 km/h). To supplement the armament a machine-gun of hull on ball mount was installed on the frontal plate of the superstructure, on the right.
KV-1e model 1940

src: ?

src: ?
En 1941 sortit un nouveau modèle doté du tout nouveau canon de 76.2 mm ZIS-5 (parfois le F-34). A part le canon et un poids de 45000 kg, il n' y avait pour ainsi dire aucune différence sinon la mitrailleuse de caisse, entre le modèle 1939 et le modèle 1941.
In 1941 came a new model equipped with the very new gun of 76.2 mm ZIS-5 (sometimes F-34). Separately the gun and a weight of 45000 kg, it had there so to speak no difference if not the machine-gun of hull, between the model 1939 and the model 1941.
| | |
| --- | --- |
| | |
| KV-1 model 1941 (welded turret) | KV-1 model 1941 (cast turret) |
| | |
En décembre 1941, l'usine n°200 proposa une nouvelle tourelle moulée semblable à celle du KV-1 modèle 1941 , mais renforcée avec un blindage atteignant désormais 120 mm. Cependant grâce à une bonne répartition du blindage la masse n'en est pas augmentée. La nouvelle tourelle était protégée par un anneau plus large et la mitrailleuse arrière possédait un collier de blindage. La plage arrière fut remplacée par une plaque de blindage plate bien plus facile à manufacturer, et le blindage maximum de la caisse passe à 110 mm. Cette augmentation du blindage surcharge les galets et un nouveau modèle moulée à "ailettes", plus résistant (mais aussi plus économique) fut donc conçu pour compenser.
In December 1941, the factory n°200 proposed a new cast turret similar to that of the KV-1 model 1941, but reinforced with a shielding reaching from now 120 mm. However thanks to a good distribution of the shielding the mass is not increased for the turret. The new turret was protected by a broader ring and the back machine-gun had a collar of shielding. The rear deck was replaced by an armor plate easier to manufacture, and the maximum shielding of the hull passes to 110 mm. This increase of the shielding overloads the road-wheels and a new cast model with "wings", more resistant (but also more economic) was thus designed to compensate.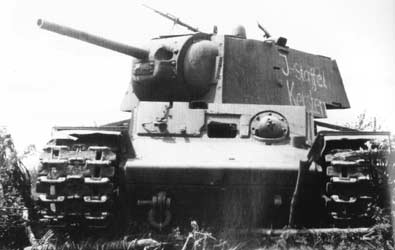 KV-1 model 1942
src: TNT HS n°3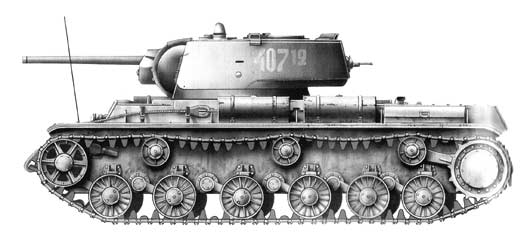 KV-1 model 1942
src: TNT HS n°3

En 1942, sortit une version allégée du KV-1, pour rendre celui-ci plus rapide pour se rapprocher du T-34. Cette version était dotée d' une tourelle légèrement plus petite (avec coupole de commandant) ainsi que d' un blindage plus léger sur certaines parties. Le canon était comme sur le modèle de 1941, le 76.2 mm ZIS-5. Ce nouveau modèle fut également équipé d' une version amélioré du moteur V12 diesel V-2K, le V-2K-s (d' où le "s" (skorostnoy ou vitesse) du KV-1s). Ce moteur développait toujours 600 cv mais avec seulement 1900 tours/minute à la place de 2000 pour le V-2K. Les galets furent remplacer par de plus légers et de nouvelles chenilles de 670 mm de large furent installées. La boîte de vitesse fut également remplacée. Tous ces changements permettait au KV-1s d' atteindre les 43 km/h sur route.
In 1942, a lightened version of the KV-1 is realized, to make this one faster as T-34. This version was equipped with a turret slightly smaller (with cupola of commander) as well as lighter shielding on certain parts. The gun was as on the model of 1941, 76.2 mm ZIS-5. This new model also was equipped with a version improved of the diesel engine V12 V-2K, V-2K-s (from where the "S" (skorostnoy or speed) of Kv-1s). This engine always developed 600 hp but with only 1900 rpm with the place of 2000 for the V-2K. The road wheels were to replace by lighter and new 670 mm broad tracks were installed. The gear box was also replaced. All these changes made it possible to KV-1s to reach the 43 km/h on road.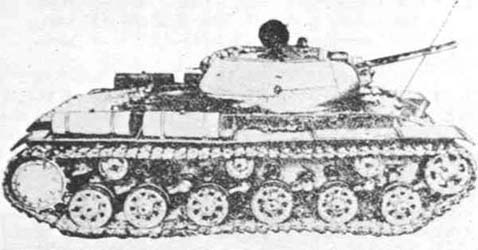 KV-1s
Durant l' été 1943, le prototype fut testé et en le 20 août 1942, la production débuta. Cependant lors de son apparition, l' Armée rouge avait un urgent besoin de chars mieux protégés ! Sa production fut supprimée en avril 1943.
During the summer 1943, the prototype was tested and in August 20, 1942, the production began. However at the time of its appearance, the Red Army had an urgent need for better protected tanks! Its production was removed in April 1943.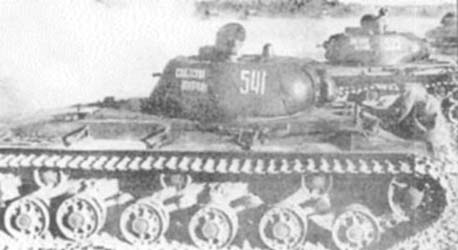 KV-1s


Sources:
Les blindés de la Seconde Guerre Mondiale, Ed. Atlas