KV-2 Heavy Tank / Assault Gun
in Action
Le KV-2 hérita des défauts de conception du KV-1, notamment au niveau de la transmission et du châssis. Ajoutons, une tourelle trop lourde et peu maniable, une silhouette trop haute faisant de lui une cible facile et on comprend vite que ce modèle n' était guère très réussi. Cependant, il créa en raison de sa masse imposante, un véritable émoi au sein des tankistes allemands lors de son apparition sur les champs de batailles en 1941. Il faut dire qu'en plus de ses dimensions impressionnantes, ce monstre était à l' abris de toutes les armes anti-char allemandes de l' époque et seul le canon de 88 mm anti-aérien pouvait percer son blindage.
The KV-2 inherited the defects of design of the KV-1, in particular on the level of the transmission and the chassis. Let us add, a too heavy and not very handy turret , a too high silhouette making of him an easy target and one understands quickly that this model wasn't a great success. However, it created because of its imposing mass, a true agitation within the German tank crewmen at the time of its appearance on the battle fields in 1941. It should be said that in more of its impressive dimensions, this monster was safe from all the German anti-tank weapons of the time and only the anti-aircraft gun of 88 mm could bore its shielding.
Abandonned KV-2.

Soldats allemands observant la carcasse d' un KV-2

German soldiers observing the carcass of a KV-2
Les Allemands du Panzer-Regiment 11, 6e Panzerdivision (Panzer-Gruppe 4), furent les premiers à rencontrer le KV-2 (2e division blindée russe) , le 25 juin 1941. Ils connurent beaucoup de difficultés face à ces monstres pourtant lents et mal conçus. En fait la plupart des KV-2 perdus le furent en raison d' ennuis mécaniques ou de pénurie de carburant. En octobre 1941, la production du KV-2 fut abandonnée.
The Germans of Panzer-Regiment 11, 6th Panzerdivision (Panzer-Gruppe 4), were the first to meet the KV-2 (2nd Russian armoured division), June 25, 1941. They knew many difficulties vis-a-vis to these monsters however slow and badly designed. In fact the majority of the lost KV-2 were it because of engine and mechanic trouble or fuel shortage. In October 1941, the production of the KV-2 was abandoned.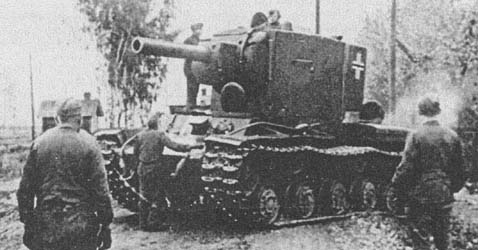 KV-2 en service dans la Whermacht.
KV-2 in service in Whermacht.
src: Les Blindés de la Seconde Guerre Mondiale, Ed. Atlas
Bien que le KV-2 avait beaucoup de défauts, les Allemands n' hésitèrent pas une seule seconde utiliser les exemplaires capturés et récupérés sur les champs de batailles. Ils étaient grand amateurs de ce genre de chars lourds et imposant mais toutefois peu mobiles.
Although the KV-2 had many defects, the Germans did not hesitate only one second to use the specimens captured and recovered over the battle fields. They were large amateurs of this kind of heavy and imposing tanks but however not very mobile.
| | |
| --- | --- |
| | |
| KV-2 allemand équipée d' une coupole de commandant visiblement allemande. | Autre exemple de KV-2 abandonné par les Russes. |
| German KV-2 equipped with an obviously German cupola of commander. | Another KV-2 abandonned by the Russians. |
| | |
| | |
| --- | --- |
| | |
| Notez la différence entre le KV-2 et un char léger T-26. | KV-2 parcourant une ville russe libérée. |
| Note the difference between the KV-2 and a light tank T-26. | KV-2 traversing a released Russian city. |
| | |


Sources:
Les blindés de la Seconde Guerre Mondiale, Ed. Atlas