KV-2 Heavy Tank / Assault Gun
Conversions
Plusieurs exemplaires du KV-2B furent équipés de lance-flammes. D' autres conversions furent encore réalisées mais il s' agit avant tout de modèles expérimentaux, jamais produits en masse. On essaya sur le KV-2 divers canons comme le canon de 107 mm (à long tube) ZIS-6, qui devait être monté sur le KV-3 et le KV-5. Cette conversion fut testée en mai-juin 1941 mais ce ne fut pas concluant. Le principal problème provenait des munitions qui étaient très difficiles à manipuler pour un seul chargeur.
Several specimens of the KV-2B were equipped with flame thrower. Other conversions were still realized out but they are above all experimental models, ever product in mass. One tested on the KV-2 various guns like the gun of 107 mm (with long tube) ZIS-6, which was to be assembled on the KV-3 and the KV-5. This conversion was tested into May-June 1941 but it was not conclusive. The principal problem came from the ammunition which were very difficult to handle for only one loader.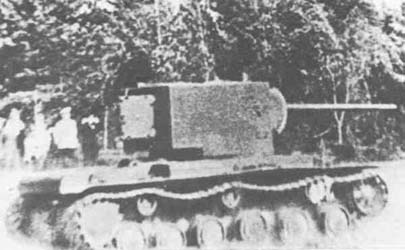 107 mm ZIS-6
Le KV-2 fut également testé avec le canon de 85 mm F-39 en mars 1941. Je n' ai pas malheureusement connaissance des résultats de ces tests mais il est probable qu' il ne furent pas assez remarquables pour aboutir à la production de masse.
The KV-2 was also tested with the gun of 85 mm F-39 in March 1941. I am not informed unfortunately of the results of these tests but it is probable that it were not enough remarkable to lead to the mass production.

85 mm F-39


Sources:
Les blindés de la Seconde Guerre Mondiale, Ed. Atlas