M10 3" Gun Motor Carriage
Conversions: US Conversions
Comme précité dans le page "Production", un total de 300 exemplaires de M10A1 sans tourelles furent produits. Ces exemplaires servirent en partie (ou en totalité ?) à réaliser un tracteur lourd entièrement chenillé d' artillerie pour les canons de 155 mm et de 240 mm. Ce véhicule baptisé Full Track Prime Mover M35 disposait en plus de son crochet arrière de remorquage, d' un crochet avant. Il était équipé d' un équipage de 6 hommes et pesait dans les 25 tonnes.
Like above mentioned in the page "Production", a total of 300 specimens of M10A1 were produced without turrets. These specimens were used partly (or entirely?) to produce a heavy artillery tractor, entirely tracked, for the guns of 155 mm and 240 mm. This vehicle baptized Full Track Prime Mover M35 laid out in more of its back hook of towing, a front hook. It has a crew of 6 men and weighed in the 25 tons.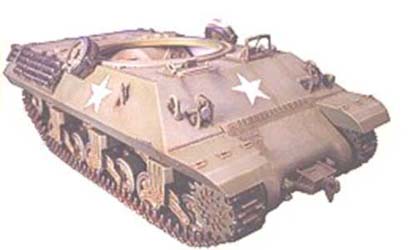 Full Track Prime Mover
src: AFV
En mars 1943, on tenta d' alléger le poids global du M10 en mettant au point une nouvelle tourelle ouverte plus légère doté d' un canon de 76 mm plus léger. Le gain espéré était d' environ 3 tonnes. La nouvelle tourelle était basée sur la tourelle T23 qui équipa les Shermans armés du canon de 76 mm, mais avec un blindage plus léger. Elle avait un toit ouvert et était dotée d' un petite saillie à l' arrière servant de contrepoids au canon de 76 mm. Les munitions utilisées par ce prototype étaient plus petites et il pouvait en stocker 99 dont 27 dans la saillie de la tourelle.
In March 1943, one tried to reduce the total weight of M10 by developing a new lighter opened turret equipped with a gun of 76 mm lighter. The hoped profit was approximately 3 tons. The new turret was based on the T23 turret which equipped Shermans armed with the gun of 76 mm, but with a lighter shielding. It had an open roof and was equipped with a small projection to the back being used as counterweight for the gun of 76 Mmm. The ammunition used by this prototype were smaller and it could store 99 of them including 27 in the projection of the turret.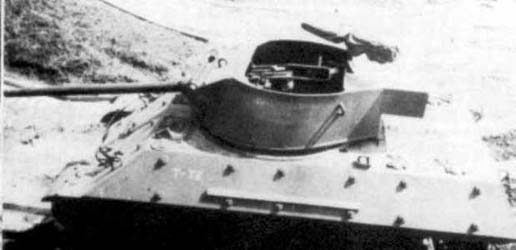 Tank Destroyer T72.
Deux modèles pilotes furent commandés, basés sur le châssis-essence du M10A1 et furent délivrés à Aberdeen en avril 1943 pour y subir des essais. Le gain de poids finalement obtenu n' était que de deux tonnes, ce qui était déjà pas si mal. Autre avantage, la tourelle était plus spacieuse et donc les divers équipements de rotation et d' élévation étaient plus facilement utilisables. Le seul véritable point négatif de ce modèle, était que par endroits, le blindage était amoindri, mais de peu.
Cependant, le projet fut abandonné début 1944 en faveur du prototype T70 armé du même canon, doté d' une suspension à barres de torsion nettement supérieure à celle du M10. Le T70 donnera naissance au M18 Hellcat.
Two pilot models were ordered, based on the gasoline-chassis of the M10A1 and were delivered in Aberdeen in April 1943 to undergo tests there. The profit of weight finally obtained was only two tons, which was already not so badly. Other favours, the turret was more roomy and thus the various equipment of traverse and elevation were more easily usable. The only true negative point of this model was that by places, the shielding was reduced but little.
However, the project was abandoned beginning 1944 in favour of the T70 prototype armed with the same gun, equipped with a torsion bars suspension, definitely higher than that of M10. T70 will give rise to M18 Hellcat.


Sources:
La Seconde Guerre Mondiale, Éditions C. Colomb
US Tank Destroyer in Action (Armor Number 36), Squadron/Signal publications
Blindés de la Seconde Guerre Mondiale, Éditions Altas