Renault FT
Le prototype du char Renault FT fut finalisé en octobre 1916. Le FT était une idée du colonel Estienne, et rencontra tout d'abord une forte résistance de la part des autorités techniques. Estienne demanda donc à Joffre d'autoriser la production de 1000 chars, pour la plupart armés d'une mitrailleuse et pour certains d'un canon court de 37 mm, sous tourelle. Ce char d'une hauteur limitée (1.75 m) était protégé seulement contre les armes individuelles et pouvait atteindre la vitesse maximum de 10-12 km/h.
The prototype of the tank Renault FT was finalized in October 1916. The FT was an idea of colonel Estienne, and met all in a first time a strong resistance on behalf of the technical authorities. Estienne thus required to Joffre to authorize the production of 1000 tanks, for the majority armed with a machine-gun and for some with a short gun of 37 mm, under turret. This tank with a limited height (1.75 m) was protected only against the individual weapons and could reach the maximum speed of 10-12 km/h.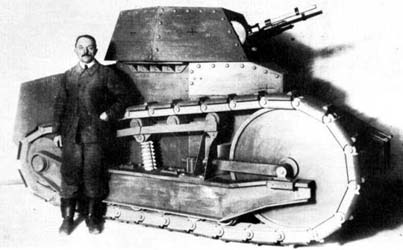 Les dimensions du FT étaient étudiées pour lui permettre de descendre dans les creux de terrain, puis d'en sortir et non des les enjamber. Le 22 février 1917, une première commande de 150 chars mitrailleurs fut passée. Elle fut suivie d'une autre du général Pétain, concernant 3350 chars. Les essais officiels du FT eurent lieu le 9 avril 1917. En juillet on testa une tourelle armée d'un canon de 37 mm et on décida d'équiper 650 chars d'assault. Le total de chars commandés passa à 7820 (dont 3940 pour la firme Renault) et la production fut donc logiquement confiée à plusieurs manufacturiers.
Dimensions of the FT were studied to enable it to go down in the hollows of ground, then to leave them without to span them. On February 22, 1917, a first order of 150 MG tanks had placed. It was followed by another of the Pétain general, concerning 3350 tanks. The official tests of the FT took place on April 9, 1917. In July one tested an turret armed with a gun of 37 mm and one decided to equip 650 Gun tanks. The total of ordered tanks passed to 7820 (including 3940 for the Renault firm) and the production thus was logically entrusted to several manufacturers.
Char FT mitrailleur, camp des chars de Champlieu, 14 mars 1917
Tank FT machine gunner, camp of the tanks of Champlieu, March 14, 1917
src: Les Blindés de l'Origine à 1940 - Profils et Histoire, "Connaissance de l'Histoire" hors-série n°3, Editions Hachette
Lors de l'armistice , seulement 3177 chars FT avaient effectivement été livrés. Quelques centaines furent perdus au combat durant la 1ère guerre mondiale. La production continua cependant et en 1921, 3728 chars FT étaient en service dont 2100 chars mitrailleurs, 1246 chars d'assaut armés d'un canon de 37 mm, 39 chars armés d'un canon de 75 mm, 188 chars "radio" (sans armement) et 155 chars "école".
At the time of Armistice, only 3177 tanks FT had actually been delivered. A few hundreds were lost into the combat during the 1st world war. The production continued however and in the 1921, 3728 tanks FT were in service including 2100 MG tanks machine gunners, 1246 gun tanks armed with a gun of 37 mm, 39 tanks armed with a gun of 75 mm, 188 tanks "radio" (without armament) and 155 training tanks.
Char mitrailleur armé d'une mitrailleuse de 8mm. Il s'agit de la version la plus produite. Les premiers modèles étaient dotés d'une tourelle moulée, mais cette tourelle étaient difficile à produire et fut finalement remplacée par une tourelle rivetée à 8 côtés. Rares étaient ceux dotés d'un poste radio.
FT MG Tanks armed with a machine-gun of 8mm. It s' acts of the most produced version. The first models were equipped with a cast turret, but this turret were difficult to produce and was finally replaced by a riveted turret with 8 sides. Rare were those equipped with a radio station.
| | |
| --- | --- |
| | |
| FT MG Tank with 8 mm Hotchkiss MG | At the Factory |
| | |
Char d'assaut FT, armé d'un canon de 37 mm SA. Il était parfois appelé FT.18 mais ce n'est pas une désignation officielle.
FT Gun Tank armed with a gun of 37 mm SA. It was sometimes named FT.18 but it's not an official designation.
| | |
| --- | --- |
| | |
| Char léger FT avec canon SA de 37 mm à tourelle rivetée. | Char léger FT avec canon SA de 37 mm à tourelle coulée. |
| Light tank FT with gun SA of 37 mm w/riveted turret. | Light tank FT with gun SA of 37 mm w/cast turret. |
| | src: Les Blindés de l'Origine à 1940 - Profils et Histoire, "Connaissance de l'Histoire" hors-série n°3, Editions Hachette |

(*) Les termes Renault FT-17 ou FT-18 bien que largement utilisés n'ont rien d'officiels ! Le dernier proviendrait même d'une confusion.
(*) Renault FT-17 or FT - 18 although widely used have nothing official! The last comes even from confusion..
Le FT était constitué d'une coque portante blindée, faites de plaques boulonnées sur des profilés. Les chenilles constituées de patins de 340 mm de large procurait au char une bonne prise sur n'importe quel terrain. A l'intérieur, la caisse était divisée en deux compartiments: le compartiment de combat et le compartiment moteur. Dans le compartiment de combat, le pilote était assis sur un siège à dossier réglable et derrière-lui, dans la tourelle, le mitrailleur (ou canonnier)-commandant. L'accès au char se faisait par deux trappes qui formaient le toit de la partie avant. Le prototype était dotée d'une écoutille à l'arrière de la tourelle qui fut ensuite remplacée par une porte à deux battants.
Le pilote disposait pour sa visibilité de trois fentes de visée. Le compartiment-moteur accueillait en outre du moteur, les engrenages, le radiateur et le réservoir d'essence. Ces éléments n'étaient accessibles que de l'extérieur, via les trappes sur le toit du compartiment. Le moteur était un 4 cylindres en ligne, doté d'un carburateur Zénith. Ce dernier était grâce à une pompe à membrane alimenté en essence en continu même quand le char était fortement incliné. L'allumage était à magnéto et la mise en route manuelle grâce à une manivelle. Cette dernière se faisait soit de l'intérieur, soit de l'extérieur.
The FT was constitued of an armored bearing hull, made of plates bolted on sections. The tracks made up of 340 mm broad links got for the tank a good catch on all ground type. Inside, the hull was divided into two compartments: the compartment of combat and the engine compartment. In the compartment of combat, the driver had sat on a reclining seat and behind him, in the turret, the machine gunner (or gunner) - commander. The access to the tank was possible by two hatches which formed the roof of the front part. The prototype was equipped with a hatchway at the back of the turret which was then replaced by a door with two pieces.
The driver had for his visibility three slits of view. The engine-compartment accomodated moreover engine, the gears, the radiator and the tank of gasoline. These elements were accessible only from outside, via the hatches on the roof of the compartment. The engine one 4 cylinders on line, was equipped with a carburettor Zenith. This last thanks to a diaphragm pump was fed out of gasoline uninterrupted even when the tank was strongly tilted. The start was done by magneto and it manual start thanks to a crank. The latter was done inside or outside.
Le blindage avait 16 mm d'épaisseur aux endroits protégeant les parties vulnérables. L'armement du FT était constitué d'une mitrailleuse Hotchkiss approvisionnée par 50 bandes de 96 cartouches ou un canon semi-automatique Puteaux de 37 mm L/21 alimentés par 240 projectiles explosifs (dont 12 canister).
Certains exemplaires étaient dotés d'une queue amovible pour faciliter (en s'appuyant dessus) le franchissement des tranchées.
The shielding had 16 mm of thickness at the places protecting the vulnerable parts. The armament of the FT was made up of a Hotchkiss machine-gun supplied by 50 belts of 96 crounds or a semi-automatic gun Puteaux of 37 mm L/21 supplied with 240 explosive rounds (including 12 canister).
Certain specimens were equipped with a removable tail to facilitate (in supporting itself above) the crossing of the trenches.
En mai 1918, J.L. breton (directeur des inventions, études et expériences techniques de l'artillerie), préconise d'utiliser le châssis du char Renault FT, afin de développer une artillerie mobile. Pour les calibres, il est tenu compte des limites de Renault FR et ce sont les pièces les plus légères de l'artillerie lourde moderne qui sont proposées: le 105 mm long modèle 1913 et le 75 mm modèle 1897. L'objectif est de créer des batteries d'artillerie aussi mobiles que les chars Renault FT standard et pouvant ainsi les suivre au plus près et leur apporter un appui feu contre les batteries anti-chars ennemies. Cependant, le grand patron de l'artillerie, le général Herr, s'oppose à ce concept lui préférant celui du canon classique avec tracteur chenillé; ce dernier pouvant servir de ravitailleur tout terrain entre l'emplacement opérationnel du canon et la route la plus proche où attendent les camions de munitions. Cependant les essais se poursuivent, et plusieurs prototypes sont réalisés les mois suivants. En ce qui concerne le 75 mm modèle 1897, les firmes suivantes proposeront leur modèle: la firme Renault, en août-septembre 1918 (seule la superstructure est modifiée, le canon tirait vers l'arrière) - la Section Technique Automobile de Valenciennes alias STAV, en octobre 1918 (le canon pouvait tirer vers l'avant, installé sur un affût Gramme de la Marine, mais pour les grandes inclinaisons, il pivotait sur l'arrière. Notons que les artilleurs étaient debout hors du véhicule lors des tirs) - le Service Technique de l'Artillerie alias STA, en mai-octobre 1918 (le moins aboutit des trois, le tir se faisait vers l'avant). Notons que Renault créa un transport de munitions pour accompagner les 75 sur affûts chenillés. En juillet, un prototype armé du canon de 105 mm modèle 1913 Schneider fut aussi réalisé mais fut jugé peu satisfaisant. Le pilote était installé très en avant et le canon tirait vers l'arrière. Le pointage était effectuer avec les chenilles. Le projet est arrêté en avril 1921.
In May 1918, J.L. breton (Director of the inventions, studies and technical experiences of artillery), advocates use the chassis of Renault FT tank , in order to develop a mobile artillery. For caliber, account shall be taken of Renault FR limits and are the lightest pieces of modern heavy artillery which are proposed: the 105 mm long model 1913 and the 75 mm model 1897. The goal is to create artillery batteries as mobile as the standard Renault FT tanks and may follow the more closely and provide them a fire support against enemy anti-tank batteries. However, the big boss of the artillery, general Herr, was opposed to this concept, preferring to it; the classical gun with its tracked tractor; taht can be used as cross-country ammo carrier between the operational location of the gun and the nearest road where waiting trucks of ammunition. However the tests continue, and several prototypes are made during the following months. In regard to the 75 mm model 1897, the following companies offer their model: Renault, in August-September 1918 (only the superstructure is changed, the gun fired back) -Technichal Section of Automobile of Valenciennes alias STAV, in October 1918 (the gun could fire forward, installed on a Grame mount of the Navy, but for large inclinations it pivoted on the rear. Note that the Gunners were standing outside the vehicle during the shooting) - Technical Service of Artillery alias STA, may-October 1918 (the least successful of the three, the shooting was towards the front). Note that Renault created a transport of ammunition to accompany the 75 on tracked chassis. In July, a prototypearmed of the Schneider 105 mm model 1913 gun was also produced but was deemed unsatisfactory. The driver was installed very forward and the gun fire towards back. The traverse was provided with the tracks. The project was stopped in April 1921.
| | |
| --- | --- |
| | |
| 75 mm Tracks STAV | 105 mm Tracks |
| src: GBM n°100, 2012 | src: GBM n°100, 2012 |
Renault 75 BS: Canon automoteur armé d'un 75 mm Blockhaus Schneider Petard (obusier à canon court). Seulement 39 furent effectivement réalisés
Char démineur, Renault FT-17: Prototype de char démineur équipé à l'avant de deux charrues pour évacuer les mines hors du chemin du char
Renault 37 BS: Char équipé d'une tourelle à 7 côtés. La trappe de tourelle était excentré vers la gauche et il y avait un prolongement à l'arrière de la tourelle pour permettre le recul du canon
Char fascine FT-18: Char équipé d'un berceau pour fascines à l'avant qui pouvait être libéré de l'intérieur
Char projecteur: Char projecteur doté d'un mât équipé de deux projecteurs
Char souffleur: Char déblayeur expérimental doté à l'avant de deux ventilateurs pour évacuer la neige
Char Renault TSF: Char de commandement avec une superstructure blindée à la place de la tourelle
Renault 72 BS: a self propelled gun with a 75 mm Blockhaus Schneider petard (short-barreled howitzer) - at least 39 tanks were produced.
Mine cleaning tank, Renault FT-17: Prototype of mine cleaning tank equipped in front of two plough to evacuate the mines out of the way of the tank
Renault BS: Tank equipped with a turret at 7 sides. The trap door of turret was excented towards the left and there was a saillent at the back of the turret to allow the recoil of the gun.
Tank fascine FT-18: Tank equipped with a cradle for fascines in front which could be released from interior.
Tank projector: Tank projector equipped with a mast equipped with two projectors.
Tank blower: Experimental deblayor tank equipped in front with two ventilators to evacuate snow
Tank Renault TSF: Tank of command with an armored superstructure in the place of the turret
Renault TSF

src: Hachette
Projector Tank

src: Hachette
| | |
| --- | --- |
| | |
| Mine Cleaning Tank FT | BS Tank (75 mm) |
| | |
BS Tank (37 mm)
Char souffleur pour déblayer les chemins enneigés.
Tank blower to clear the snow-covered ways.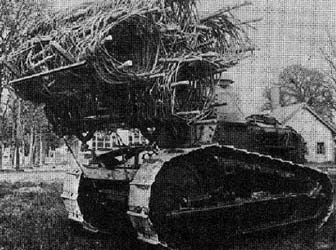 FT.18 Fascines-Layer
Pendant la 1ère guerre mondiale, le FT fut déployé sur front occidental par les Français (il fit son apparition dans la forêt de Retz le 31 mai 1918), mais aussi par les Américains et les Britanniques. Les Italiens en reçurent 4 exemplaires qui servirent à l'instruction. Les Américains après la guerre, réalisèrent leur propre version (Six-Ton) à 450 exemplaires, ainsi que l'Armée rouge qui réalisa 30 exemplaires du K.S..
During the 1st world war, the FT was deployed on Western front by the French (it made its appearance in the forest of Retz on May 31, 1918), but also by the Americans and the British. The Italians accepted from them 4 specimens which were used for instruction. The Americans after the war, carried out their own version (Six-Tone) at 450 specimens, like Red Army which realized 30 specimens of the K.S.
Le FT vétéran de la 1ère guerre mondiale, fut le plus vieux char utilisé durant la 2ème guerre mondiale.

The FT veteran of the 1st world war, was the oldest tank used during the 2nd world war.
Après la guerre, le FT fut vendus à de nombreux pays comme le Belgique, le Brésil, la Chine, l'Espagne, la Finlande, la Hollande, le Japon, la Yougoslavie et la Pologne. Les Finlandais et les Polonais utiliseront quelques exemplaires contre les Soviétiques en 1939-1940. Quelques FT participeront aux opérations franco-espagnoles au Maroc dans les années 20, et aux côtés des Républicains (principalement) à la guerre civile espagnole en 1936-1939.
After the war, the FT was sold to many countries like Belgium, Brazil, China, Spain, Finland, Holland, Japan, Yugoslavia and Poland. The Finns and the Poles will use some specimens against the Soviets in 1939-1940. Some FT will take part in the Franco-Spanish operations in Morocco in the Twenties, and at the sides of the Republicans (mainly) to the Spanish civil war in 1936-1939.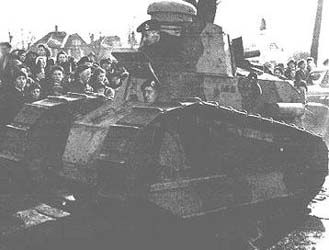 FT Guntank.
Les Français utilisèrent encore le FT (2500 exemplaires), cependant rebaptisé FT.31 (armés de mitrailleuses modèle 31 de 7.5 mm), contre les Allemands en 1940. Ces derniers en capturèrent beaucoup et les utilisèrent pour des missions de défense rapprochée jusqu'en 1944 ! Cependant beaucoup furent ferraillés et des tourelles furent installées sur le "Mur de l'Atlantique". Les Allemands utilisèrent quelques chars bulldozers équipés de lames sur les aérodromes enneigés.
The French still used the FT (2500 specimens), however renamed FT.31 (armed with machine-guns model 31 of 7.5 mm), against the Germans in 1940. The latter captured much and used them for missions of closer defense until in 1944! However much were reinforced and their turrets were installed on the "Atlantic Wall". The Germans used some tanks bulldozers equipped with blades on the snow-covered aerodromes.

FT Guntanks de la France de Vichy en service en Afrique du Nord.
FT Guntanks of France of Vichy in service in North Africa.
La France de Vichy utilisa certains exemplaires en Afrique du Nord et en Syrie, avec aussi des Renault BS.
France of Vichy used certain specimens in North Africa and Syria, with also Renault BS.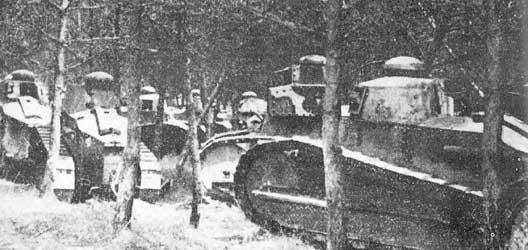 Rassemblement de FT, le "Char de la Victoire" de la 1re guerre mondiale.
Grouping of FT, the "Victory Tank" of the 1st World War.
src: La Seconde Guerre Mondiale, Ed. C. Colomb
Il était évident que ce char peu puissant, lent et mal protégé était complètement obsolète en 1940 et il ne fut d'aucun secours pour les Français malheureusement face aux panzers allemands.
It was obvious that this tank not very powerful, slow and badly protected were completely obsolete in 1940 and it was of any help for the French unfortunately vis-a-vis the German panzers.


Les Blindés de l'Origine à 1940 - Profils et Histoire, "Connaissance de l'Histoire" hors-série n°3, Editions Hachette

Les Blindés de la Seconde Guerre Mondiale, Ed. Atlas