Type 98 Ke-Ni Light Tank
Le char léger Type 98 Ke-Ni fut conçu afin de remplacer le Type 95 Ha-Go. Cependant son développement fut freiné jusqu'en 1942 car le Type 95 était jugé largement suffisant face à l'armée révolutionnaire nationale de la République chinoise, fort dépourvue en armes anti-chars. De plus une grosse part de la production d'acier au Japon était utilisé pour la construction navale au dépends de la production de véhicules blindés. Cependant lors de l'entrée en guerre du Japon face aux Etats-Unis, il était évident que le Type 95 n'était pas de taille face aux chars américains même face au char léger M3 Stuart. Un contrat de production fut passé en 1942 avec les firmes Hino Jidosha Kogyo et Mitsubishi. En 1942-1943, un total de 103 Type 98s Ke-Ni fut produit en 1942-1943 (24 en 1942, 79 en 1943).
Le Type 98 était largement similaire au Type 95 mais plus court que ce dernier et avec un blindage en grande partie soudé et plus épais. Il était propulsé par un moteur Diesel Mitsubishi Type 100 de 6 cylindres, développant 130 ch. Le moteur était monté en longueur afin de faciliter l'entretien. La tourelle biplace de type conventionnelle, était armé d'un canon de 37 mm Type 100. Ce canon possédait une vélocité initiale de 760 m/s. L'armement secondaire était constitué d'une mitrailleuse de 7.7 mm Type 97 coaxiale.
The light tank Type 98 Ke-Ni was designed in order to replace the Type 95 Ha-Go. However its development was braked until 1942 because Type 95 was considered to be largely sufficient vis-a-vis the national revolutionary army of the Chinese Republic, extremely deprived out of anti-tank weapons. Moreover one large share of the d' production in steel in Japan was used for naval construction to the depend of the production of armored vehicles. However at the time of enter in war of Japan vis-a-vis the United States, it was obvious that the Type 95 was not competitive vis-a-vis the American tanks even vis-a-vis the light tank M3 Stuart. A contract of production had signed in 1942 with the firms Hino Jidosha Kogyo and Mitsubishi. In 1942-1943, a total of 103 Type 98s Ke-Ni was produced in 1942-1943 (24 in 1942,79 in 1943).
Type 98 was largely similar to Type 95 but shorter than this last and with a mainly welded and thicker shielding. It was propelled by a diesel engine Mitsubishi Type 100 of 6 cylinders, developing 130 hp. The engine was assembled in length in order to facilitate maintenance. The 2-man turret of conventional type, was armed with a gun of 37 mm Type 100. This gun had an initial muzzle velocity of 760 m/s. Secondary armament was constitued of a coaxial machine-gun of 7.7 mm Type 97.
Le Type 98A Ke-Ni fut le modèle standard de production, doté d'une suspension avec 6 galets montés par pairs sur bogies (installés sur des bras coudés suspendus par des ressorts hélicoïdaux horizontaux en compression) et 3 rouleaux porteurs, 1 barbotin avant et 1 poulie de tension arrière.
The Type 98A Ke-Ni was the standard model of production, equipped with a suspension with 6 road-wheels assembled by pars on bogies (installed on bent arms suspended by horizontal helical springs in compression) and 3 return rollers , 1 front sprocket-wheel and 1 idler.
Le Type 98B Ke-Ni était un modèle expérimental doté d'une suspension de type Christie à 4 larges galets soutenu par des ressorts hélicoïdaux. Cette suspension n'avait pas de rouleaux porteurs et l'emplacement de la poulie et du barbotin était inversé. Ce modèle n'entra jamais en production.
The Type 98B Ke-Ni was an experimental model equipped with a suspension of the Christie type with 4 broad road-wheels supported by helical springs. This suspension did not have return rollers and the idler and the sprocket-wheel were reversed. This model never started production.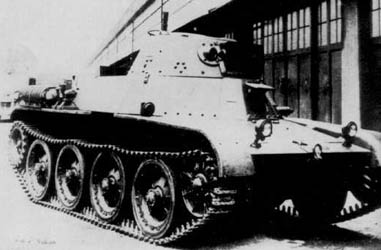 Type 98B Ke-Ni.
Conversions
Le Ta-Se est une version anti-aérienne basée sur le Type 98. Ce véhicule dont le développement avait débuté en novembre 1941, était armé d'un canon de 20 anti-aérien monté dans une tourelle circulaire. Ce canon était une version de la mitrailleuse anti-aérienne de 20 mm Type 2. Un seul prototype fut produit et nommé Ta-Se (Ta pour Taiku (Anti-Air) - Se pour Sensha (Char)). On pensa également réaliser une version avec canons jumeaux pour 1944. Cependant le projet fut abandonné en 1943.
The Ta-Se is an anti-aircraft version based on Type 98. This vehicle from which the development had begun in November 1941, was armed with a 20 mm anti-aircraft gun assembled in a circular turret. This gun was a version of the anti-aircraft machine-gun of 20 mm Type 2. Only one prototype was produced and named Ta-Se (Ta for Taiku (Anti-Air) - Se for Sensha (Tank)). One also thought realize a version with twin guns for 1944. However the project was abandoned in 1943.


Sources: