Type 5 Ke-Ho Light Tank
Le char léger Type 95 Ha-Go qui constituait le gros des forces blindées japonaises, avait fait ses preuves contre les forces chinoises sur le continent. Cependant il était totalement insuffisant contre les chars des Alliés de part la faiblesse de son armement (peu performant face aux M3 Stuart et M4 Sherman américains) et de son blindage (vulnérable aux armes d'infanterie standards). Les chars léger Type 98 Ke-Ni et Type 2 Ke-To représentaient un bon pas dans la bonne direction mais restaient somme toute encore trop vulnérables. Un nouveau char léger était donc nécessaire. Si le prototype fut complété en 1942, le programme fut mis sur le côté au profit du développements de chars moyens et la production d'avions. La production en série fut autorisée en 1945 seulement mais il était bien trop tard malheureusement pour que ce char joue un rôle positif dans le cours de la guerre. Les moyens de l'industrie de guerre japonais ne permettait plus en raison des pénuries et des destructions d'installations de produire en masse aucun véhicule blindé que ce soit. Le projet resta donc au stade du prototype.
The light tank Type 95 Ha-Go which constituted the majority of Japanese armored forces, had proven reliable against the Chinese forces on the continent. However it was completely insufficient against the tanks of Allies of share the weakness of its armament (not very powerful vis-a-vis American M3 Stuart and M4 Sherman) and of its shielding (vulnerable to the standard infantry weapons). The tanks light Type 98 Ke-Ni and Type 2 Ke-To represented a good step in the right direction but remained altogether still too vulnerable. A new light tank was thus necessary. If the prototype were completed in 1942, the program was put on the side to the profit of the developments of medium tanks and the production of warcrafts. The mass production was authorized in 1945 only but it was well too late unfortunately so that this tank plays a positive role in the course of the war. Means of Japanese wa rindustry did not allow any more because of the shortages and the destruction of installations to produce in mass any armored vehicle that it is. The project thus remained at the stage of the prototype.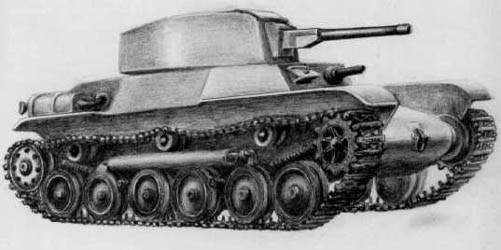 Type 5 Ke-Ho.
Le Type 5 utilisait en majeure partie le châssis du Type 95 Ha-Go mais avec de nettes améliorations apportées au blindage et à l'armement. Le faible canon de 37 mm fut remplacé par un canon de 47 mm Type 1. Le char était propulsé par un moteur diesel Mitsubishi NVD 61020 à refroidissement par air, développant 150 ch (ce qui permettait un vitesse sur route de 40 km/h). Malgré tout ce char restait inférieur aux chars américains.
Type 5 used in major part the chassis of the Type 95 Ha-Go but with clear improvements made to the shielding and armament. The weak gun of 37 mm was replaced by a gun of 47 mm Type 1. The tank was propelled by a diesel engine Mitsubishi NVD 61020 with air cooling, developing 150 hp (what allowed a speed on road of 40 km/h). Despite everything this tank remained lower than the American tanks.


Sources: