OM Trucks
Autocarrette O.M.
L'armée italienne désirait se doter d'un véhicule capable d'évoluer sur les routes très étroites et légèrement accidentées des terrains montagnards. En 1927, plusieurs firmes proposèrent leur designs. En 1928, l'armée commanda deux exemplaires des réalisations des firmes Fiat, Lancia, Ansaldo et Ceirano. Ce fut le projet d'Ansaldo qui fut finalement accepté après une série de tests en 1930. Cependant cette firme fit faillite et le contrat fut transmis à la société OM de Brescia. Les trois prototypes proposés par OM furent durement testés en 1931, avec succès. Un premier lot fut livré aux unités qui participeront aux grandes manoeuvres d'août 1932. Un second lot du désormais Autocaretta 32, commandé en juillet 1933, sera livré en 1934-1935. Ce véhicule fut cependant modifié entre 1932 et 1935, pour donner naissance à l'Autocaretta 35. Ce modèle disposait d'une stabilité transversale améliorée et d'une meilleur tenue de route, en plus d'un nouveau système d'éclairage. Grande nouveauté, elle pouvait être également équipée de pneus.

Italian army wished to be equipped with a vehicle able to move on the very narrow and slightly broken roads of the mountain grounds. In 1927, several firms proposed their designs. In 1928, the army ordered two specimens of the achievements of the firms FIAT, Lancia, Ansaldo and Ceirano. It was the project Ansaldo which was finally accepted after series of tests in 1930. However this firm went bankrupt and the contract was transmitted to company OM of Brescia. The three prototypes proposed by OM were tested hard in 1931, successfully. A first batch was delivered to the units which will take part in the army manoeuvers of August 1932. A second batch of the newly named Autocaretta 32, ordered in July 1933, will be delivered in 1934-1935. This vehicle was however modified between 1932 and 1935, to give rise to Autocaretta 35. This model had an improved transverse stability and a best handling, in more of a new system of lighting. Great innovation, it could be also equipped with tires.
| | |
| --- | --- |
| | |
| Autocarreta 35 | Autocarretta 36Mt. |
| | |
Les deux véhicules connurent leur baptême du feu durant la campagne d'Ethiopie en 1935-1936, en très grand nombre, particulièrement sur le front nord. A la fin de la guerre plus de 1500 véhicules de ce type étaient déployés en Ethiopie, contre seulement 78 en Somalie. Ces véhicules très maniables, faciles d'emploi, et utilisables sur des terrains fort différents, souffraient seulement d'une vitesse trop faible.
Les OM32 et OM35, furent ensuite employées en Espagne au sein du CTV. Ils étaient (328 camions en tout) regroupés en autosezrioni de 24 véhicules ou assignés par petits lots à différentes unités. Les Italiens perdirent beaucoup de ces camions au début de la guerre en raison d'un manque d'expérience avéré des conducteurs. Une meilleure formation permettra de faire tomber sensiblement le pourcentage des pertes. En Espagne, ces véhicules servirent également comme tracteur d'artillerie pour les canons de 65/17. Ces petits camions démontrèrent encore une fois en Espagne, toute leur utilité. Cependant dans cette campagne, ils furent principalement utilisé sur route, donc à plus grande vitesse, causant ainsi une usure plus rapide du moteur, ainsi que des surchauffes plus fréquentes de ce dernier.
The two vehicles knew their baptism of fire during the campaign if Ethiopia in 1935-1936, in very great number, particularly on the northern front. At the end of the war more than 1500 vehicles of this type were deployed in Ethiopia, against only 78 in Somalia. These vehicles very handy, easy of employment, and usable on extremely different grounds, suffered only of a too low speed.
The OM32 and OM35, were then employed in Spain within the CTV. They (328 trucks in all) were gathered in autosezrioni of 24 vehicles or were assigned by small batches within various units. The Italians lost many of these trucks at the beginning of the war because of a d' lack of experiment proven of the drivers. A better formation will make it possible to make fall appreciably the percentage of the losses. In Spain, these vehicles were also useful like tractor of artillery for the guns of 65/17. These small trucks showed once again in Spain, all their utility. However in this campaign, they were mainly used on road, therefore at more high speed, thus causing a faster wear of the engine, as well as more frequent overheatings of this last.
| | |
| --- | --- |
| | |
| Autocaretta 32 aidée pour la traversée d'un torrent en Erythrée, en 1935. | Autocarretta 35 sortie de route dans les Alpes, en juin 194, et récupérée tant bien que mal. |
| Autocaretta 32 helped for the crossing of a torrent in Erythrea, in 1935. | Autocarretta 35 exit of the road in the Alps, in June 194, and recovered hardly |
| | |
En raison du bon comportement de ces petits camions, l'armée italienne en commanda 2000 autres en mai 1935 et octobre 1939. Certains feront partie des Grandi Unità Motorizzate. Pour être utilisés dans ces unités, les OM35 devront être modifiés, en portant leur capacité de charge à 10 hommes (contre 6 auparavant) et en généralisant l'utilisation de pneus type Artiglio (à la place des pneus pleins). La vitesse maximum fut élevée à 48 km/h et certains véhicules furent armés de 2 mitrailleuses de 6.5 mm Breda 30. Ce fut la naissance de l'Autocarretta 36. La version transport de troupe fut appelée 36P et la version transport de matériel fut appelée 36Mt (charge utile de 800 kg). Toutes les divisions motorisées devaient en principe être équipées d'un groupe de manoeuvre composé d'une section d'OM 35 et 13 sections de OM 36 (312 véhicules au total). Les divisions alpines devaient disposer de 56 OM 32/35. En plus de la OM 36Mt, fut développée pour l'Europe une OM 37, toujours pour le transport de matériel. L'OM 37 était plus basse, équipée de pneus pleins, sans pare-brise, et disposait d'un filtre à air à la gauche du moteur, en plus d'un réservoir plus grand (41L au lieu de 39L). Elle pouvait également accueillir 100 kg de matériel en plus que la version OM 36Mt
Because of the good behavior of these small trucks, Italian army ordered 2000 others of them in May 1935 and October 1939. Some will belong to Grandi Unità Motorizzate. To be used in these units, the OM35 will have to be modified, while carrying their load capacity to 10 men (against 6 before) and by generalizing standard use of tires Artiglio (in the place of the full tires). Maximum speed was high to 48 km/h and certain vehicles were armed with 2 machine-guns of 6.5 mm Breda 30. It was the birth of Autocarretta 36. The version transport of troop was called 36P and the version transport of material was called 36Mt (payload of 800 kg). All motorized divisions were to be equipped in theory of a group of operation made up of a section of OM 35 and 13 sections of OM 36 (312 vehicles on the whole). Alpine divisions were to have 56 OM 32/35. In addition to the OM 36Mt, was developed for Europe a OM 37, always for the transport of material. The OM 37 lower, was equipped with full tires, was without windshield, and laid out an air filter on the left of the engine, in more of a larger fuel tank (41L instead of 39L). It could also accomodate 100 kg of material in more than version OM 36Mt
Libya, 1938.

Autocarrette quittant l'usine OM de Brescia

Autocarrette leaving OM factory of Brescia
Cependant, la production mensuelle de l'usine OM ne dépassait pas les 100 véhicules, ce qui était totalement insuffisant pour satisfaire aux besoins des troupes italiennes. En effet le 19 septembre 1937, il manquait 2411 camions pour remplir les effectifs théoriques. Le coût de fabrication était également très élevé. De plus, de plus en plus de voix critiques se faisaient entendre et un compte-rendu de manoeuvres des 1939, bien que reconnaissant beaucoup de qualité aux Autocarette, évoqua la nécessité de les remplacer par des camions légers SPA 38 ou SPA 39.
Au début de la seconde guerre mondiale, 2751 véhicules de ce type étaient encore dans les rangs de l'armée italienne, sans compter celles restées en AOI. Ces véhicules seront encore utilisé largement durant la guerre, sur tous les fronts, en particulier en Russie et dans les Balkans. Une version ferroviaire blindée y fut développée.
However, monthly production of OM factory did not pass the 100 vehicles, which was completely insufficient to satisfy the needs for the Italian troops. Indeed on September 19, 1937, it missed 2411 trucks to fill theoretical strength. The manufacture cost was also very high. Moreover, more and more critical voices were made hear and a report of operations of the 1939, although recognizing much quality in Autocarette, evoked the need to replace them by light trucks SPA 38 or SPA 39.
At the beginning of the second world war, 2751 vehicles of this type were still in the rows of Italian army, without counting those remained in AOI. These vehicles will be still used largely during the war, on all fronts, in particular in Russia and in Balkans. An armored railway version there was developed.
OM32 Specifications

General

Type: Truck
Crew: 2
Production: ?

Engine

Type: AM 4 cylinders
Power: 20 hp

Dimensions/Masses

Length: ? m
Width: ? m
Height: ? m
Weight: 1580kg (empty)

Performances

Maximum Speed: 25km/h
Maximum Range: 160km

OM35 Specifications

General

Type: Truck
Crew: 2
Production: ?

Engine

Type: AM 4 cylinders
Power: 23 hp

Dimensions/Masses

Length: ? m
Width: ? m
Height: ? m
Weight: 1580kg (empty)

Performances

Maximum Speed: 25km/h
Maximum Range: 160km

OM36 Mt Specifications

General

Type: Truck
Crew: 2
Production: ?

Engine

Type: AM 4 cylinders
Power: 20 hp

Dimensions/Masses

Length: ? m
Width: ? m
Height: ? m
Weight: 1660kg (empty)

Performances

Maximum Speed: 45km/h
Maximum Range: 160km

OM37 Specifications

General

Type: Truck
Crew: 2
Production: ?

Engine

Type: AM 4 cylinders
Power: 20 hp

Dimensions/Masses

Length: ? m
Width: ? m
Height: ? m
Weight: 1600kg (empty)

Performances

Maximum Speed: 36km/h
Maximum Range: 160km

OM36 P Specifications

General

Type: Truck
Crew: 2
Production: ?

Engine

Type: AM 4 cylinders
Power: 20 hp

Dimensions/Masses

Length: ? m
Width: ? m
Height: ? m
Weight: 1650kg (empty)

Performances

Maximum Speed: 45km/h
Maximum Range: 160km
Autocarri Unificati Ursus & Taurus
Peu avant la seconde guerre mondiale, FIAT (par l'entremise de sa filiale OM), lança la production d'un camion moyen (Taurus) et un camion lourd (Ursus), tous les deux équipés d'un moteur à injection. Ces deux camions aux dimensions différentes avaient cependant un aspect fort similaire. Le Taurus fut le modèle le plus fabriqué. Une version essence du Taurus fut produit entre 1940 et 1944. La version militaire du Ursus fut produite entre 1940 et 1942.
Little before the second world war, FIAT (by the means of its subsidiary company OM), launched the production; a medium truck (Taurus) and a heavy truck (Ursus), both equipped with a fuel injection engine. These two trucks with different dimensions had an extremely similar aspect however. Taurus was the model manufactured in greatest number. A gasoline version of Taurus was produced between 1940 and 1944. The military version of Ursus was produced between 1940 and 1942.
| | |
| --- | --- |
| | |
| Autocarro medio OM Taurus | Autocarro pesante OM Ursus |
| | |
En 1944, pour le compte de la Wehrmacht, le Taurus fut converti en tracteur semi-remorque (remorque Orlando). Les Allemands firent acquisistion de 2305 Taurus entre janvier 1944 et 1945.
In 1944, on behalf of Wehrmacht, Taurus was converted into tractor semitrailer (Orlando trailer). The Germans made acquisistion of 2305 Taurus between January 1944 and 1945.
OM Taurus and trailer.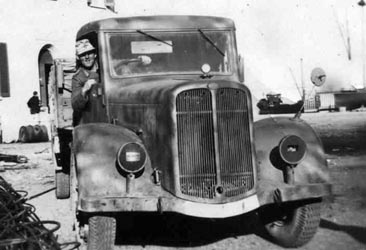 OM Taurus of the Wehrmacht.

OM Taurus démineur, testé en Afrique du Nord.
OM Taurus Mine Cleaner, tested in North Africa.
Taurus Specifications

General

Type: Truck
Crew: 2
Production: ?

Engine

Type: 6 cylinders diesel
Power: 100 hp

Dimensions/Masses

Length: 7.435 m
Width: 2.400 m
Height: 3.245 m
Weight: 3500 Kg

Performances

Maximum Speed: 62,3 Km/h
Maximum Range: 280 Km

Ursus Specifications

General

Type: Truck
Crew: 2
Production: ?

Engine

Type: 6 cylinders diesel
Power: 100 hp

Dimensions/Masses

Length: 7.435 m
Width: 2.400 m
Height: 3.245 m
Weight: 5600 Kg

Performances

Maximum Speed: 52 Km/h
Maximum Range: 480 Km


Sources: