Lancia Trucks
Autocarri Pesanti Lancia Ro & 3Ro & Autocannone da 90 - Lancia 3 Ro
Le camion lourd Lancia Ro fut conçu en 1933 en deux versions différentes (un diesel (NM) et un essence (BM)). Le Lancia Ro était un camion fiable et très robuste. Il était équipé d'une boîte à 4 vitesses avec réducteur (une nouveauté en Italie). La version diesel fut décliné en camion civil. Les versions militaires étaient dotés de roues semi-pneumatiques (standard) ou entièrement pneumatiques (colonies). L'armée italienne firent acquisition entre 1934 et 1938 de 3056 exemplaires de la version diesel et 1701 exemplaires de la version essence. Le Lancia Ro servit de base pour concevoir de nombreuses versions spéciales comme un atelier de campagne, un camion-citerne, une dépanneuse, un transport de quadrupèdes. Ce camion fut également utilisé comme tracteur d'artillerie divisionnaire ou de groupe d'armées et également comme transport de char léger. Au départ, il fut livré aux Divisioni Autotransportabile AS, aux Reggimenti Carristi et aux Autocentri. Il connu son baptême du feu (228 camions) en Afrique Orientale en 1935-1936 et y donna entière satisfaction. Les routes montagneuses et les grandes variations de température ne lui causèrent guère de difficultés. Ces camions prouvèrent encore leur valeur durant la guerre civile espagnole en 1936-1938. Cependant ses capacités tout-terrain étaient limitées. Durant les grandes manoeuvres de Libye en mai 1938, prirent part 900 camions Lancia Ro. Durant la deuxième guerre mondiale, il fut utilisé comme transport d'artillerie et comme tracteur d'artillerie.
The heavy truck Lancia Ro was designed in 1933 in two different versions (diesel (NM) and gasoline (BM)). Lancia Ro was a reliable and very robust truck. It was equipped with a 4-speed gearbox with reducer (an innovation in Italy). The diesel version was declined in the civil truck. The military versions were equipped with semi-tired wheels (standard) or full-tired wheels (colonies). Italian army made acquisition between 1934 and 1938 of 3056 specimens of the diesel version and 1701 specimens of the version gasoline. Lancia Ro was used as a basis to design many special versions like a field workshop, a tanker, a breakdown truck, a transport of quadrupeds. This truck was also used as divisional or army group artillery tractor and also like transport of light tank. At the beginning, it was delivered to Divisioni Autotransportabile AS, Reggimenti Carristi and Autocentri. It known its baptism of fire (228 trucks) in Eastern Africa in 1935-1936 and gave whole satisfaction to it. The mountainous roads and the great temperature variations caused not very difficulties. These trucks still proved their value during the Spanish civil war in 1936-1938. However its cross-country capacities were limited. During the army manoeuvres of Libya in May 1938, 900 trucks Lancia Ro were used. During the second world war, it was used as artillery transport and like artillery tractor.
| | |
| --- | --- |
| | |
| Lancia Ro | Lancia 3Ro |
| | |
Le Lancia Ro fut suivi par le Lancia 3Ro. Le Lancia 3Ro était équipé d'un nouveau moteur diesel à 5 cylindres et de roues entièrement pneumatiques. La benne du ce camion pouvait accueillir 32 hommes de troupe, un char léger, voir 7 chevaux. Comme le Ro, le 3Ro fut utilisé comme tracteur d'artillerie, mais aussi pour tracter des remorques Viberti et Bartoletti qui pouvaient accueillir un char moyen ou un canon automoteur. Les 657 premiers exemplaires furent livrés en 1939. Ils seront suivis par 2646 autres en 1940, 3162 en 1941, 1643 en 1942, 1205 en 1943, 51 en 1944 et 1 dernier exemplaire en 1945 (9490 véhicules au total). Les Allemands utiliseront 772 camions 3Ro (certains avec cabines Einheits allemandes) entre janvier 1944 et janvier 1945. On peut ajouter environ 100 exemplaires pour la fin 1943 et février 1945. Ces camions équipèrent les unités de l'Oberkommando Sud-Est (Balkans) et Sud-Ouest (Italie).
Lancia Ro was followed by Lancia 3Ro. Lancia 3Ro was equipped with a new diesel engine of 5 cylinders and full tired wheels. The bucket of this truck could accomodate 32 troopers, a light tank, see 7 horses. Like Ro, the 3Ro was used as artillery tractor, but also to tractor draw trailers Viberti and Bartoletti which could accomodate a medium tank or a self-propelled gun. The first 657 specimens were delivered in 1939. They will be followed by 2646 others into 1940,3162 into 1941,1643 into 1942,1205 into 1943,51 in 1944 and 1 last specimen in 1945 (9490 vehicles on the whole). The Germans will use 772 trucks 3Ro (some with German Einheits cabins) between January 1944 and January 1945. One can add approximately 100 specimens for the end 1943 and February 1945. These trucks equipped the units of the South-eastern (Balkans) and South-west (Italy) Oberkommando.
| | |
| --- | --- |
| | |
| Obusier de 100/17 monté sur la plate-forme arrière d'un Lancia 3Ro | Canon de 90 mm monté sur la plate-forme arrière d'un Lancia 3Ro |
| Howitzer of 100/17 assembled on the bucket of a Lancia 3Ro | 90 mm gun assembled on the bucket of a Lancia 3Ro |
| | |
Comme son prédécesseur, le Lancia 3Ro fut déclinés en de nombreuses versions spéciales comme un atelier de campagne modello 38, le camion-citerne de 5000 L d'eau, un camion-citerne avec deux réservoirs de 2000 L. Le Lancia 3R servit aussi de base pour réaliser deux Antocannoni: l'Autocannone da 100/17 et surtout le Antocannone da 90/53 accueillant le redoutable canon antichar et antiaérien de 90 mm italien. Ces deux véhicules furent utilisés durant la campagne d'Afrique du Nord.
Like its predecessor, Lancia 3Ro was declined in many special versions like a field workshop modello 38, the tanker of 5000 L, a water-tanker with two tanks of 2000 L. Lancia 3R was used for also basic to realize two Antocannoni: Autocannone da 100/17 and especially Antocannone da 90/53 accessible the frightening Italian anti-tank and anti-aircraft gun of 90 mm. These two vehicles were used during the North Africa campaign.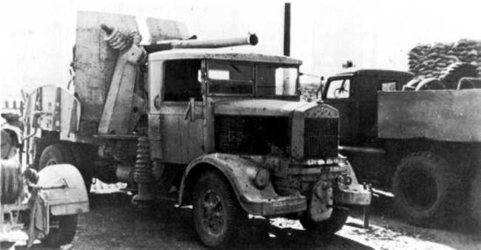 Canon de 90 mm monté sur la plate-forme arrière d'un Lancier 3Ro
90 mm gun assembled on the bucket of a Lancia 3Ro
3Ro Specifications
General
Type: Truck
Crew: 2
Production: 9490
Engine
Type: 5 cylinders diesel
Power: 93 hp
Dimensions/Masses
Length: ? m
Width: ? m
Height: ? m
Weight: 5610 Kg
Performances
Maximum Speed: 45 Km/h
Maximum Range: 450 Km


Sources: