Trattori Pesanti Campali Pavesi
Cette série de tracteurs conçus par Ugo Pavesi débuta après la fin de la Grande Guerre. En 1923, Pavesi présenta un tracteur nommé Fiat P.4/100, à un concours pour la conception d'un tracteur d'artillerie lourde tout-terrain, organisé par l'armée. Il fut testé avec une batterie d'obusiers de 149/12 mod.14 et remporta le concours. Une version légèrement allongée du P.4/100, le trattore pesante campale mod.25, fut ensuite développée et une présérie de 45 exemplaires fut commandée en 1944. Le modèle de série sera baptisée Pavesi mod.26 et cette version sera produite à 1000 exemplaires en 4 ans. Il équipa à raison de 5 véhicules par batterie (dont un de réserve), petit à petit les régiments d'artillerie lourde de campagne. Au début des années trente, après l'adoption d'un nouveau modèle de réservoir auxiliaire de forme plus plate sur le capot et aussi le renforcement du marchepied postérieur, ce tracteur fut rebaptisé Pavesi mod.30.
This series of tractors designed by Ugo Pavesi began after the end from the Great War. In 1923, Pavesi presented a tractor named FIAT P.4/100 to a contest for the design of a cross-country heavy artillery tractor, organized by the army. It was tested with a battery of howitzers of 149/12 mod.14 and gained the contest. A slightly lengthened version of P.4/100, the trattore pesante campale mod.25, was then developed and a preproduction of 45 specimens was ordered in 1944. The model of series will be baptized Pavesi mod.26 and this version will be produced to 1000 specimens in 4 years. It equipped at a rate of 5 vehicles per battery (of which one of reserve), gradually the regiments of heavy field artillery. At the beginning of the year thirty, after adoption of a new model of auxiliary fuel tank with form more punt, on the cap and also the reinforcement of the posterior footboard, this tractor was renamed Pavesi mod.30.
| | |
| --- | --- |
| | |
| Pavesi mod.26. | Pavesi mod.30. |
| | |
Pavesi mod.30-A.

Tracteurs Pavesi mod.30-A tractant des obusiers de 100/17 au début de la guerre.

Tractors Pavesi mod.30-A tractor drawing howitzers of 100/17 at the beginning of the war.
A la suite des 1000 tracteurs mod.26 et 30, sera produit dès 1934 un nouveau modèle, le Pavesi mod.30-A . Ce tracteur était doté de nombreuses améliorations mécaniques et pratiques. Fin 1937, 2300 tracteurs Pavesi mod.30 étaient livrés aux unités, et 270 étaient en commande. A la fin des années trente, ces tracteurs commencèrent à être équipés de pneus Pirelli Sigillo verde. Les tracteurs utilisés en afrique furent les premiers dotés de ces pneus qui équiperont ensuite tous les autres.

Following the 1000 tractors mod.26 and 30, since 1934 a new model, Pavesi mod.30-A will be produced. This tractor was equipped with many mechanical and practical improvements. At the end of 1937, 2300 tractors Pavesi mod.30 were delivered to the units, and 270 were in order. At the end of the Thirties, these tractors started to be equipped with tires Pirelli Sigillo verde. The tractors used in Africa were the first equipped with these tires which will equip then all the others.
| | |
| --- | --- |
| | |
| Pavesi mod.30-A dans les Alpes, en juin 1940. | Pavesi mod.30-A en AOI. |
| Pavesi mod.30-A in the Alps, in June 1940. | Pavesi mod.30-A in IOA. |
| | |
Les tracteurs Pavesi connurent leur baptême du feu lors de la campagne d'Ethiopie, dont 82 exemplaires sur le seul front nord. Ensuite on les retrouva en Espagne, au sein du CTV (138 tracteurs en octobre 1938). Ces tracteurs furent conçus pour tracter les canons lourds mais ils furent aussi utilisés pour les canons de 75/46 et d'obusiers de 100/17 mod.14. Ils furent également très appréciés dans la boue du front greco-albanais et en Ukraine. Bien qu'obsolète dans les années 40, ces tracteurs restèrent en service dans l'armée italienne jusqu'à l'armistice, et ensuite dans la Wehrmacht jusqu'en 1945.

The Pavesi tractors knew their baptism of fire at the time of the campaign of Ethiopia, including 82 specimens on the only northern front. Then one found them in Spain, within the CTV (138 tractors in October 1938). These tractors were designed to tractor draw the heavy guns but they were also used for the guns of 75/46 and howitzers of 100/17 mod.14. They also were very appreciated in mud of the Greek-Albanian front and in Ukraine. Obsolete in the Forties, these tractors remained in service in Italian army until armistice, and then in Wehrmacht until 1945.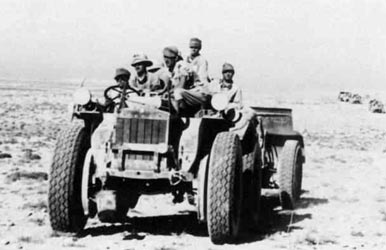 Pavesi mod.30-A avec pneus tractant un canon de 105/28.
Pavesi mod.30-A with tires tractor drawing a gun of 105/28.
Breda 32 Specifications
General
Type: Truck
Crew: 2
Production: ?
Engine
Type: 4 cylinders diesel
Power: 57 hp
Dimensions/Masses
Length: 4.10 m
Width: 2.05 m
Height: 2.40 m
Weight: 4600 Kg
Performances
Maximum Speed: 22 Km/h
Maximum Range: 190 km


Sources: