Breda Trucks
Tattrice Pesante Breda 32
Le Breda fut développé à partir de l'autocarro trattore Breda 4x4 de 1927, et fut adopté sous le nom de trattrice pesante 32. Il sera livré aux unités dès 1933, et remplaça petit à petit les vénérables tracteurs de la première guerre mondiale, pour l'artillerie lourde, comme le FIAT 18 BLR. A l'entrée en guerre de l'Italie, tous les régiments d'Artiglieria d'Armata en étaient cependant équipés.
Le Breda 33 fut développé spécialement pour Genio pontieri et lagunari, et mesurait 1.17 m de plus en longueur que le Breda 32. Il était aussi doté d'une cabine légèrement modifiée. Une version dépanneuse (avec grue) fut également développée en 1934 et testée en 1938 avec succès en Afrique Orientale.
Breda was developed from autocarro trattore Breda 4x4 of 1927, and was adopted under the name of trattrice pesante 32. It will be delivered to the units since 1933, and gradually replaced the worthy tractors of the First World War, for heavy artillery, like the FIAT 18 BLR. At the entry in war of Italy, all the regiments "d'Artiglieria d'Armata" were however equipped with it.
Breda 33 was developed especially for Genio pontieri et lagunari, and measured 1.17 m more in length that Breda 32. It was also equipped with a slightly modified cabin. A breakdown truck version (with crane) was also developed in 1934 and was tested in 1938 successfully in Africa Orientale.

| | |
| --- | --- |
| | |
| Breda 32 | Breda 33 |
| | |
Le Breda 32 équipa aussi les troupes hongroises, notamment comme tracteur pour les obusiers de 210/22 d'origine italienne.
Breda 32 equipped also the Hungarian troops, in particular like tractor for the howitzers of 210/22 of Italian origin.
| | |
| --- | --- |
| | |
| Batterie du XXXIIIème Gruppo d'Artiglieria d'Armata. Les canons de 149/40 sont tractés par des Breda 32 en Libye, en 1942. | Breda 33 traversant le fleuve Pô. |
| Battery of XXXIIIrd Gruppo d'Artiglieria d'Armata. The guns of 149/40 are tractor drawn by of Breda 32 in Libya, in 1942. | Breda 33 crossing the river Po. |
| | |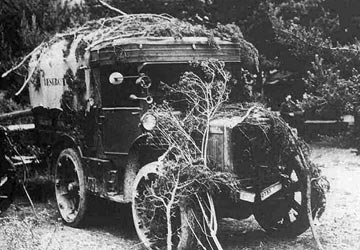 Breda 32 dans les Alpes, en juin 1940.
Breda 32 in the Alps, in June 1940.
Breda 32 Specifications
General
Type: Truck
Crew: 2
Production: ?
Engine
Type: T5 4 cylinders gasoline
Power: 84 hp
Dimensions/Masses
Length: 5.15 m
Width: 2.08 m
Height: 3.00 m
Weight: 8400 Kg
Performances
Maximum Speed: 30 Km/h
Maximum Range: 240 km with trailer
Le Breda 40 est le résultat de la décision de transformer le Breda 32 en tracteur d'artillerie colonial. Le design du nouveau tracteur colonial qui était équipé d'un moteur diesel et de pneus Artiglio, resta sur les planches à dessins jusqu'en 1940 cependant. Cette année la, un prototype à cabine ouverte fut réalisé, suivis d'un autre prototype à caisson métallique qui sera baptisé Breda 40. Ce tracteur fut accepté par l'Esercito le 24 mars 1942 et après quelques modifications, il fut mis en production mais les premiers exemplaires ne rejoignirent le théâtre nord africain que l'été 1942.
Breda 40 is the result of the decision to transform Breda 32 into colonial tractor of artillery. Design of the new colonial tractor which was equipped with a diesel engine and Artiglio tires, remained on the drawing boards until 1940 however. This year, a prototype with open cabin was produced, followed by another prototype with steel caissonwhich will be baptized Breda 40. This tractor was accepted by Esercito on March 24, 1942 and after some modifications, it was put in production but the first specimens joined the African northern theatre only in summer 1942.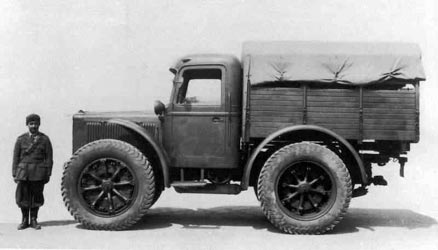 Trattice pesante Breda 40.
Une version coloniale, équipée d'une d'une grue escamotable, baptisée trattrice pesante Breda 41 fut également développée. Le Breda 41 avait un caisson aux parois rehaussées. Une version essence fut également créée et présentée au Centro Studi Motorizzazione le 25 juillet 1942. La production du Breda 41 continua après l'armistice du 8 septembre 1943 pour le compte des Allemands. La Wehrmacht en recevra 100 en 1944.
A colonial version, equipped with a retractable crane, baptized trattrice pesante Breda 41 was also developed. Breda 41 had a box with raised walls. A gasoline version was also created and presented to Centro Studi Motorizzazione on July 25, 1942. The production of Breda 41 continued after armistice of September 8, 1943 on behalf of the Germans. Wehrmacht will receive 100 in 1944 from them.
| | |
| --- | --- |
| | |
| Trattice pesante Breda 40. | Trattrice pesante coloniale Breda 41 |
| | |
Breda 41 Specifications
General
Type: Truck
Crew: 2
Production: ?
Engine
Type: D11 6 cylinders diesel
Power: 115 hp
Dimensions/Masses
Length: 5.40 m
Width: 2.40 m
Height: 2.92 m
Weight: 10100 Kg
Performances
Maximum Speed: 41 Km/h
Maximum Range: 260 Km with trailer
Autocarro coloniale Breda 51
Le prototype de ce camion tout terrain fut présenté en décembre 1936 et subira de nombreux tests avec succès en Afrique orientale italienne jusqu'en 1938. Après quelques modifications, le prototype définitif fut officiellement baptisé Breda 51 et présenté aux autorités le 31 janvier 1941. L'administration coloniale commanda 48 exemplaires. De son côté l'armée italienne fut dotée de véhicules dotés d'une cabine plus petite. La production ne fut pas interrompue par la perte des colonies italiennes d'Afrique orientale. Cependant le Breda 51 continua sa carrière en Afrique du Nord en tant que tracteur d'artillerie. Les italiens montèrent un obice da 149/19 modello 41 de façon expérimentale sur la plate-forme d'un Breda 52. Il servit également comme base de tir mobile (Autocannone Breda 52 da 90/53 ) pour le canon de 90/53.
The prototype of this cross country truck was presented in December 1936 and will successfully undergo many tests in Italian Eastern Africa until in 1938. After some modifications, the final prototype was officially baptized Breda 51 and was presented to the authorities on January 31, 1941. Colonial administration ordered 48 specimens. On its side Italian army was equipped with vehicles equipped with a smaller cabin. The production was not stopped by the loss of the Italian colonies of Eastern Africa. However Breda 51 continued its career in North Africa as a tractor of artillery. Italian assembled a obice da 149/19 modello 41 in an experimental way on the platform of a Breda 52. It was also used as mobile bases of shooting (Autocannone Breda 52 da 90/53) for the gun of 90/53.
| | |
| --- | --- |
| | |
| Breda 51. | Breda 51 coloniale au CSM. |
| | |
Le canon de 90/53 était installé sur la même plate-forme que celle conçue pour le Lancia 3Ro. Le prototype de cet automoteur fut présenté le 10 mars 1941 et le le modèle définitif fut présenté sous le nom de cannone autocampale da 90/53 su autotelaio Breda 51 en avril 1942. Un transport de munitions sur le même châssis fut également prévu. Par la suite les autocanons seront montés sur un châssis légèrement amélioré, le Breda 52. 70 exemplaires de l'autocanon basé sur le Breda 51 furent commandés, une commande qui sera réduite à 50 le 18 septembre 1941 au profit de l'autocanon sur le Lancia 3Ro. Elle fut réévaluée le 2 décembre 1941 et fut portée à 90 exemplaires. Une autre commande de 96 exemplaires fut envisagée en juillet 1943 mais ne fut jamais honorée.
The gun of 90/53 was installed on the same platform as that conceived for Lancia 3Ro. The prototype of this motorized gun was presented on March 10, 1941 and the final model was presented under the name of cannone autocampale da 90/53 su autotelaio Breda 51 in April 1942. An ammo carrier on the same chassis was also envisaged. Thereafter autocanons will be assembled on a slightly improved chassis, Breda 52. 70 specimens of the autocanon based on Breda 51 was ordered, an order which will be reduced to 50 on September 18, 1941 to the profit of the autocanon on Lancia 3Ro. It was revalued on December 2, 1941 and was carried to 90 specimens. Another order of 96 specimens was considered in July 1943 but was never honoured.
| | |
| --- | --- |
| | |
| Obice da 149/19 monté sur la plate-forme arrière d'un Breda 52 à Furbara. | Prototype de l'autocannone Breda, le 11 mars 1941 à Gênes. |
| Obice da 149/19 assembled on the rear platform of a Breda 52 at Furbara. | Prototype of autocannone Breda, on March 11, 1941 in Genoa. |
| | |
Les premiers autocannoni équipèrent le DIVe gruppo du 3e Raggruppamento Artiglieria Contraerei en Tunisie en janvier 1943, le DVe gruppo qui combattit en Sicile en juillet 1943 et le DLVIe gruppo. Les DVIIe et DVIIIe gruppi prévus fin février 1942, devaient eux aussi être équipés avec ces autocanons.
The first autocannoni equipped DIVth the gruppo of 3rd Raggruppamento Artiglieria Contraerei in Tunisia in January 1943, DVth gruppo which fought in Sicily in July 1943 and DLVIth gruppo. DVIIth and DVIIIth gruppi envisaged at the end of February 1942, were them to also be equipped with these autocanons.

Autocannone Breda 52.

Autocannone Breda 52 da 90/53 capturé en Sicile.

Autocannone Breda 52 da 90/53 captured in Sicily.
Specifications
General
Type: Truck
Crew: 2
Production: 90
Engine
Type: D11 6 cylinders gasoline
Power: 125 hp
Dimensions/Masses
Length: 6.75 m
Width: 2.50 m
Height: 3.00 m
Weight: 8500 Kg
Performances
Maximum Speed: 60 Km/h
Maximum Range: 800 Km


Sources: