Autotrasporto blindato SPA Dovunque 35
En 1938, l'armée italienne pensa équiper les régiments de bersaglieri au sein des brigate corazzate avec un transport de troupe blindé sur roue. Le premier prototype de ce véhicule de transport, malgré plusieurs réserves sur le poids excessif causé par la pose d'un blindage, fut présenté en 1941. Le véhicule cependant ne fut finalisé que très peu de temps avant l'armistice en septembre 1943 en raison de bagarres d'experts sur son utilisation et son côté pratique.
In 1938, Italian army thought to equip the regiments of bersaglieri within the brigate corazzate with a wheeled armored personnel carrier. The first prototype of this carrier, in spite of several reserves on the excessive weight caused by the installation of a shielding, was presented in 1941. The vehicle however was finalized only very little time before armistice in September 1943 because of brawls of experts on its use and its practical use.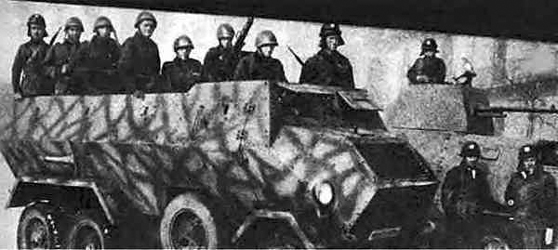 Autotrasporto blindato SPA Dovunque 35
Le premier prototype construit en 1941 était basé sur le châssis modifié du Dovunque 35. Il fut livré le 11 novembre 1944, à la Ia Brigata Nera Ather Capelli basée à Turin. Le véhicule de couleur jaune sable strié de brun était armé d'une mitrailleuse Fiat modello 35 de 8 mm.
The first prototype built in 1941 was based on the modified chassis of Dovunque 35. It was delivered on November 11, 1944, to Ia Brigata Nera Ather Capelli based in Turin. The vehicle with yellow sand color striated with brown was armed with a machine-gun FIAT modello 35 of 8 mm.
Autotrasporto blindato SPA Dovunque 35
Une version entièrement couverte fut également mise au point. Cependant ces véhicules étaient encore en phase de finition dans les ateliers Viberti à Turin fin avril 1945. Trois véhicules furent réquisitionnés sans leur toit par la RSI, alors que deux autres véhicules furent capturés par les partisans.
An entirely covered version was also developed. However these vehicles were still in phase of completion in the Viberti workshops in Turin at the end of April 1945. Three vehicles were requisitioned without their roof by the RSI, whereas two other vehicles were captured by the partisans.
Autotrasporto blindato SPA Dovunque 35
Specifications
General
Type: Armored Personnel Carrier
Crew: ? passengers
Production: ?
Engine
Type: 18T 4 cylinders gasoline
Power: 55 hp
Dimensions/Masses
Length: 5.30 m
Width: 2.00 m
Height: 2.35 m (2.55 m for the covered vehicles)
Weight: ? Kg
Performances
Maximum Speed: ? Km/h
Maximum Range: ? Km
Armament/Armor
Armament: 8 mm Fiat modello 35
Secondary armament: -
Armor: 8 mm


Sources: