Autoprotetto S37
L'Autoprotetto S.37 est un transport de troupe léger développé à partir du châssis du tracteur d'artillerie TL37 qui fut présenté à l'armée en été 1941. Il était capable d'embarquer en plus du pilote, 7 hommes de troupe. Il fut officiellement adopté le 4 février 1942 et une commande de 150 exemplaires fut passée avec la firme FIAT mais en toute vraisemblance, ce total ne fut jamais atteint. En raison de son faible blindage (en plus non complet), le S.37 ne fut pas utilisé par les Italiens sur les champs de bataille d'Africa Settentrionale (Afrique du Nord) malgré le manque de transports de troupe pour l'infanterie italienne. Le manque de meurtrières, ne permettait pas aux fantassins de faire usage de leurs armes en toute sécurité. On tenta de remédier à ce défaut en installant sur la haut du véhicule des boucliers percés (pour laisser passer une arme). Sur certains véhicules c'est le compartiment en entier qui était rehaussé par des panneaux de bois munis de meurtrières. Au sinon c'était un excellent véhicule 4x4.
Autoprotetto S.37 is a light transport of troop developed starting from the chassis of the tractor of artillery TL37 and which was presented to army in summer 1941. It was able to embark in addition to the driver, 7 troopers. It was officially adopted on February 4, 1942 and an order of 150 specimens had placed with firm FIAT but in all probability, this total was never reached. Because of its weak shielding (and noncomplete), S.37 was not used by the Italians on the battle fields of Africa Settentrionale (North Africa) in spite of the lack of transport of troop for Italian infantry. The lack of loopholes, did not make it possible to the infantrymen to make use of their weapons in full safety. One tried to cure this defect while installing on the top of the vehicle bored shields (to let pass a weapon). On certain vehicles is the compartment in entirety which was raised by wood panels provided with loopholes. With if not it was an excellent 4x4 vehicle.
Le S.37 fut utilisé principalement comme véhicule d'escorte de convoi dans les Balkans. Il fut affectés notamment au dépôt du 31e reggimento carristi de Sienne, à la 955a sezione autoprotetti et la 1118a autosezione mista de la division d'infanterie Macerata, au 259e autoreparto autoprotetti du 5e autogruppo de Trento, à la 1034a sezione autoprotetti, le LXXIe battaglione motociclisti auprès du dépôt du 6e reggimento bersaglieri et la 1034a sezione autoprotetti du 11e autoreparto pesante.
S.37 was used mainly like escort vehicle for convoys in Balkans. It was in particular affected to the deposit of 31st reggimento carristi of Sienna, to the 955th sezione autoprotetti and the 1118th autosezione mista of the infantry division Macerata, to the 259th autoreparto autoprotetti of the 5th autogruppo of Trento, to the 1034th sezione autoprotetti, LXXIst battaglione motociclisti into the deposit of the 6th reggimento bersaglieri and the 1034th sezione autoprotetti of the 11th autoreparto pesante.
| | |
| --- | --- |
| | |
| S.37 version lance-flammes en Yougoslavie. | Autoprotetto S.37 de la 259a sezione autoprotetti en direction de Fiume (de nos jours Rijeka). |
| S.37 flame thrower version in Yugoslavia. | Autoprotetto S.37 of the 259th sezione autoprotetti in direction of Fiume (nowadays Rijeka). |
| | |
Le 30 mai 1943, il restait encore 102 exemplaires de ce petit transport de troupe en service dans l'armée italienne. Lors de l'armistice de 1943, les troupes allemandes récupérèrent 37 véhicules, qu'elles utilisèrent comme transport de munitions ou ravitailleur sous le nom de gepanzerter Mannschaftstransportwagen S 37 250(i). Les partisans yougoslaves et croates en capturèrent un certain nombre également.
On May 30, 1943, there remained still 102 specimens of this small transport of troop in service in Italian army. At the time of armistice of 1943, the German troops recovered 37 vehicles, that they used as transport of ammunition or supply vehicle under the name of gepanzerter Mannschaftstransportwagen S 37.250 (I). The Yugoslav and Croatian partisans captured a certain number of it also.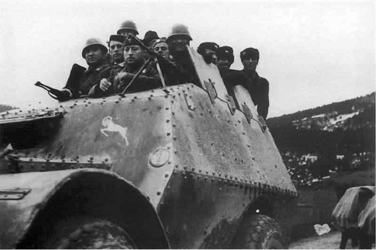 Véhicule photographié durant une mission d'escorte dans les Balkans.
Vehicle photographed during a mission of escort in Balkans.
Specifications
General
Type: Light Personnel Carrier
Crew: 1+8 passengers
Production: less 150
Engine
Type: 18 VT à 4 cyl., petrol (300 L)
Power: 65 hp (12.07 hp/t)
Dimensions/Masses
Length: 4.95 m
Width: 1.92 m
Height: 2.13 m
Weight: 5550 Kg
Performances
Maximum Speed: 52 Km/h
Maximum Range: 725 Km
Armament/Armor
Armament: 1 x 8mm M37 Breda MG (loose)
Secondary armament: -
Armor: 6 to 8.5 mm


Sources: