Other Armored Cars
Lince scout car
L'Autoblinda Lince (Lynx) est une voiture de reconnaissance développée entre 1943 et 1945 par la république Socialiste italienne (Italie du Nord) en copiant tout simplement la Daimler Dingo Scout Car britannique. Ce véhicule utilisé pour la reconnaissance était armée d'une simple mitrailleuse de 8 mm. Environ 250 exemplaires de ce petit véhicule furent produits. Certains furent utilisés par les Allemands sous le nom de Panzerspähwagen Lince 202(i).
Autoblinda Lince (Lynx) is a scout car developed between 1943 and 1945 by the Italian Socialist Republic (North of Italy) by copying British Daimler Scout Car quite simply. This vehicle used for the reconnaissance was armed with a simple machine-gun of 8 mm. About 250 specimens of this small vehicle were produced. Some were used by the Germans under the name of Panzerspähwagen Lince 202 (i).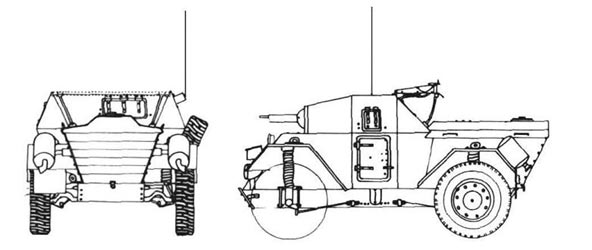 Lince Scout Car
Specifications
General
Type: 4x4 Scout Car
Crew: 2
Production: 263
Engine
Type: Lancia 91 8 cyl, petrol
Power: 70 hp at 3750 rpm
Dimensions/Masses
Length: 3.24 m
Width: 1.60 m
Height: 1.75 m
Weight: 3140 kg
Performances
Maximum Speed: 82 Km/h on road
Maximum Range: 400 km on road, 350 km off road
Armament/Armor
Armament: 8 mm Breda MG (1608 rounds)
Secondary armament: -
Armor: 6-30 mm
En janvier 1944, débutèrent les études sur le développement d'une voiture blindée basée sur la Camionnetta AS.43. Ce nouveau véhicule devait être en théorie plus économique à produire que l'AB41. Viberti proposa un premier dessin du futur véhicule, le 28 janvier 1944. Une ultime modification fut apportée au design le 3 avril 1944. Quelques exemplaires de cette voiture blindée seront produits sous le nom de Carrozzeria Speciale AS43 Viberti. Ce véhicule était doté d'une tourelle similaire à celle du char léger L6/40. Les exemplaires produits furent incorporés au sein du Gruppo Leonessa de la GNR, probablement début mai 1944, et plus précisément au sein des deuxième et troisième compagnies casernées à Turin (Caserne Dabormida).
In January 1944, began the studies on the development of an armored car based on Camionnetta AS.43. This new vehicle was to be in theory more economic to produce than AB41. Viberti proposed a first drawing of the future vehicle, on January 28, 1944. An ultimate modification was made to the design on April 3, 1944. Some specimens of this armored car will be produced under the name of Carrozzeria Speciale AS43 Viberti. This vehicle was equipped with a turret similar to that of the light tank L6/40. The produced specimens were built-in Gruppo Leonessa of the GNR, probably at the beginning of May 1944, and more precisely within the second and third companies quartered in Turin (Dabormida Caserne).
Autoblinda AS.43
Specifications
General
Type: Armored Car
Crew: 3
Production: few
Engine
Type: SPA ABM1 6cyl, petrol
Power: 100 hp at 2700 rpm
Dimensions/Masses
Length: 4.77 m
Width: 2.62 m
Height: 2.02 m
Weight: ? kg
Performances
Maximum Speed: 80 Km/h on road
Maximum Range: 300 km on road
Armament/Armor
Armament: 20 mm Breda Modelle 35
Secondary armament: 2 x 8 mm Breda Modello 38 MG
Armor: 15-40 mm
Automitrailleuse fabriquée dans les ateliers Terni, à partir de la fin 1918. Cette machine aussi appelée Fiat-Tripoli fut utilisée par l'armée italienne de 1920 à 1940 en particulier en Lybie et en Cyrénaïque. En 1935, elle fut dotée de nouvelles roues aux pneus plus performants. Un peu avant la deuxième guerre mondiale, 6 carrosseries seront retirées de leur vieillissant châssis de camion Fiat Ter 15 pour être montées sur des châssis SPA-38 (4x2). Sur ces machines, le toit de la tourelle est supprimée et les mitrailleuses originales sont remplacées par une Breda automatique de 12.7 mm. Les Terni furent utilisées contre les Anglais, mais complètement obsolètes, elle subirent de lourdes pertes.
Armored car manufactured in the workshops of Terni, from the end of 1918. This machine also named Fiat-Tripoli was used by the Italian army from 1920 to 1940 in particular in Libya and Cyrenaica. In 1935, it was equipped with new wheels with better tires. Shortly before the second world war, 6 bodies will be removed from their aging truck Fiat 15 Ter chassis to be mounted on SPA-38 chassis (4 x 2). On these machines, the roof of the turret is removed and the original machine guns are replaced by a 12.7 mm automatic Breda. The Terni were used against the English, but completely obsolete, it suffered heavy losses.
Fiat Terni (Tripoli)
Specifications
General
Type: Armored Car 4x2
Crew: 2
Production: 12
Engine
Type: 4 cyl, petrol
Power: 36 hp at 1600 rpm
Dimensions/Masses
Length: 4.54 m
Width: 1.70 m
Height: 3.07 m
Weight: 1400 kg
Performances
Maximum Speed: 45 Km/h on road
Maximum Range: ? km on road
Armament/Armor
Armament: 12.7 mm Breda MG
Secondary armament: -
Armor: 6 mm
Ce petit véhicule blindé bizarre possédait une forme rhomboïde au sein de laquelle les roues étaient disposées de manière peu habituelle. En effet ce véhicule à 4 roues, disposait d'un train de roues central, les deux autres roues étant disposées à l'avant et à l'arrière. Ce véhicule fut développé par la firme aéronautique Caproni et présenté pour la première fois début 1942. Le Vespa qui disposait d'un équipage de 2 hommes et était armé d'une mitrailleuse montée à l'avant de 8 mm ne fut cependant jamais produit. Il était propulsé par un moteur de 82 ch qui lui permettait d'atteindre 86 km/h sur route.
This small odd armored vehicle had a rhomboid hull within which the wheels were mounted in a not very usual way. Indeed this vehicle with 4 wheels, had a central train of wheels, two other wheels mounted in front and behind. This vehicle was developed by the aeronautical firm Caproni and was presented for the first time at the beginning of 1942. The Vespa which laid out a crew of 2 men and was armed with a front machine-gun of 8 mm was however never produced. It was propelled by an engine of 82 hp which allowed it to reach 86 km/h on road.
Vespa Caproni


Sources: