Autoblinda AB.611
L'Autoblinda Fiat 611 fut développé en 1932 sur base du châssis du camion Fiat dovunque 32. Le prototype de cette voiture blindée à trois axes fut conçu par Ansaldo et fut immédiatement acquis par le Corpo degli Agenti di Pubblica Sicurezza. Ce dernier passa commande de 10 autres exemplaires. Ces voitures blindées étaient légèrement différentes du prototype et disposaient d'un capot moteur redessiné. Cinq de ces véhicules étaient armés de 3 mitrailleuses Breda mod. 1930 de 6.5 mm (2 en tourelle) et les autres étaient équipées d'un canon de 37/40 en tourelle et de deux mitrailleuses Breda mod. 1930 tirant vers l'arrière. Nouveauté, cette voiture blindée était équipé d'un double poste de conduite qui lui permettait de faire marche arrière sans devoir faire demi-tour. Ce dispositif sera repris sur les voitures blindées AB40 et AB41.
Autoblinda FIAT 611 was developed in 1932 on the basis of chassis of FIAT dovunque 32 truck. The prototype of this armored car with three axes was designed by Ansaldo and was immediately acquired by Corpo degli Agenti di Pubblica Sicurezza. This last placed order of 10 other specimens. These armored cars were slightly different from the prototype and had a redrawn engine cowling. Five of these vehicles were armed with 3 machine-guns Breda Mod. 1930 of 6.5 mm (2 in turret) and the others were equipped with a gun of 37/40 in turret and two machine-guns Breda mod. 1930 firing towards rear. Innovation, this armored car was equipped with a double driver's station which enabled it to go into reverse without having to make half-turn. This device will be taken again on armored cars AB40 and AB41.
Durant ses deux premières années de service, l'Autoblinda Fiat 611 participa seulement à quelques manifestations comme le traditionnel défilé du 18 octobre (anniversaire de la fondation du corps de sécurité publique). Cependant les cinq exemplaires munis du canon de 37/40 furent réquisitionnés en avril 1935, par l'état-major italien en prévision de la future invasion de l'Ethiopie. Ces véhicules furent versés dans une nouvelle unité, la 1a sezione autonoma di autoblindo speciali, qui fut déployée en Somalie. Elles seront rejointes le 29 mars 1936 par les cinq exemplaires équipées seulement de mitrailleuses restées avant ce jour en métropole au sein des forces de sécurité publique. L'expérience du combat acquise en Ethiopie montra que l'Autoblinda Fiat 611 était peu adapté aux opérations tous terrains en raison de son poids trop important, de sa faible vitesse et de sa mauvaise maniabilité. De plus la disposition de l'armement sur les voitures-canons était peu judicieuse car ces véhicules en situation offensive ne pouvaient pas utiliser leurs mitrailleuses toutes disposées à l'arrière.
During its first two years of service, Autoblinda FIAT 611 took part only in some demonstrations like the traditional procession of October 18 (birthday of the foundation of the public security corps). However the five specimens provided with the gun of 37/40 were requisitioned in April 1935, by Italian staff in preparation for the future invasion of Ethiopia. These vehicles were versed in a new unit, the 1a sezione autonoma di autoblindo speciali, which was deployed in Somalia. They will be joined on March 29, 1936 by the five specimens equipped only with machine-guns remained before this day in metropolis within the public security corps. Experiment of the combat acquired in Ethiopia showed that Autoblinda FIAT 611 was adapted little to the cross-country operations because of its too important weight, its low speed and its bad handiness. Moreover the provision of armament on the car-guns was not very judicious because these vehicles in offensive situation could not use their machine-guns all pointed towards the rear.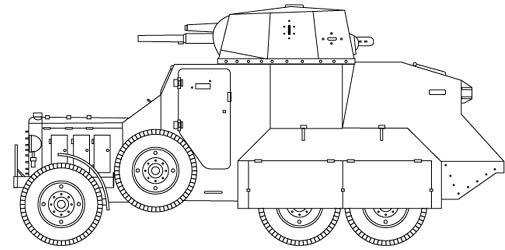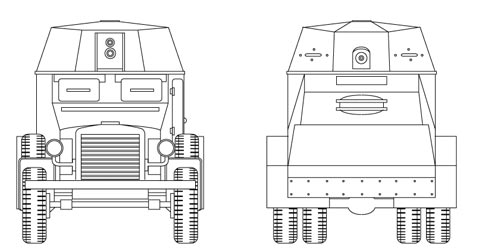 Autoblinda AB611
Peu avant la deuxième guerre mondiale, les mitrailleuses Breda furent remplacées par des mitrailleuses Lewis de 7.7 mm et 20 grenades furent ajoutées à la dotation de bord. Les AB611s ne furent utilisés que dans l'Afrique Orientale Italienne pour défendre l'empire et lors de la campagne de l'Ethiopie et de la Somalie britannique. Ce véhicule avait une valeur opérationnelle toute relative.
Few before the second world war, the Breda machine-guns were replaced by Lewis machine-guns of 7.7 mm and 20 grenades were added to the equipment. AB611s were used only in Italian Eastern Africa to defend the Empire and at the time of the campaign of Ethiopia and of British Somalia. This vehicle had a quite relative operational value.
| | |
| --- | --- |
| | |
| Fiat 611s de la police. | Fiat 611 dans le sud de l'Ethiopie, en avril 1936. |
| Fiat 611s of the police. | FIAT 611 in the south of Ethiopia, in April 1936. |
| | |
Specifications
General
Type: Armored Car
Crew: 5
Production: 46
Engine
Type: FIAT 122 B gasoline, 4 cylinders of 2516 Cm3
Power: 56 hp to 2600 rpm
Dimensions/Masses
Length: 5.72 m
Width: 2.00 m
Height: 2.66 m
Weight: 6900 Kg
Performances
Maximum Speed: 28 Km/h on road, 9 km/h off road
Maximum Range: 280 km
Armament/Armor
Armament: 37 mm 37/40 gun or 2 x 6.5 mm Breda mod.30
Secondary armament: 2 or 1 x 6.5 mm Breda mod.30
Armor: 6-15 mm


Sources: