Autoblinda AB.40/41/43
Le Regio Esercito et les colonies africaines de l'Italie, décidèrent après la campagne d'Ethiopie de 1935-1936 et la guerre civile espagnole (1936-1938) que ses voitures blindées vieillissantes Fiat 611 et Lancia 1Z devaient être remplacées par un véhicule plus moderne et tous terrains. Les prototypes de ce véhicule fut présenté au Duce en mai et en juin 1939 (l'un était destiné à la PAI (police coloniale de l'Afrique italienne) et l'autre au Regio Esercito). Ces deux véhicules étaient armés de deux mitrailleuses de 8 mm en tourelle et un troisième mitrailleuse montée dans la caisse. Ces deux véhicules donneront naissance à l'Autoblinda AB40. Cette voiture blindée sera produite à quelques exemplaires seulement (24).
Regio Esercito and African colonies of Italy, decided after the campaign of Ethiopia of 1935-1936 and the Spanish civil war (1936-1938) that its growing old armored cars FIAT 611 and Lancia 1Z were to be replaced by a more modern and cross-country vehicle. The prototypes of this vehicle was presented to Duce in May and June 1939 (lone was intended for PAI (colonial police force of Italian Africa) and other to Regio Esercito). These two vehicles were armed with two machine-guns of 8 mm in turret and a third machine-gun assembled in the hull. These two vehicles will give rise to Autoblinda AB40. This armored car will be produced with some specimens only (24).
Dés le départ il fut prévu que certaines de ces véhicules soient équipés d'un canon Breda de 20 mm à la place d'une des mitrailleuses de tourelle. Les rares combats en France, puis ceux plus intenses contre les Britanniques en Afrique en 1940, décidèrent les Italiens à équiper toutes les voitures blindées avec le canon de 20 mm. A partir de ce moment le véhicule fut rebaptisé Autoblinda AB41. Seulement 557 exemplaires de l'AB41 sortiront de l'usine et seront livrés à l'armée italienne.
Upon the departure it was expected that certain these vehicles are equipped with a Breda gun of 20 mm in the place of one of the machine-guns of turret. Rare combat in France, then those more intense against the British in Africa in 1940, decided the Italians to equip all the armored cars with the gun of 20 mm. From this moment the vehicle was renamed Autoblinda AB41. Only 557 specimens of AB41 will leave factory and will be delivered to Italian army.
Autoblinda AB41
La voiture blindée AB41 était un excellent véhicule 4x4, aux 4 roues directrices. En effet il accueillait deux chauffeurs ce qui permettait d'évoluer dans un sens comme dans l'autre aisément sans le besoin d'un demi-tour. Pratique pour une retraite rapide et sûre. L"AB41 était propulsé par un moteur Ansaldo SAP Abm essence à 6 cylindres développant 80 ch qui permettait au véhicule d'atteindre les 80-85 km/h sur route. L'autonomie était de 400 km. L'accès au moteur était cependant rendu difficile en raison du manque suffisant de trappes. Le moteur n'était pas suffisamment isolé de l'habitacle du véhicule ce qui provoquait des nuisances. Le réservoir supérieur n'était pas protégé et donc très vulnérable. Notons encore que la direction était assez fragile. L'accès au véhicule se faisait via les deux portes latérales de la caisse. Les deux autres trappes présentes sur la tourelle étaient surtout utilisées pour l'observation et une meilleure aération du véhicule, voir pour une évacuation d'urgence. Notons que les deux sabords présent à l'avant du véhicule abritent les phares avant. Deux roues de rechange flanquant les côtés de la caisse.
Armored car AB41 was an excellent 4x4 vehicle, with all steering wheels. Indeed it accomodated two drivers what allowed to move in a direction as in the other easily without the d' need of a half-turn. Practical for a fast and sure retirement. AB41 was propelled by an engine Ansaldo SAP Abm gasoline with 6 cylinders developing 80 hp which allowed the vehicle to reach 80-85 km/h on road. Range was of 400 km. Access to the engine was however made difficult because of the lack of sufficient hatches. The engine was not sufficiently isolated from the cockpit of the vehicle what caused harmful effects. The higher fuel tank was not protected and thus very vulnerable. Still let us note that the steering was rather fragile. Access to the vehicle was done via the two side doors of the hull. The two other hatches present on the turret were especially used for observation and a better ventilation of the vehicle, to see for an evacuation in urgency. Let us note that the two ports present in front of vehicle shelter the front headlights. Two wheels of replacement flanking the sides of the hull.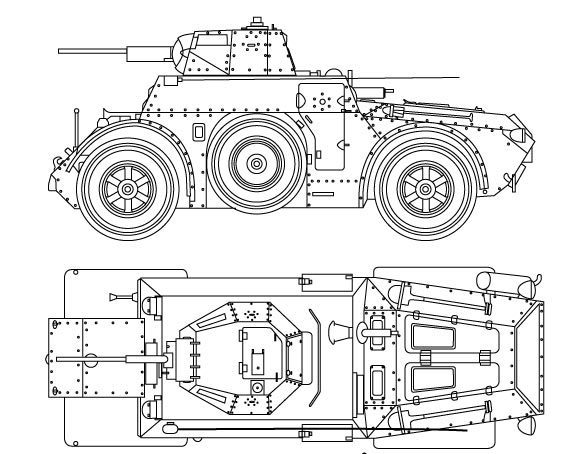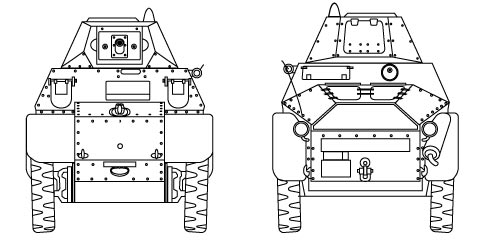 Autoblinda AB41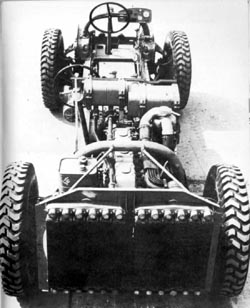 AB41 chassie & engine
Cannone-Mitragliera da 20/65 modello 35 (Breda)

Penetration of a shielding plate (mm) under a plunging angle of 30°

Weight

Velocity

100 m

400 m

800 m

1600 m

2000 m

0.14 kg

840 m/s

30

25

18

0

0
Le blindage riveté était épais de 9 mm pour les parties verticales de la caisse et de 18 mm pour celles de la tourelle. Les parties horizontales étaient épaisses de 6 mm. Ce blindage bien entendu n'offrait à l'équipage une protection contre les armes de petits calibres et les éclats seulement. L'armement principal était constitué d'un canon de 20 mm Breda 1935 anti-aérien approvisionné à 456 coups, situé dans la tourelle biplace, provenant du char léger L6/40. Ce canon était flanqué d'une mitrailleuse Breda de 8mm coaxiale. Une autre mitrailleuse était située à l'arrière de la superstructure. Les deux mitrailleuses étaient approvisionnées à 1992 coups. Un véhicule sur quatre était équipé d'une mitrailleuse anti-aérienne installée sur le toit de la tourelle.
The riveted shielding was thick of 9 mm for the vertical parts of the hull and of 18 mm for those of the turret. The horizontal parts were thick of 6 mm. This shielding of course offered to the crew only a protection against the weapons of small calibers and the glares only. Main armament was constitued of a gun of 20 mm anti-aircraft Breda 1935 supplied with 456 rounds, located in the two-seater turret, coming from the light tank L6/40. This gun was flanked a coxial Breda machine-gun of 8mm. Another machine-gun was located at the back of the superstructure. The two machine-guns were supplied with 1992 rounds. A vehicle on four was equipped with an anti-aircraft machine-gun installed on the roof of the turret.
| | |
| --- | --- |
| | |
| Colonne d'AB41s traversant un village libyen, probablement en 1942. | AB41 en Afrique du Nord. |
| Column of AB41s crossing a Libyan village, probably in 1942. | AB41 in North Africa. |
| | |
L'Autoblinda AB41 fut utilisée par les Italiens en Afrique du Nord, en Italie, en Hongrie et sur le front oriental. En raison du peu d'exemplaires de l'AB41 produits, les Italiens devront toujours utiliser leur vieux matériel complètement obsolète et pas vraiment conçu pour les conditions extrêmes. Dans le désert nord africain, les AB41 furent dotés de pneus larges spéciaux pour évoluer sur le sable. Des kits permettaient aussi à l'AB41 d'évoluer sur voie ferrée (la conversion se faisait en 30 minutes). Les AB41s sur rail furent utilisés contre les partisans dans les Balkans. Certains véhicules sans tourelle furent utilisés comme véhicules de commandement et d'observation pour l'artillerie. Les véhicules capturés par les Allemands fin 1943 (37 exemplaires) furent baptisés Panzerspähwagen AB41 201(i). Après l'armistice quelques-uns seront encore produits pour le compte des Allemands (20 à 120 selon les sources). Les derniers véhicules produits furent dotés d'un moteur de 108 ch et renommés AB41/43.
Autoblinda AB41 was used by the Italians in North Africa, in Italy, in Hungary and on the Eastern front. Because of the little specimens of AB41 Produced, the Italians will have always use their old material completely obsolete and really not designed for the extreme conditions. In the African northern desert, the AB41 were equipped with special broad tires to move on sand. Kits also allowed to AB41 to move on railway (conversion was realized in 30 minutes). Rail-AB41s were used against the partisans in Balkans. Certain vehicles without turret were used as command vehicles and artillery observation vehicles. The vehicles captured by the Germans at the end of 1943 (37 specimens) were baptized Panzerspähwagen AB41 201 (i). After armistice some will be still produced on behalf of the Germans (20 to 120 according to the sources). The last produced vehicles were equipped with an engine of 108 hp and renamed AB41/43.
| | |
| --- | --- |
| | |
| AB41 en Afrique du Nord. | AB41 en Afrique du Nord, avec mitrailleuse anti-aérienne installée sur le toit de la tourelle. |
| AB41 in North Africa. | AB41 in North Africa, with anti-aircraft machine-gun installed on the roof of the turret. |
| | |
En 1943, une AB41 fut équipée d'un canon semi-automatique de 47 mm dans une tourelle agrandie et mieux protégée. Le nouveau véhicule fut baptisé AB43 mais n'entra jamais en production en raison de l'armistice du 8 septembre 1943.
In 1943, a AB41 was equipped with a semi-automatic gun of 47 mm in an increased and better protected turret. The new vehicle was baptized AB43 but never started production because of armistice of September 8, 1943.
Autoblinda AB43

?


Sources: