Autoblinda Ansaldo-Lancia 1ZM
Durant la première guerre mondiale la firme Ansaldo réalisa une voiture blindée basée sur le camion Lancia 1Z. Le premier modèle était armé d'une mitrailleuse Maxim de 6.5 mm dans un tourelleau et de deux mitrailleuses identiques dans une tourelle principale.
During the First World War the Ansaldo firm realized a armored car based on the truck Lancia 1Z. The first model was armed with a 6.5 mm Maxim machine-gun in a small upper turret and two identical machine-guns in a main turret.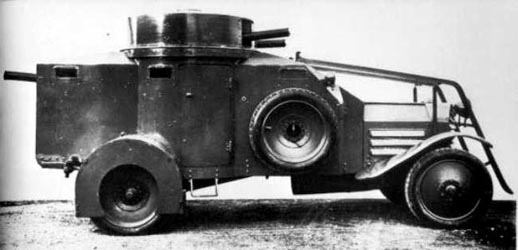 Autoblinda 1ZM
Ces voitures étaient propulsées par un moteur Lancia à 4 cylindres en ligne qui fournissait une puissance maximale effective de 70 ch. Le moteur à refroidissement par eau était installé à l'avant. L'allumage était obtenu grâce à une magnéto. La transmission à cadran comportait un embrayage à sec multidisque et une boîte de vitesses à quatre vitesses avec prise directe et marche arrière. Le châssis était pourvu d'un frein à pédale sur la transmission et à main sur les roues arrières. Le châssis fut baptisé "Voiture 35 cv 1915, Type 1ZM" ou "Châssis spécial 35 cv pour automitrailleuses". La suspension était à ressorts à lames. Les roues avant étaient directrices et les roues arrières motrices et jumelées. Les roues étaient à jantes pleines en tôle et dotées de pneus à talon. Le poids du châssis était de 1600 kg. Les parois du véhicule dans la mesure où le fonctionnement n'était pas altéré, étaient blindées au moyen de tôles d'acier trempé de 6 mm d'épaisseur, à l'épreuve des projectiles de fusils.
These cars were propelled by a Lancia engine with 4 cylinders in line which provided an effective maximum power of 70 hp. The engine with water cooling was installed in front. Start was obtained thanks to a magneto. The transmission with dial comprised a multidisk dry clutch and a gear box at four speeds with direct catch and reverse speed. The chassis was provided with a pedal brake on the transmission and hand brake on the aft wheels. The chassis was baptized "35 hp Car 1915, Type 1ZM" or " Special chassis 35 hp for armored cars". The suspension was with leaf springs. The nose gear wheels were steering wheels and the aft wheels driving and twinned. The full rimmed wheels were equipped with bead pneumatic tyres. The weight of the chassis was of 1600 kg. Walls of the vehicle insofar as operation was not deteriorated, were armoured by means of sheets of tempered steel of 6 mm of thickness, not vulnerable only against projectiles of rifles.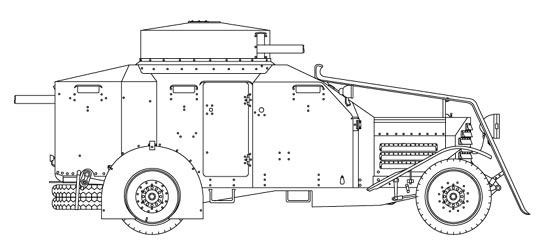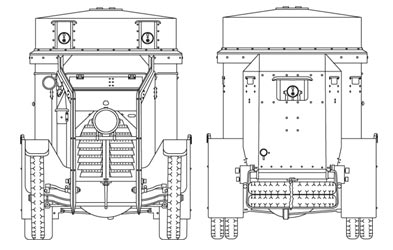 Autoblinda 1ZM
La partie centrale qui abritait l'équipage était accessible par deux portes latérales. La visibilité était obtenue par des sabords de vision sur le pourtour du véhicule. Le plus grand à l'avant était munis de charnières et s'ouvrait vers le haut. Le réservoir de 100 L était situé au centre du véhicule et protégé dans sa partie basse par des plaques de 5 mm. Le plancher était protégé par des tôles de 2.5 mm. Un siège était situé sur le réservoir et deux autres sièges flanquaient le réservoir avec le coffret aux accessoires. Quatre hommes pouvaient prendre place dans ce compartiment. Il était surmontée par une large tourelle circulaire qui reposait sur une double série de roulements. Lors des déplacements elle était verrouillée. Sur les premiers modèles, l'armement consistait en trois mitrailleuses St-Etienne 1917 de 8 mm (2 en tourelle et une en réserve), approvisionnées avec 15000 coups sur bandes et 600 coups en 24 chargeurs. L'armement était complété par 4 fusils-mitrailleurs Chauchat 1914-1916 (1200 coups) qui si nécessité pouvaient tirer à travers les sabords ou l'écoutille de la tourelle. Les mitrailleuses St-Etienne seront remplacées par des mitrailleuses Fiat modèle 1914, approvisionnées avec 12000 coups (240 chargeurs de 50 coups). Ces armes disposaient d'un dispositif de récupération des douilles. Désormais sur le modèle à une seule tourelle (3ème série), l'équipage était composé d'un commandant, d'un pilote, de trois mitrailleurs et d'un préposé aux munitions (chargeur). Certains des véhicules qui opérèrent en Afrique orientale dans les années trente seront équipés de mitrailleuses Fiat type aviation refroidie par air à la place des mitrailleuses refroidies par eau. Le blindage était désormais étendu aux parties inférieures afin de prémunir le réservoir contre les éclats d'obus, les grenades et autres projections. Au total, 101 Lancia 1Z de série 3 (aussi baptisées Lancia IZM) semblent avoir été produites. La seule conversion de la voiture blindée 1ZM fut une véhicule de commandement non armée, appelée "Voiture PC", dotée d'une tourelle d'observation fixe et d'une table autour de laquelle pouvaient prendre place 8 personnes.
The central part who sheltered crew was accessible by two side doors. The visibility was obtained by ports of vision on the circumference of the vehicle. Largest in front was provided with hinges and opened upwards. The fuel tank of 100 L was located at the center of the vehicle and protected in its low part by plates of 5 mm. The floor was protected by sheets from 2.5 mm. Aseat was located on the fuel tank and two other seats flanked the fuel tank with the box of the accessories. Four men could take seat in this compartment. It was surmounted by a broad circular turret which was mounted on a double series of bearings. During displacements it was locked. On the first models, armament consisted in three machine-guns St-Etienne 1917 of 8 mm (2 in turret and one in reserve), supplied with 15000 rounds on belts and 600 rounds in 24 magazines. Armament was supplemented by 4 light machine guns Chauchat 1914-1916 (1200 rounds) which so required could fire through the ports or hatch of the turret. The St-Etienne machine-guns will be replaced by machine-guns FIAT model 1914, supplied with 12000 rounds (240 magazines of 50 rounds). These weapons had a device of recovery of the casings. From now on on the model with only one turret (3rd series), crew was constitued of a commander, a driver, of three machine gunners and a person in charge of ammunition (loader). Some of the vehicles which operated in Eastern Africa in the Thirties will be equipped with machine-guns FIAT type aviation cooled by air in the place of the machine-guns cooled by water. The shielding from now on was extended to the lower parts in order to secure the fuel tank against the glares of rounds, grenades and other projections. On the whole, 101 Lancia 1Z of series 3 (also baptized Lancia IZM) seems to be produced. The only conversion of the armored car 1ZM was a command vehicle not armed, called "HQ Car" , equipped with a fixed observation turret and a table around which could take to seat 8 people.
| | |
| --- | --- |
| | |
| Lancia 1ZMs capturées par les Allemands sur l'île de Rhodes après l'armistice du 8 septembre 1943. | Lancia IZM en Somalie. |
| Lancia 1ZMs captured by the Germans on island of Rhodos after armistice of September 8, 1943. | Lancia IZM in Somalia. |
| | |
En 1929, fut formé un groupe d'automitrailleuses de 4 escadrons au sein du régiment de chars de combat. Cette unité donna naissance au bataillon d'autos et motomitrailleuses, équipé de 16 automitrailleuses 1ZM et 12 motomitrailleuses Guzzi, à une unité d'automitrailleuses "S" et une autre de la deuxième série (21 automitrailleuses). Ces unités seront utilisées durant la campagne d'Ethiopie en 1935.1936. Une compagnie d'automitrailleuses 1ZM participera à la guerre civile espagnole en 1936-1938. Quatre autres voitures blindées 1ZM furent envoyées en 1937 en Chine pour protéger la concession italienne de Tien-Tsin.
In 1929, was formed a group of armored cars of 4 squadrons within the battle tank regiment. This unit gave rise to the battalion of machine-gunner cars ant motos equipped with 16 armored cars 1ZM and 12 Guzzi machine-gunner motos, with a unit of armored cars "S" and another of the second series (21 armored cars). These units will be used during the campagin of Ethiopia in 1935.1936. A company of armored cars 1ZM will take part in the Spanish civil war in 1936-1938. Four other armored cars 1ZM were sent in 1937 in China to protect the Italian concession of Tien-Tsin.

Deux Lancia 1ZMs avec mitrailleuses Fiat type aviation, en Afrique orientale italienne
peu avant la 2ème guerre mondiale.
Two Lancia 1ZMs with machine-guns FIAT Type aviation, in Italian Eastern Africa little before the 2nd world war.
Au début de la deuxième guerre mondiale, certains de ces véhicules étaient toujours en service au sein de l'armée italienne. Ils furent utilisés en Afrique orientale italienne comme véhicules d'escorte malgré leur vulnérabilité. Dix d'entre elles furent réarmées avec des mitrailleuses Fiat modèle 14/35 de 8 mm. La dernière unité dotée de ces véhicules fut le peloton d'automitrailleuses du CCCXIIme bataillon de chars stationné à Rhodes (mer Egée) et toujours en place au moment de l'armistice du 8 septembre 1943.
At the beginning of the second world war, some of these vehicles were always in service within Italian army. They were used in Italian Eastern Africa as vehicles of escort in spite of their vulnerability. Ten of between them were rearmed with machine-guns FIAT model 14/35 of 8 mm. The last unit equipped with these vehicles was the platoon of armored cars of CCCXIInd battalion of tanks been parked in Rhodos (Aegean Sea) and always places from there at the time of armistice of September 8, 1943.


Sources: