Carro Veloce CV.33/Carro Armato Leggero L3 (Tankette/Light Tank)
Design
L'équipage des chars L3 était composé de deux hommes qui prenaient place au centre dans la casemate. Le pilote était assis à droite et le chef de char à gauche. Devant eux dans le nez se trouvait l'ensemble transmission-commandes finales qui actionnait les deux barbotins avant (cet ensemble était accessible via une trappe transversale sur le glacis. La direction était obtenue par levier et train épicycloïdal freiné. Sur la casemate, le pilote disposait d'une fenêtre de conduite avec clapet blindé. Des sabords de vision étaient présents sur les côtés et à l'arrière de la casemate. Les deux hommes disposaient également chacun d'un périscope utilisable via une petite trappe sur les écoutilles d'accès sur le toit.
The crew of the L3 tanks was composed of two men who took seat in the center in the casemate. The driver had sat on the right and the chief of tank on the left. In front of them in the nose was transmission-final commands unit which actuated the two sprocket-wheels before (this unit was accessible via a transverse hatch on the glacis. The steering was obtained by lever and braked epicyclic gear. On the casemate, the driver had a window of control with armored cover. Ports of vision were present on the sides and and on the back of the casemate. The two men also had each one a periscope usable via a small hatch on the hatchways of access on the roof.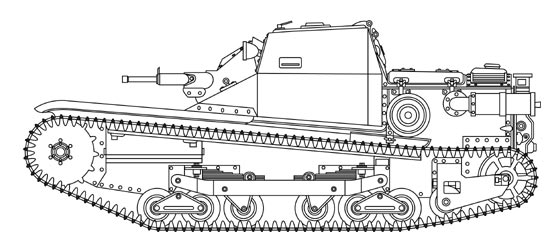 CV-33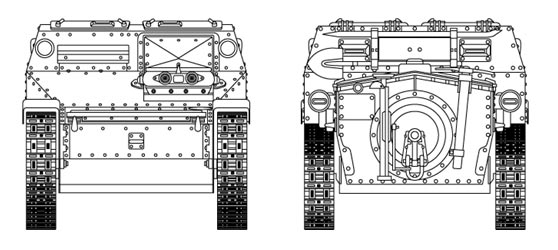 CV-33
L'armement était constitué sur deux mitrailleuses de 6.5 mm Fiat modello 14 à refroidissement par air ou de deux mitrailleuses de 8 mm Fiat modello 14/35 ou encore 8 mm Breda modello 38 jumelles montées sur le saillent de la partie frontale de la casemate. L'emport en munitions pour les mitrailleuses de 6.5 mm était de 3600 unités et de 3200 unités pour les mitrailleuses de 8 mm. Des remorques de munitions existaient comme pour les chars. Certains exemplaires seront équipés d'un canon de 20 mm Solothurn.
Le moteur Fiat-SPA CV3 de 4 cylindres (essence) développait 43 ch était placé transversallement dans la compartiment-moteur à l'arrière. Il était accessible via deux trappes carrées sur le plateau arrière, ou par une large trappe ronde sur la plaque arrière. Le compartiment était flanquée de deux pots d'échappement. Deux plaques de ventilation étaient également situé sur le plateau arrière. Le moteur permettait une vitesse de pointe de 42 km/h sur route.
Armament was constitued of two machine-guns of 6.5 mm FIAT modello 14 with air cooling or of two machine-guns of 8 mm FIAT modello 14/35 or 8 mm Breda modello 38 twins assembled on saillent of the frontal part of the casemate. Carrying in ammunition for the machine-guns of 6.5 mm was of 3600 units and of 3200 units for the machine-guns of 8 mm. Trailers of ammunition existed as for the tanks. Certain specimens will be equipped of a gun of 20 mm Solothurn.
Engine FIAT-SPA CV3 of 4 cylinders (gasoline) developed 43 hp was placed transversely in the rear engine-compartment. It was accessible via two square hatches on the rear deck, or by a broad round hatch on the rear plate. The compartment was flanked of two exhausts. Two plates of ventilation were also located on the rear deck. The engine allowed a top speed of 42 km/h on road.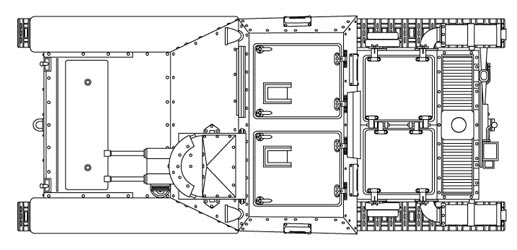 CV-33
La suspension était de type Carden-Loyd modifiée avec deux bogies de 3 roues caoutchoutées de chaque côté suspendues par des ressorts semi-elliptiques avec une roue supplémentaire non suspendue à l'arrière. Les chenilles étaient constituées de patins à guides externes. Il n'y avait pas de rouleaux porteurs qui étaient remplacés de chaque côté par une glissière. La suspension du L3/38 était quant à elle complètement différente avec deux bogies à deux large roues et un roue non suspendue de chaque côté.
Le blindage épais au maximum de 14 mm était assemblé par rivetage avec quelques plaques soudées sur la casemate du CV-33. Le CV-35 sera entièrement assemblé par rivetage.
The suspension of Carden-Loyd type was modified with two bogies of 3 rubber road-wheels on each side suspended by semi-elliptic springs with a not suspended additional rear road wheel. The tracks consisted of links with outside guides. None return rollers which were replaced on each side by a slide. The suspension of L3/38 was as for it completely different with two bogies with two broad road-wheels and a rear wheel not suspended on each side.
The shieldingthick to the maximum of 14 mm was assembled by riveting with some plates welded onto the casemate of the CV-33. The CV-35 will be entirely assembled by riveting.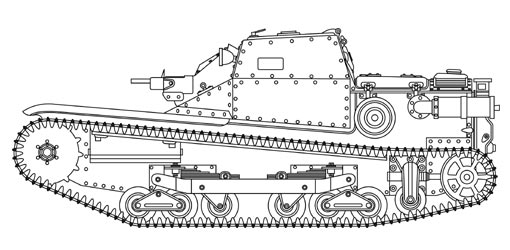 CV-35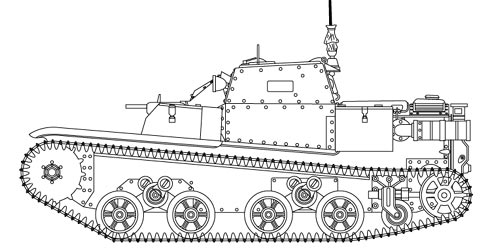 CV-38


Sources: