Semovente da 149/40 Scafo M42 (Armored Artillery)
La plupart des Semoventi étaient conçus pour l'appui feu direct et la lutte anti-char. L'artillerie italienne avait besoin d'un canon lourd automoteur pour supporter les formations blindées. La firme Ansaldo proposa d'installer un canon da 149/40 modello 35 sur châssis modifié du char moyen M15/42. Cependant l'armée italienne avait grand besoin à la fois du canon et du char. Donc peu de châssis et de canons étaient disponibles pour réaliser la conversion.
The majority of Semoventi were conceived for direct support fire and the anti-tank fighting. Italian artillery needed a motorized heavy gun for indirect support fire for to support the armored formations. The Ansaldo firm proposed to install a gun da 149/40 modello 35 on modified chassis of the medium tank M15/42. However Italian army had great need at the same time for the gun and the tank. Thus little chassis and guns were available to realize conversion.

Semovente da 149/40 M42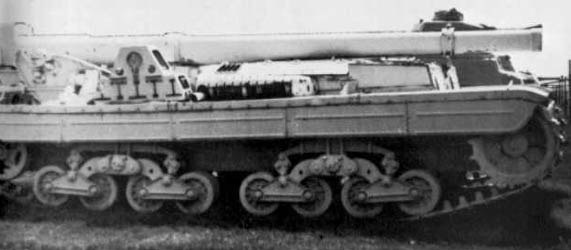 Semovente da 149/40 M42
Le canon monté à l'arrière du châssis n'avait aucune protection. Le canon ne pouvait être mis à feu en mouvement et devait être utilisé comme une pièce d'artillerie classique. Les servants prenaient place dans un autre véhicule, ainsi que les munitions. Le canon pouvait tirer des obus de 45 kg à une distance de plus de 23 km, ce qui rendait le manque de protection insignifiante. Le châssis était équipé de deux éléments montés sur charnières qui une fois plantés au sol contraient les effets du recul de l'arme. Le premier prototype fut finalisé à la fin 1942 mais aucune production ne put être lancée avant l'armistice du 8 septembre 1943 et le Semovente da 149/40 resta à l'état de prototype.
The gun assembled on the extreme rear of the chassis had no protection. The gun could not be put at fire in moving and was to be used like a traditional artillery piece. Gun crewl took seat in another vehicle, as well as the ammunition. The gun could fire rounds of 45 kg at a distance of more than 23 km, which returned the lack of protection unimportant. The chassis was equipped with two elements assembled on hinges which once planted on the ground countered the effects of the recoil of the weapon. The first prototype was finalized at the end of 1942 but no production could be launched before the armistice of September 8, 1943 and Semovente da 149/40 remained to state of prototype.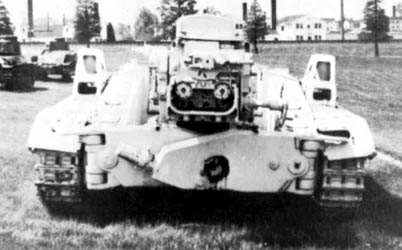 Semovente da 149/40 M42
Data

Weight
24000 kg
Crew
2 + gun crew
Engine
SPA Gasoline, 250 hp
Speed
35 km/h
Lenght
6.60 m
Width
3.00 m
Height
2.00 m
Armament
Canone da 149/40 modello 35
Armor

12.7 mm


Sources: