L5 (Fiat-3000) Light Tank
Genesis & Production
Durant la 1re guerre mondiale, après les premiers engagements de blindés sur le front ouest par les Alliés franco-britanniques en 1917; le gouvernement italien décida d'acheter un exemplaire du char moyen français Schneider. Le char français fut testé en terrain accidenté et montagneux, là où ce nouveau matériel devra être engagé. Les tests étant satisfaisants, cependant les négociations entre la France et l'Italie pour de nouveaux exemplaires et la possibilité de produire le char en Italie, échoueront. En mai 1918, un deuxième char Schneider et trois chars légers Renault FT seront livrés cependant par la France, mais l'Italie a besoin de beaucoup plus de chars et devant l'impossibilité d'en obtenir des Français, elle décide de concevoir sa propre version du char léger français. La construction de ce nouveau char est confiée à la firme FIAT (avec le soutien des firmes Ansaldo et Breda) et une première commande de 1400 exemplaires (cadence mensuelle de 200 chars) est effectuée. La production devant débuter le 1er mai 1919. Cependant l'armistice du 11 novembre 1918 met fin à cette commande initiale. Cependant une seconde commande de 100 exemplaires seulement est effectuée en septembre 1919. La période trouble au niveau économique, social et politique qui en Italie succéda à la guerre entraîna des retards et le premier exemplaire ne fut livré qu'en 1920.
During the 1st world war, after the first engagements of tanks on the western front by the Franco-British Allies in 1917; the Italian government decided to buy a specimen of the French medium tank Schneider. The French tank was tested in rough and mountainous ground, where this new material will have to be committed. Tests being satisfactory, however negotiations between France and Italy for new specimens and the possibility to produce the tank in Italy, will fail. In May 1918, a second Schneider tank and three light tanks Renault FT will be delivered however by France, but Italy needs for much more tanks and in front of the impossibility to be provided by the French, Italy decides to design its own version of the French light tank. The construction of this new tank is entrusted to firm FIAT (with the support of the firms Ansaldo and Breda) and a first order of 1400 specimens (monthly rate of 200 tanks) is realized. Production having to begin on May 1, 1919. However armistice of November 11, 1918 puts an end to this initial order. However one second order of 100 specimens only is realized in September 1919. The turbid period at the economic, social and policy level which in Italy succeeded the war involved delays and the first specimen was not delivered before 1920.
Les premiers chars entrèrent en service dans l'armée italienne en 1921 sous le nom de Carro d'assalto Fiat-3000 modello 21 (véhicule d'assaut Fiat-3000 modèle 1921). Ces chars étaient armés de deux mitrailleuses montés en tourelle et ressemblaient fortement au Renault FT mais étaient nettement plus rapide en raison du moteur. Le Fiat-3000 fut soumis à divers tests pour déterminer les performances du char au niveau consommation, mobilité ainsi que les possibilités tactiques. Après ces tests, commission chargée des évaluations du matériel émet de sérieux doutes à l'efficacité d'un char armé seulement de mitrailleuses et propose le montage d'un canon de 37 mm plus apte à contrer d'éventuels chars ennemis.
The first tanks entered in service in Italian army in 1921 under the name of Carro d' assalto FIAT-3000 modello 21 (assault vehicle FIAT-3000 model 1921). These tanks were armed with two machine-guns assembled on turret and strongly resembled to Renault FT but were definitely faster because of the engine. The FIAT-3000 was subjected to various tests to determine the performances of the tank on the level consumption, mobility as well as the tactical possibilities. After these tests, the commission charged of the evaluations of the material expresses serious doubts about effectiveness of a tank armed only with machine-guns and proposes the assembly of a gun of 37 mm to counter enemy tanks.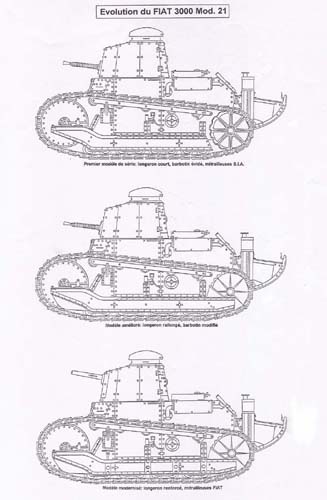 Fiat-3000 mod.21
Dessus: Premier modèle de série: longeron court, barbotin évidé, mitrailleuses S.I.A.
Above: First model of series: short member, hollowed out sprocket-wheel, machine-guns S.I.A.
Centre: Modèle amélioré: longeron rallongé, barbotin modifié
Center: Improved model: lengthened member, modified sprocket-wheel
Dessous: Modèle modernisé: longeron renforcé, mitrailleuses FIAT
Below: Modernized model: reinforced member, machine-guns FIAT
Les importantes manoeuvres de 1927-1928 donnèrent raison à la commission en partie. Il fut décidé de conserver le modèle armé de deux mitrailleuses pour servir d'escorte à un char plus puissant armé d'un canon. L'Arsenal d'Artillerie de Turin et FIAT furent chargés d'étudier le faisabilité de monter un canon de 37/40 sur le Fiat-3000. La tourelle fut adaptée pour accueillir le canon. Le train de roulement fut aussi modifié, ainsi que la plage-arrière. Le nouveau modèle fut baptisé Carro d'Assalto Fiat-3000 modello 30 (ou Fiat-3000B). Certains Fiat-3000Bs cependant conserveront un armement semblable au Fiat-3000 (2 mitrailleuses).
The important training operations of 1927-1928 partly gave reason to the commission. It was decided to preserve the model armed with two machine-guns to serve of escort vehicle for a more powerful tank armed with a gun. Arsenal of Artillery of Turin and FIAT were charged to study feasibility to mount a gun of 37/40 on the FIAT-3000. The turret was adapted to accomodate the gun. The running-gear was also modified, as well as the rear deck. The new model was baptized Carro d' Assalto FIAT-3000 modello 30 (or FIAT-3000B). Certain FIAT-3000Bs however will preserve an armament similar to the FIAT-3000 (2 machine-guns).



Sources: