Other Trucks
Ford
Avant la deuxième guerre mondiale les Américains avaient installer des usines automobiles en Allemagne. Lorsque la guerre éclata les Allemands ne se firent pas priés pour en prendre le contrôle pour soutenir leur effort de guerre, bien qu'il ne s'en servirent jamais pour construire des chars ou autres véhicules blindés. Par contre, ces usines continuèrent sous contrôle allemand à produire divers véhicules utilitaires de conception américaines comme des camions. C'est bien sur le cas des établissements Ford.
Before the Second World War the Americans had installed automobile factories in Germany. When the war burst the Germans were not done not requested to take control of it to support their effort of war, although it never made use of it to build tanks or other armoured vehicles. On the other hand, these factories continued under German control to produce various utility vehicles of American design like trucks. It is well on the case of the Ford establishments.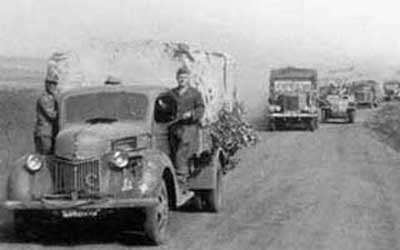 Ford 3-ton G198-TA (V 3000A)
Ford V8-51, (1936?) 1937-1939, 4x2 3-ton
Ford G917T, G997T, G987T, 1939-1941-1942, 4x2 3-ton, 19158+6041+? specimens
Ford V 3000S (G398TS, G388TS), 1943-1946, 4x2 3-ton, 24110 specimens (V3000S)
Ford V 3000S/SSM Maultier, 1942-1944, half track 2-ton, 13952 specimens
Ford EGa, EGd, EGb, EG Typ 40, 1939-1941, 4x4 heavy car, 1901 specimens
Ford V 3000A (G198TWA), 1943-1944, 4x4 3-ton, 758 specimens
Ford BB, 1937-1939, 4x2 2,5-ton
Ford V8 G78 Wehrmacht Kfz., 1938-1939, 4x2
Ford V8 G48 pickup, 1935-1937?, 4x2
Ford V8-51 omnibus, 1939, 4x2
American 1938 Ford V8 with German cab
Steyr
Lors de l'annexion de l'Autriche par la Wehrmacht, les Allemands mirent la main sur les usines de construction automobile qui fourniront divers véhicule à la Wehrmacht.
At the time of the annexation of Austria by Wehrmacht, the Germans captured on the automobile factories owhich will provide various vehicles to Wehrmacht.
Entre 1941 et 1944, un total de 12450 Steyr 1500 A furent produits en Autriche. Auto-Union à Sigmar et Audi à Zwickau en produirent 5600 en Allemagne. Trois variantes furent produites: un camion léger, un transport d'infanterie et une luxueuse voiture de commandement pour haut gradés (Kommandeurwagen Kfz.21). Queqlues camions furent équipés d'un caisson pour servir d'ambulance.
Between 1941 and 1944, a total of 12450 Steyr 1500 A were produced in Austria. Car-union with Sigmar and Audi with Zwickau producted 5600 in Germany of them. Three alternatives were produced: a light truck, a transport of infantry and a luxurious car of command for high ranked (Kommandeurwagen Kfz.21). Some trucks were equipped with a rear box to be used as ambulance.
| | |
| --- | --- |
| | |
| Steyr 1500A 4x4 | Steyr 1500A 4x4 |
| | |
Data Steyr 1500A 4x4
Dimensions

Weight:

2485-4160 kg -

Crew:

2 -

Length:

5.08 m -

Width:

2.03 m -

Height:

2.32 m
Propulsion

Engine:

Steyr 3517cc, 8 cyl., 85 hp -

Fuel:

Gasoline (100L)
Performances

Speed:

90 km/h (on road) - 45 km/h (off road) -

Range:

400 km (on road), 280 km (off road)
Armament

Type: none - Ammo: none

Armor

none
Data Steyr 640 6x4
Dimensions

Weight:

1500-2400 kg -

Crew:

2 -

Length:

5.33 m -

Width:

1.73 m -

Height:

2.33 m
Propulsion

Engine:

Steyr 2260cc, 6 cyl., 55 hp

-

Fuel:

Gasoline (95L)

Performances

Speed:

? km/h (on road) - ? km/h (off road) -

Range:

? km (on road), ? km (off road)
Armament

Type: none - Ammo: none

Armor

none
Steyr-270 1500A/02, 1941-1944, V8 86hp 4x4 1,5-ton truck, 12450 specimens
Steyr-2000A, 1944, 4x4 2,0-ton truck, 6400 specimens
Steyr-640, 1937-1941, 55hp 6x4 1,5-ton truck, 3780 specimens
Steyr-470 RSO/01, 1942-1943, V8 85hp full tracked vehicle (RaupenSchlepper Ost), 2600 specimens
Steyr-40D/440, 1935-1937, 6-cyl. 45hp 6x4 1,5-ton truck, 713 specimens
Steyr-40D/340, 1933, 6-cyl. 45hp 6x4 1,5-ton truck, 20 specimens
Steyr-40D/140, 1932 ( - 1933?), 6-cyl. 45hp 6x4 1,5-ton truck, 20 specimens
Schwimm RSO, 1943 (or 1942), Steyr-470 RSO/01, amphibious vehicle
Radschlepper Ost (Skoda RSO)
En raison des difficultés d'approvisionnement lors de l'hiver 1941-1942, l'armée allemande exigea de tracteurs simplifiés pour être produits en grand nombre et capable de se mouvoir facilement sur des routes et des terrains en très mauvais état. L'utilisation d'une suspension chenillé coûtait très cher et nécessitait beaucoup d'heures d'usinage, il fut donc décidé de mettre au point un véhicule à roues. Hitler exigea le développement d'un véhicule "4 roues" doté d'un dégagement au sol très important et de roues de grande taille, un peu comme les tracteurs agricoles. Porsche développa le tracteur qui comportait plusieurs éléments du Porsche-Tiger ainsi qu'un moteur de série de 4 cylindres. Une variante de diesel fut également prévue mais la version essence fut préférée. Le véhicule était doté d'un palan à câble avec une force de traction de 5 tonnes. Les roues du RSO de Porsche étaient entièrement en acier et mesuraient 150 cm de diamètre et 30 cm (roues avant) et 40 cm (roues arrière) de large. Elles étaient munies de languettes grossières et des griffes démontables. Bien que des modifications aient été entreprises à différentes reprises, on n'a pas réussi à apporter la puissances de traction nécessaire sur le sol .
Because of the difficulties of provisioning at the time of the winter 1941-1942, the German army required simplified tractors to be produced in great number and able to be driven easily on very bad roads and grounds. The use of a full-tracked suspension was very expensive and required many hours of machining, it was thus decided to develop a vehicle with wheels. Hitler required the development of a "4 wheels" vehicle equipped with a very significant ground clearance and wheels of big size, a little like the farm tractors. Porsche developed the tractor which comprised several elements of Porsche-Tiger as well as an engine of series of 4 cylinders. An alternative of diesel was also envisaged but the gasoline version was preferred. The vehicle was equipped with a hoist with cable with a force of traction of 5 tons. The wheels of the RSO of Porsche were entirely out of steel and measured 150 cm in diameter and 30 cm (nose gear wheels) and 40 cm (rear wheels) in broad. They were provided with coarse strips and dismountable claws. Although modifications were undertaken on different occasions, one did not succeed to bring the powers of traction necessary on the ground.
Une démonstration du RSO en présence d'Hitler eut lieu le le 4 janvier 1943. Après cette démonstration Skoda entreprit de fabriquer une présérie (O-Serien) de 100 exemplaires mais comme le RSO ne réalisait pas les attentes liées à son emploi tous-terrains, le projet fut annulé au profit d'engins entièrement chenillés. Environ 50 exemplaires de l'O-Serien avait furent cependant fabriqués. En 1944, des véhicules encore existants furent utilisés largement en Normandie.
A demonstration of the RSO in the presence of Hitler took place in 4 January 1943. After this demonstration Skoda undertook to manufacture a preproduction (O-Serien) of 100 specimens but as the RSO did not carry out waitings related to its cross-country employment, the project was cancelled with the profit of entirely tracked machines. Approximately 50 specimens of O-Serien had were however manufactured. In 1944, still existing vehicles were used largely in Normandy.
Data Skoda RSO
Dimensions

Weight:

7000-12000 kg -

Crew:

2 -

Length:

6.22 m -

Width:

2.30 m -

Height:

3.06 m -

Ground Clearance:

0.49 m
Propulsion

Engine:

4 cyl. inline, 90 hp + 2 cyl. inline, 12 hp

-

Fuel:

Gasoline (?L)

Performances

Speed:

15 km/h (on road) - ? km/h (off road) -

Range:

125 km (on road), ? km (off road)
Armament

Type: none - Ammo: none

Armor

none
Other Trucks & Captured Trucks
Les Allemands comptabilisèrent également dans leur parc autonombiles des modèles produits par les firmes tchèques comme Skoda, des véhicules capturés aux armées vaincues et bien entendu des véhicules étrangers achetés avant la guerre.
The Germans also entered in their park autonombiles models produced by the Czech firms like Skoda, or vehicles captured to the overcome armies and of course foreign vehicles bought before the war.
| | |
| --- | --- |
| | |
| Skoda H6ST6-T | Swiss Berna |
| | |
| | |
| --- | --- |
| | |
| Camion Chevrolet de la 8e armée britannique capturé par le DAK en Afrique du Nord. | Camion Renault AHN au sein d'une colonne motorisée allemande sur le front russe. |
| Chevrolet truck of the 8th British army captured by the DAK in North Africa. | Truck Reanult AHN within a German motorized column on the Russian front. |
| src: Afrika Korps in Action, Squadron/Signal Publications | |
| | |
| --- | --- |
| | |
| Camion CMP 3t canadien capturé par les Allemands en Afrique du Nord. | CMP et canon de 6-pdr pris aux Britanniques en Afrique du Nord |
| Canadian CMP 3t truck captured by the Germans in North Africa. | CMP and gun of 6-pdr taken to the British in North Africa |
| src: Afrika Korps in Action, Squadron/Signal Publications | src: Afrika Korps in Action, Squadron/Signal Publications |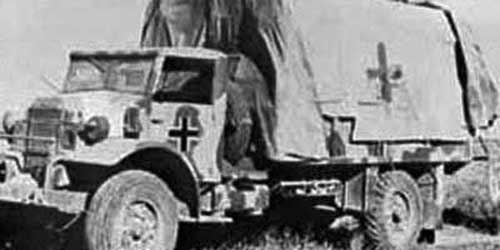 CMP 3t truck in service in the DAK.
src: Afrika Korps in Action, Squadron/Signal Publications


Sources: