OPEL Trucks
Opel (Opel Blitz)
Le camion Opel Blitz (1KW 3.6-36 s 3t Blitz) est un véhicule civil converti en véhicule militaire considéré comme " le cheval de trait " de la Wehrmacht. C'était en effet un camion à tout faire utilisé sur tous les fronts. Produit par milliers, il fut livré à tous les corps de l'armée: la marine, de l'aviation et les SS. Au début les Opel Blitz étaient peints en gris Panzer, mais dès juin 1943 ils furent livrés en jaune sable.
The truck Opel Blitz (1KW 3.6-36 S 3t Blitz) is a civil vehicle converted into military vehicle considered as "the draught horse" of Wehrmacht. It was indeed the mule of the troop and was used on all fronts. Produced per thousands, it was delivered to all the army corps: navy, aviation and the SS. At the beginning Opel Blitz were painted in Panzer gray, but as of June 1943 they were delivered in yellow sands.
Opel Blitz 3.6 36S

Version tardive avec cabine en bois.

Late version with cabin out of wooden
De nombreuses variantes furent produites comme une ambulance, un camion citerne, une voiture de commandement, un atelier de réparation mobile. Une version spéciale fut également mise au point pour évoluer sous les pires conditions de terrain du front de l'Est. La fonction principale de l'Opel Blitz était d'assurer l'approvisionnement des troupes en munitions, carburant et fournitures.
Many alternatives were produced like an ambulance, a tanker, a car of command, a mobile repair shop. A special version was also developed to move under the worst conditions of ground of the Eastern front. The principal function of Opel Blitz was to ensure the provisioning of the troops of ammunition, fuel and supplies.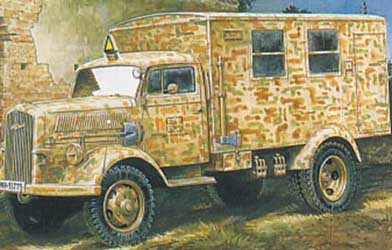 Opel Blitz Einheitskoffer (shelter)
Opel-Blitz 3,6-36S, 4x2 3,3-ton truck, 1937-1944, 82356 specimens
Opel-Blitz 3,6-6700A, 4x4 3,1-ton truck, 1940-1944, 24981 specimens
Opel-Blitz 3,6-36S/SSM Maultier 2,0-ton truck, 1942-1944 (half-track), approximately 4000 specimens including 300 with howitzer of 150 mm
Opel-Blitz 3,6-47 Wehrmacht Omnibus , 4x2 30-seater bus, 1939-1944, 2880 specimens
Opel Blitz 3,0 t Omnibus
Opel Blitz 3,0 t Küchenwagen 4x2 (Kitchen)
Opel Blitz 3,0 t Radiostation 4x2
Opel-Blitz 3,6-47 Omnibus
Opel Blitz 2,5 t, 1935
Opel Blitz 2,5 t Omnibus, 1935
Opel Blitz 2,5 t Sanitätskraftwagen
Opel-Blitz, 1934, 4x2 fire truck
Opel-Blitz 2,5-32, 4x2 1,5 ton truck, 1938-1942 (about 10000 specimens)
Opel-Blitz 4x2 1,5 ton truck, 1936-1937, 56k cargo truck
Opel 10/45 PS 1,5 t, 1930
Opel Blitz 1,0 t
Opel Blitz 1,0 t omnibus
Opel Blitz 1,0 t firetruck KzS 8 by Magirus, 1937
Opel Blitz 1,0 t kastenwagen
Opel-Blitz gas generator
Opel-Olympia OL38 kastenlieferwagen
Opel Admiral Sanitätswagen
Opel Admiral Kastenwagen
Opel 2,0 Liter gas generator pickup, 1936
Opel-2.0 L pickup, 1934,
Opel Olympia 1,3 Liter kastenwagen (?)
Opel P4 Kastenlieferwagen
Opel 1,2 L pritsche, 1933
Opel 1,2 L kastenlieferwagen
Opel Blitz 3.6 36S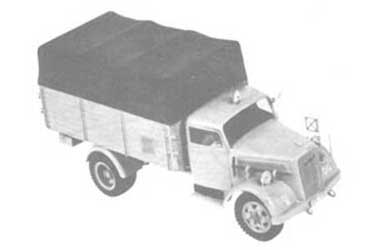 Opel Blitz 3.6 36S
Data Opel Blitz 3.6 36S
Dimensions

Weight:

5800 kg -

Crew:

2 -

Length:

6.105 m -

Width:

2.265 m -

Height:

2.565 m
Propulsion

Engine:

Opel 3.6L, 6 cyl., 75 cv hp -

Fuel:

Gasoline (82L)
Performances

Speed:

85 km/h (on road) - ? km/h (off road) -

Range:

320 km (on road), 230 km (off road)
Armament

Type: none - Ammo: none

Armor

none


Sources: