Volkswagen Vehicles
Volkswagen (Porsche) Type 87
A la fin des années 30, d'après les directives d'Adolf Hitler, Ferdinand Porsche réalisa une petite voiture robuste et facile d'entretien pour favoriser la motorisation de masse de l'Allemagne. C'est la naissance d'une voiture mythique qui sera surtout connue autour du monde sous le nom de Coccinelle. La deuxième guerre mondiale limita fortement la fabrication de ce véhicule pour le marché civil mais il fut immédiatement adopté par les militaires pour effectuer des missions de liaison, sanitaires et de logistiques légères. La coccinelle donna d'excellents résultats sur tous les fronts et deux versions militaires furent réalisées: les VW Type 82 Kübelwagen et VW Type 166 Schwimmwagen.
At the end of the Thirties, according to the directives of Adolf Hitler, Ferdinand Porsche built a robust and easy of maintenance small car to support the motorization of mass of Germany. It is the inception of a mythical car which will be especially known around the world under the name of Beetle. The Second World War strongly limited the manufacture of this vehicle for the civil market but it was immediately adopted by the soldiers to carry out missions of liaison, medical and light logistics. The Beetle gave excellent results on all fronts and two military versions were carried out: VW Type 82 Kübelwagen and VW Type 166 Schwimmwagen.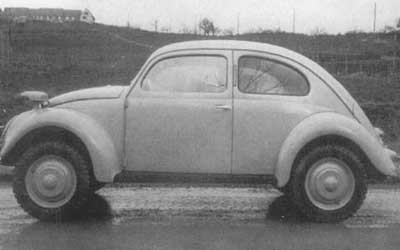 Volkswagen (Porsche) Type 87
VW Typ87 Ambulance (Bastogne, 2004)

Copyright 2004 - Vincent Bourguignon
Volkswagen (Porsche) Type 82 Kübelwagen
La Kübelwagen fut durant la deuxième guerre mondiale, l'équivalent allemand de la célèbre "Jeep US" et deviendra encore plus célèbre sous le nom
"Coccinelle". A l'origine il devait s'agir d'une voiture bon marché et robuste pour le peuple allemand, commandée par Hitler en 1938. Le véhicule s'avéra si fiable et si peu coûteux à la fabrication, que l'armée allemande s'y intéressa et demanda à Porsche de développer des variantes militaires incluant le véhicule amphibie "Schwimmwagen" et bien entendu, la Kübelwagen.
Kübelwagen was during the Second World War, the German equivalent of famous "US Jeep" and will become even more famous under the name of "Ladybird". With the origin it was to be a question of a cheap and robust car for the German people, ordered by Hitler in 1938. The vehicle proved so reliable and not expensive to manufacture, that the German army was interested and asked to Porsche to develop military alternatives including the amphibious vehicle "Schwimmwagen" and of course, Kübelwagen.
Volkswagen (Porsche) Type 82 Kübelwagen
Durant la guerre, la Kübelwagen fut intensivement utilisée dans des rôles de reconnaissance et de liaison, mais aussi sanitaires. Elle connu un grand succès au sein de la Wehrmacht et était aussi appréciée de l'adversaire qui la surnommait "Volkswagen jeep".
During the war, Kübelwagen was intensively used in roles of reconnaissance and liaison, but so medical. It known a great success within Wehrmacht and was also appreciated adversary which called it "Volkswagen jeep".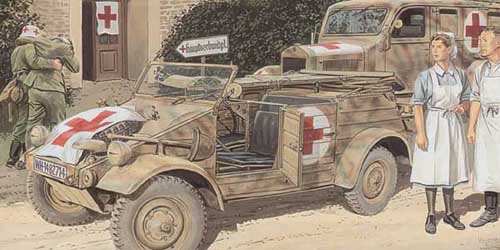 Kübelwagen in Medical Version.
7.92 mm MG 13/34/42

Penetration of a shielding plate (mm) under a plunging angle of 30°

Ammo

Weight

Velocity

100 m

500 m

1000 m

1500 m

2000 m

Patr SmK

0.0115 kg

785 m/s

8

3

-

-

-
| | |
| --- | --- |
| | |
| Kübelwagen de la Feldgendarmerie en Russie en 1942. | Kübelwagen dans le secteur sud de la Russie. |
| Kübelwagen of the Feldgendarmerie in Russia in 1942. | Kübelwagen in the South Sector of Russia. |
| src: Panzer Color 2 | |
Data Kübelwagen
Dimensions

Weight:

1175 kg -

Crew:

4 -

Length:

3.74 m -

Width:

1.60 m -

Height:

1.11 m
Propulsion

Engine:

VW Boxer 985 cc , 4 cyl., 25 hp -

Fuel:

Gasoline (30L)
Performances

Speed:

84 km/h (on road) - ? km/h (off road) -

Range:

400-450 km (on road), 170 km (off road)
Armament

Type: none or 1 x 7.92 mm MG 34 - Ammo: ?

Armor

none
Volkswagen (Porsche) Type 82 Kübelwagen

src: La Seconde Guerre Mondiale, Ed. C. Colomb
Volkswagen (Porsche) Type 82 Kübelwagen (Historical Center - Bastogne)
Volkswagen (Porsche) Type 166 Schwimmwagen
La Schwimmwagen fut développée à partir de la Wolkswagen "Coccinelle" dessinée en 1938 par Ferdinand Porsche. Cette célèbre petite voiture disposait et dispose toujours d'une grande robustesse. De plus à l'époque elle était très bon marché. L'armée allemande décida donc de développer un véhicule militaire sur base du châssis compact et robuste de la "Coccinelle". Plusieurs modèles furent mis au point dont un véhicule amphibie, la Schwimmwagen type 128.
Schwimmwagen was developed starting from Wolkswagen "Ladybird" drawn in 1938 by Ferdinand Porsche. This famous small car always had and lays out a great robustness. Moreover at the time it was very cheap. The German army thus decided to develop a military vehicle on the basis of compact and robust chassis of the "Ladybird". Several models were developed of which an amphibious vehicle, standard Schwimmwagen 128.
La production de masse débuta début 1942, après quelques améliorations qui donnèrent naissance à la Schwimmwagen Type 166. Pour un usage amphibie, l'échappement était monté très haut à l'arrière du véhicule. Le moteur était un 4 cylindres de 1130 cc développant 25 cv qui permettait sur route d'atteindre les 80 km/h et dans l'eau les 10 km/h. Pour se mouvoir dans l'eau, la Schwimmwagen était dotée d'une hélice montée à l'arrière. Sur terre, l'hélice était relevée sur le capot du moteur.
Les changements de direction sur l'eau s'effectuaient au moyen des roues avant comme sur la terre ferme, elles ont en quelque sorte la fonction de gouvernail. La Schwimmwagen fut fabriquée à 14276 exemplaires jusqu'à la fin de 1944. Ce petit véhicule amphibie fut intensivement utilisé pour la reconnaissance, la liaison et diverses autres tâches.
The mass production began at the beginning of 1942, after some improvements which gave rise to Schwimmwagen Type 166. For an amphibious use, the exhaust was assembled very high to the back of the vehicle. The engine was one 4 cylinders of 1130 cc developing 25 hp which made it possible on road to reach the 80 km/h and in water the 10 km/h. To be driven in water, Schwimmwagen was equipped with a propeller assembled to the back. On ground, the propeller was raised on the cap of the engine.
The changes of direction on water were carried out by means of the nose gear wheels as on the ground, they have to some extent the function of rudder. Schwimmwagen was manufactured with 14276 specimens until the end of 1944. This small amphibious vehicle was intensively used for the reconnaissance, the liaison and various other tasks.
Schwimmwagen in action

Contrairement à l'idée reçu ce n'est pas une photo de Joachim Peiper qui ne passa jamais à cet endroit, le carrefour de Kaiserbaracke près de Malmedy et St Vith (Belgique) - Bataille des Ardennes.

Contrary to the generally accepted idea it's not a photograph of Joachim Peiper which never passed to this place, the crossroads of Kaiserbaracke close to Malmedy and St Vith (Belgium) - Battle of the Ardennes.
7.92 mm MG 13/34/42

Penetration of a shielding plate (mm) under a plunging angle of 30°

Ammo

Weight

Velocity

100 m

500 m

1000 m

1500 m

2000 m

Patr SmK

0.0115 kg

785 m/s

8

3

-

-

-
Data Schwimmwagen
Dimensions

Weight:

1362 kg -

Crew:

4 -

Length:

3.825 m -

Width:

1.48 m -

Height:

1.08 m
Propulsion

Engine:

VW Boxer 1131 cc , 4 cyl., 25 hp -

Fuel:

Gasoline (50L)
Performances

Speed:

80 km/h (on road) - 10 km/h (water) -

Range:

520 km (on road), ? km (water)
Armament

Type: none or 1 x 7.92 mm MG 34 - Ammo: ?

Armor

none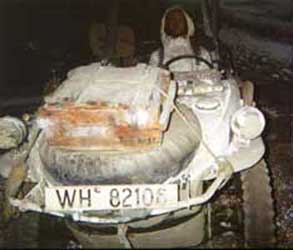 VW Type 166 Schwimmwagen
(Historical Center - Bastogne)
Schwimmwagen (Patton Museum)
Schwimmwagen (Patton Museum)
Schwimmwagen (Patton Museum)
Schwimmwagen (Bastogne 2004)

Copyright 2004 - Vincent Bourguignon
Schwimmwagen (Bastogne 2004)

Copyright 2004 - Vincent Bourguignon



Sources: