Schwere Panzerspähwagen (8-räd) (Armored Cars)
Sd.Kfz.231 schwere Panzerspähwagen (8-rad)
Les 8 roues sont sans aucun doute les plus impressionnantes et les plus importantes automitrailleuses allemandes de 1939-45. Leur origine remonte à 1934 quand Büssing-NAG commença à mettre au point un châssis de 8 roues motrices dont tous les essieux sont directeurs. C'est un châssis identique à la série Sd.Kfz.221 qui servira de base. La conception du châssis était très complexe. En 1935 sortit un prototype de l'engin appelé Vs Kfz 623 (Veruschkraftfahrzeug 623 ou véhicule expérimentale 623). Les premières livraisons d'un modèle de série furent livrées en 1937 et dès 1940, les 8 roues seront largement répandus. Les premiers modèles sont destinés à remplacer les 6 roues et reçoivent les mêmes numéros de série + l'appellation 8-rad (8 roues).
The 8 wheels are without any doubt most impressive and the most significant German armoured cars of 1939-45. Their origin goes back to 1934 when Büssing-NAG started to develop a chassis of 8 driving wheels and all axles direct. It is a chassis identical to the Sd.Kfz.221 series which will be used as a basis. The design of the chassis was very complex. In 1935 came out a prototype of the vehicle called Vs Kfz 623 (Veruschkraftfahrzeug 623 or experimental vehicle 623). The first deliveries of a model of series were delivered in 1937 and since 1940, the 8 wheels will be widespread. The first models are intended to replace the 6 wheels and receive the same series numbers + name 8-rad (8 wheels).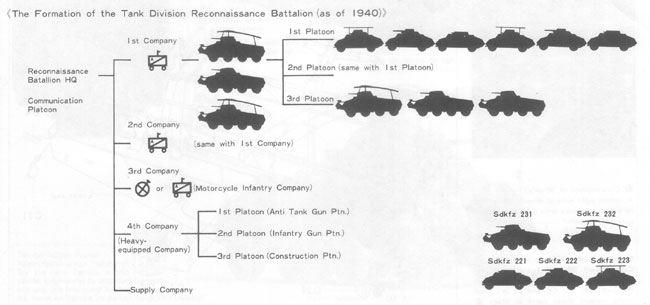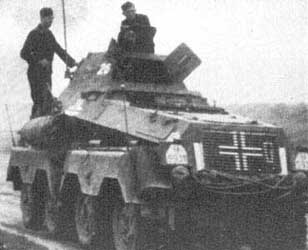 schwere Panzerspähwagen 231 (8-rad)
Le châssis 8 roues est un très solide châssis-poutre (deux sections) avec traverses tubulaires néanmoins très léger et pourtant assez rigide à cause de la longueur du véhicule. Il est équipé d'un moteur essence de 8 cylindres en V Büssing-NAG de 155 ch monté à l'arrière de l'engin (avant du châssis !?!!). En effet le châssis et la caisse sont inversés ! La boîte de vitesse (à six rapports Av-Ar + un rapport auxiliaire grande vitesse/petite vitesse avec levier de commande propre) se trouve au centre et les roues (à ressorts indépendants) sont montés par quatre sur deux boggies et jumelées par paires avec des ressorts semi-elliptiques. Comme précité tous les essieux sont directeurs et chaque boggie dispose d'un réducteur. Les commandes de pilotage et d'entraînement des roues sont doubles pour pouvoir rouler dans les deux sens. Un différentiel spécial dans chaque réducteur compense les différences de rayon de braquage entre les paires de roues intérieures et extérieures. Les roues sont de simples roues à disque en acier équipées de pneus tout terrain.
The chassis 8 wheels is very solid chassis-beam (two sections) with tubular cross-pieces nevertheless very light and yet rather rigid because the length of the vehicle. It is been driven by a gasoline engine of 8 cylinders out of V Büssing-NAG of 155 hp assembled to the rear of the machine (front of chassis!?!!). Indeed the chassis and the hull are reversed! The gear box (with six Forward-Reverse speeds + an auxiliary high/low speed with clean control stick) is in the center and the wheels (with independent springs) are assembled by four out of two bogie and twinned per pairs with mid-elliptic springs. As above mentioned all the axles are directors and each bogie has a reducer. The commands of direction and drive of the wheels are double to be able to roll in the two directions. A special differential in each reducer compensates for the differences of turning radius between the pairs of interior and external wheels. The wheels are simple wheels with steel disc equipped with cross-country tires.
src: Connaissance de l'Histoire (Hachette), n°5 - Août-Septembre 1978, Véhicules blindés allemands 39-45
Volant
Pédale d'accélération
Pédale de frein
Pédale d'embrayage
Levier des vitesses
Levier des freins latéraux
Levier Multi-transmission
Radiateur
Moteur
Traverse de direction
Différentiel
Arbre de transmission
Pneumatique
Ressort à lames
Conduits de freinage
Transmission

Steering wheel
Accelerator pedal
Brake pedal
Clutch pedal
Shift lever
Side brake lever
Multi-transmission lever
Radiator
Engine
Tie rod
Differential
Drive shaft
Radial tyre
Leaf spring
Brake pipe
Transmission
Le premier modèle fut le Sd.Kfz.231 (8-rad). Il possédait une tourelle armée du canon de 20 mm automatique KwK 30 ou 38 jumelé avec une MG34. La mise en route des deux armes se faisait au pied à l'aide d'une pédale. L'équipage de 4 hommes était composé d'un chef, d'un tireur, d'un pilote, et d'un aide-conducteur/opérateur-radio. L'intérieur du 8 roues était spacieux. Le blindage de la caisse soudée était de 15 mm d'épaisseur sur le devant de la tourelle et de 8 à 10 sur les panneaux verticaux (ou presque) et de 5 mm sur les parois inclinées. Par après le blindage maximum sera porté à 30 mm.
The first model was Sd.Kfz.231 (8-rad). It had a turret armed with the automatic gun of 20 mm KwK 30 or 38 twinned with a MG34. The startup of the two weapons was done with the foot using a pedal. The crew of 4 men was composed of a commander, a gunner, a pilot, and co-pilote-radio operator. The interior of the 8 wheels was roomy. The shielding of the welded hull was 15 mm thickness on the front of the turret and 8 to 10 on the vertical panels (or almost) and 5 mm on the tilted walls. By after the maximum shielding will be increased to 30 mm.
| | |
| --- | --- |
| | |
| src: Connaissance de l'Histoire (Hachette), n°5 - Août-Septembre 1978, Véhicules blindés allemands 39-45 | src: Tamiya |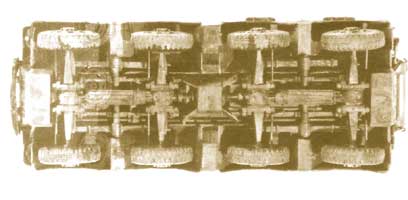 20 mm KwK 30/38 L/55

Penetration of a shielding plate (mm) under a plunging angle of 30°

Ammo

Weight

Velocity

100 m

500 m

1000 m

1500 m

2000 m

PzGr

0.148 kg

780 m/s

20

14

9

-

-

PzGr 40

0.1 kg

1050 m/s

49

20

-

-

-
| | |
| --- | --- |
| | |
| Sd.kfz.231 de la 23e Panzerdivision en Russie. | schwere Panzerspähwagen 231 (8-rad) au repos sur le front oriental. |
| Sd.kfz.231 of the 23rd Panzerdivision in Russia. | schwere Panzerspähwagen 231 (8-rad) in rest on the Eastern front. |
| src: Panzer Color 2 | src: Militaria Magazine, Hors série "La bataille de Koursk (1)" Histoire & Collections |
Sd.Kfz.232 schwere Panzerspähwagen (8-rad) (Fu)
A partir de 1937-38, ce véhicule constituera l'armature des bataillons de reconnaissance blindés divisionnaires et prendra définitivement le dessus sur le Sd.Kfz.231 (6-rad) à partir de 1940 dans les unités de premier échelon. Il opérera en duo avec un véhicule-radio de commandement, le Sd.Kfz.232 (Fu) (8-rad) équipé d'une grande antenne cadre comme pour le 6-rad. Pour ne pas être gênée par cette dernière, la tourelle est équipée d'un support frontal pivotant profilé qui permet une rotation totalement libre.
From 1937-38, this vehicle will constitute the reinforcement of the divisional armoured reconnaissance battalionsand will definitively take the top on Sd.Kfz.231 (6-rad) as from 1940 in the units of first level. It will operate in duet with vehicle-radio of command, Sd.Kfz.232 (Fu) (8-rad) equipped with a large frame-antenna as for the 6-rad. Not to be obstructed by the latter, the turret is equipped with a frontal support swivelling shaped which allows a completely free rotation.
L'Antenne-cadre reste néanmoins trop encombrante et vulnérable, elle sera donc logiquement remplacée plus tard par un mât d'antenne télescopique se dressant au dessus de la tourelle et par une antenne en forme d'étoile à l'arrière du véhicule. L'armement sur cette version est identique au modèle précédent.
Frame-Antennas remainder nevertheless too cumbersome and vulnerable, it thus will be logically replaced later by a telescopic mast being drawn up with the top of the turret and by an star-antenna to the rear of the vehicle. The armament on this version is identical to the preceding model.
20 mm KwK 30/38 L/55

Penetration of a shielding plate (mm) under a plunging angle of 30°

Ammo

Weight

Velocity

100 m

500 m

1000 m

1500 m

2000 m

PzGr

0.148 kg

780 m/s

20

14

9

-

-

PzGr 40

0.1 kg

1050 m/s

49

20

-

-

-
| | |
| --- | --- |
| | |
| schwere Panzerspähwagen 232 (8-rad) en Afrique du Nord. | schwere Panzerspähwagen 232 (8-rad) en tête d'une colonne blindée allemande en Pologne. |
| schwere Panzerspähwagen 232 (8-rad)in North Africa. | schwere Panzerspähwagen 232 (8-rad) in front of an armoured column in Poland. |
| src: Afrikakorps in Action, squadron/signal publications | |



Sources: