Schwere Panzerspähwagen (6-räd) (Armored Cars)
La grande dépression financière de 1929-1930 qui frappa durement l'Allemagne fut dans un premier temps néfaste aux projets ambitieux concernants les véhicules blindés à plusieurs roues motrices. Néanmoins en 1929 une commande d'un camion à 6 roues fut passée. Magirus proposa le M206, Büssing-NAG le G31 et Daimler-Benz le G3. Ce camion devait pouvoir être équipé d'une caisse blindée et remplacer en cas échéant les 6-8 et 10 roues désormais abandonnés. En 1929, Daimler-Benz construisit un châssis amélioré de son très réussi G3, le G3a qui servira à élaborer le prototype d'une automitrailleuse avec caisse blindée à pans coupés. Une double direction avant et arrière fut exigée mais l'engin était organisé comme un camion commercial avec le moteur (essence à refroidissement par eau) à l'avant avec transmission aux essieux arrières. La direction se fait au moyen d'un volant dans le compartiment avant même s'il est possible de diriger le véhicule à partir du compartiment arrière. La caisse avec de nombreux angles reproduit les lignes d'une voiture. Une petite tourelle équipée d'une MG34 surmontait l'engin. Le châssis pesait 2.200 kg et la caisse 2.300 kg ce qui imposait des pneus de grande dimension. La boîte de vitesse comporte 4 rapports en marche avant et 1 en marche arrière.
The great financial depression of 1929-1930 which struck Germany hard was initially harmful with the concerning ambitious projects the vehicles armoured with several driving wheels. Nevertheless in 1929 an order of a truck with 6 wheels had placed. Magirus proposed M206, Büssing-NAG G31 and Daimler-Benz G3. This truck was to be able to be equipped with an armoured hull and to replace the 6-8 and 10 wheels from now on abandoned. In 1929, Daimler-Benz built a chassis improved of sound very successful G3, G3a which will be used to work out the prototype of an armoured car with armoured hull with cut sides. A double front and rear direction was required but the machine was organized like a commercial truck with the engine (gasoline with water cooling) in front with rear axles transmission . The direction is made by means of a wheel in the front compartment even if it is possible to direct the vehicle starting from the rear compartment. The hull with many angles reproduces the lines of a car. A small turret equipped with a MG34 surmounted the machine. The chassis weighed 2,200 kg and the hull 2,300 kg what imposed tires of great dimension. The gear box comprises 4 forward speeds and 1 reverse speed.
Les premiers véhicules basé sur le G-3 seront livrés en 1932 par Daimler-Benz alors que Büssing-NAG livrera 12 engins extérieurement identiques l'année suivante. Ces engins seront désignés comme: "Schwerer Panzerspähwagen (sPz Spw) Sd.Kfz.231 mit Fahrgestell des Leichter Geländgängiger Lastkraftwagen (o)" (véhicule blindé lourd de reconnaissance type 231 sur châssis de camion léger tout terrain (commercial)). La suspension était assurée par des ressorts semi-elliptiques. Des chenilles ou des chaînes de caoutchouc pouvaient être installés sur le train arrière pour une meilleure adhérence. En 1934, Magirus sortit son véhicule comportant des roues de rechange montées sur le côté qui peuvent tourner librement. En 1936, un millier de ces engins aura été produit. A partir de cette année ils seront remplacés par des véhicules à 8 roues mais participeront quand même aux campagnes de Pologne (1939) et de France (1940). Ils seront par la suite cantonnés à un rôle d'instruction ou de sécurité intérieure.
The first vehicles based on G-3 will be delivered in 1932 by Daimler-Benz whereas Büssing-NAG delivers 12 outside identical vehicles the following year. These vehicles will be indicated like: " Schwerer Panzespähwagen (sPz Spw) Sd.Kfz.231 put Fahrgestell of Leichter Geländgängiger Lastkraftwagen (O) " (standard heavy armoured reconnaissance vehicle 231 on light any ground truck chassis (commercial)). The suspension was ensured by semi-elliptic springs. Rubber trackss or chains could be installed on the rear wheel-axle unit for a better adherence. In 1934, Magirus came out its vehicle comprising of the wheels of replacement assembled on the side which can turn freely. In 1936, a thousand of these vehicles will have been produced. From this year they will be replaced by vehicles with 8 wheels but will take part nevertheless in the campaigns of Poland (1939) and France (1940). They will be confined thereafter with a role of instruction or interior security.
Sd.Kfz.231 Schwere Panzerspähwagen (6-rad) "Waffenwagen"
Modèle de base. Véhicule de reconnaissance-type pour les pelotons lourds des groupes de reconnaissance motorisés (Aufklärungs). Ce modèle fut utilisé en Pologne et en France mais fut retiré retiré par la suite (au profit du modèle à 8 roues) du front pour la formation et la sécurité interne.
Basic model. Convey of reconnaissancen-type for the heavy groups of the reconnaissance motorized groups(Aufklärungs). This model was used in Poland and France but was withdrawn thereafter (to the profit of the model with 8 wheels) from the front for the training and internal safety.
20 mm KwK 30/38 L/55

Penetration of a shielding plate (mm) under a plunging angle of 30°

Ammo

Weight

Velocity

100 m

500 m

1000 m

1500 m

2000 m

PzGr

0.148 kg

780 m/s

20

14

9

-

-

PzGr 40

0.1 kg

1050 m/s

49

20

-

-

-
Sd.Kfz.232 schwere Panzerspähwagen (6-rad) (Fu)
Véhicule radio de commandement sur châssis Büssing ou Magirus - Cette version est équipée d'un équipement radio (100 watt) à longue distance et d'une antenne-châlit. Les montants soutenant l'antenne-châlit installés sur la tourelle permettaient grâce à un pivot, à la tourelle de pivoter librement. Comme le modèle de base cette version fut versée dans les pelotons lourds des groupes de reconnaissance motorisés (Aufklärungs).
Command Radio vehicle of on Büssing or Magirus chassis - This version is equipped with radio equipment (100 Watt) for long distance and with an antenna-frame. The amounts supporting the antenna-frame installed on the turret allowed thanks to a pivot, to the turret to swivel freely. As the basic model this version was versed in the heavy groups of the reconnaissance motorized groups (Aufklärungs).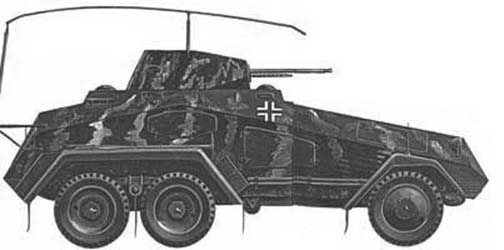 schwere Panzerspähwagen (Fu) Sd.Kfz 232 (6-rad).
src: Connaissance de l'Histoire (Hachette), n°5 - Août-Septembre 1978, Véhicules blindés allemands 39-45
20 mm KwK 30/38 L/55

Penetration of a shielding plate (mm) under a plunging angle of 30°

Ammo

Weight

Velocity

100 m

500 m

1000 m

1500 m

2000 m

PzGr

0.148 kg

780 m/s

20

14

9

-

-

PzGr 40

0.1 kg

1050 m/s

49

20

-

-

-




Sources: