Sd.Kfz.253 leichter Beobachtungskraftwagen
Le leichter Beobachtungskraftwagen Sd.Kfz.253 (véhicule blindé léger d'observation) est un autre véhicule semi-chenillé entièrement fermé destiné à servir de véhicule de commandement aux batteries de canons d'assaut. Comme le Sd.Kfz.252, c'était une conception superflue en raison des difficultés de production et fut vite victime des premières mesures de rationalisation et remplacé par les Sd.Kfz.250/4 et 5. Il était équipé de postes radiophoniques FuG 15 et 16. Seuls quelques exemplaires (25 ?) furent fabriqués au printemps 1940.
The leichter Beobachtungskraftwagen Sd.Kfz.253 (light armoured vehicle of observation) is another half-tracked vehicle entirely closed intended to be used as command vehicle for the batteries of assault guns. Like Sd.Kfz.252, it was a superfluous design because of the difficulties of production and was quickly victim of the first measurements of rationalization and replaced by Sd.Kfz.250/4 and 5. It was equipped with radiophonic stations FuG 15 and 16. Only some specimens (25?) were manufactured in spring 1940.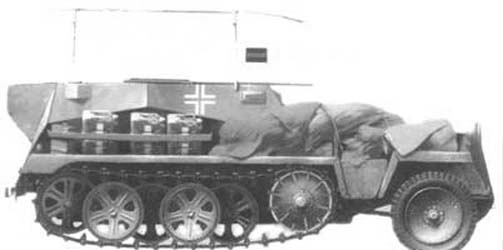 leichter Beobachtungskraftwagen Sd.Kfz.253


Sources: