Mittlerer Schützenpanzerwagen Sd.Kfz.251 (Armored Personnel Carrier)
Genesis
Au contraire des véhicules blindés à roues, les véhicules semi-chenillés jouèrent un rôle majeur dans les activités militaires de l'armée allemande durant le deuxième conflit mondial. Dans la deuxième partie de la guerre ces véhicules rempliront la quasi totalité des missions remplies d'habitude par les automitrailleuses. L'idée originale de ce type de véhicule blindé de transport de personnel, revient à un Français, Adolphe Kégresse directeur du parc automobile du tsar de Russie. Au début du 20e siècle remplaça par un boggie avec chenilles de caoutchouc, le train arrière d'un véhicule du tsar. L'idée était d'obtenir une bien meilleure adhérence sur la neige et le verglas en hiver. Kégresse revient en France en 1917 chez Citroën et y impose son idée avec quelques succès commerciaux à la clé. Au cours des années 20-30, les armées françaises, britanniques et américaines disposeront toutes des autochenilles Citroën-Kégresse sans toutefois exploiter à fond leurs possibilités militaires. D'ailleurs les Britanniques vers la fin de 1930, abandonneront les half-tracks. Les Américains par contre continueront dans cette voie en développant la gamme de véhicules semi-chenillés M3 directement dérivée de l'idée originale de Kégresse et particulièrement robuste. Les Allemands quant à eux avaient mis au point leur premier half-tracks vers la fin de la première guerre mondiale chez Daimler-Benz. Le Marienwagen Bremer était un camion Daimler recouvert de la caisse d'une auto-blindée Erhardt. Les roues arrière sont remplacées par de simple chenilles à bande de caoutchouc. Quatre exemplaires seulement seront produits. Jusqu'à la fin de la guerre d'autres essais mineurs seront mis au point sans grand succès.
On the contrary armoured vehicles with wheels, the half-tracked vehicles played a major role in the military activities of the German army during the second world war. In the second part of the war these vehicles will fill to it quasi totality of the missions fulfilled usually by the armoured cars. The original idea of this type of armoured transport of personnel, returns to a French, Adolphe Kégresse director of the automobile park of the tsar of Russia. At the beginning of the 20th century he replaced by a bogie truck with rubber tracks, the rear wheel-axle unit of a vehicle of the tsar. The idea was to obtain a much better adherence on snow and the glaze in winter. Kégresse returns in France in 1917 at Citroen and imposes its idea on it with some commercial successes on the key. During years 20-30, the French, British and American Armies had all the Citroen-Kégresse half-tracked tractors without however exploiting in totality their military possibilities. Moreover the British towards the end of 1930, will reject the half-track vehicles. The Americans on the other hand will continue in this way by developing the series of half-tracked vehicles M3 directly derived from the original Kégresse's design and particularly robust. The Germans as for them had developed their first half-tracked vehicles towards the end of the First World War at Daimler-Benz. Marienwagen Bremer was a Daimler truck covered with the superstructure of one armoured-car Erhardt. The aft wheels are replaced by simple tracks with rubber belting. Four specimens only will be produced. Until the end of the war of other minor tests will be developed without much success.
Mittlere Schützenpanzerwagen (Sd.Kfz.251/1) HANOMAG.

src: Italeri
Le développement du half-track débute véritablement en Allemagne en 1926. A cette époque le Ministère de la Guerre fait procéder aux essais de nombreux camions et half-tracks afin de mettre au point une doctrine d'achat et d'emploi. A l'époque plusieurs tracteurs 4-roues seront mis au point et certains étaient adaptables en véhicules semi-chenillés. Bon ombre de ces engins seront achetés et serviront comme tracteurs d'artillerie. Il fut également décidé à cette époque que pour les déplacements en tout terrain, ce type de véhicules devra être privilégié. Cependant, la production ne suit pas, imposant rationalisation. A cette époque de mise au point de la future armée allemande, on conclu qu'il faudra des prototypes dont les poids se répartiront entre six catégories correspondant aux besoins des différentes armes combattantes. En 1932 plusieurs contrats seront conclus avec diverses firmes automobiles. Les six prototypes seront effectivement mis au point et donneront naissance aux fameux tracteurs d'artillerie utilisés par les Allemands sur tous les théâtres d'opération en 1939-1945. Les half-tracks des catégories 1 et 3 tonnes donneront naissance aux véhicules de transport d'infanterie qui équiperont les Panzergrenadiere sous de nombreuses formes. En 1935, les plans de la future Panzerdivision sont presqueétablis et les premiers chars (Pz.Kpfw I et II) sont en fabrication. Afin de transporter une section d'infanterie ou un groupe de combat de 10 hommes, un véhicule semi-chenillé de transport devait être mis au point. Le châssis du tracteur de 3 tonnes correspondait parfaitement et fut choisi comme base pour ce nouveau véhicule. Le développement débuta véritablement en 1937. Le châssis de 3 t fut équipé (avec peu de changements) avec une superstructure (sans toit) à pans coupés très inclinés comme sur les automitrailleuses. Pour plus de sûreté, il fut décidé que les hommes débarqueraient par l'arrière et que donc le moteur serait installé à l'avant. Le prototype fut dénommé Gepanzerter Mannschaftstransportwagen (véhicule blindé de transport de personnel), ou Gp MTW est achevéen 1938 et fut jugé bon pour la production la même année après des essais concluants. Il en effet urgent de doté l'infanterie motorisée, encore transportée par camion, de ces véhicules, seuls aptes à se mouvoir dans des conditions de combat. La version actuelle du tracteur de 3 tonnes, le H lk 6p, sera utilisé à cette fin et jusqu'à la fin de la guerre avec bien entendu de nombreuses modifications.
The development of the half-track vehicle begins truly in Germany in 1926. At that time the Ministry for the War makes carry out the tests of many trucks and half-track vehicles in order to develop doctrines of purchase and employment. At the time several tractors 4-wheels will be developed and some were adaptable in half-tracked vehicles. Good shade of these machines will be bought and will be useful like tractors of artillery. It was also decided at that time that for displacements in any ground, this type of vehicles will have to be privileged. However, the production does not follow, imposing rationalization. At that time of development of the future German army, one concluded that one will need prototypes whose weights will be distributed between six categories corresponding to the needs for the various fighting arms. In 1932 several contracts will be concluded with various automobile firms. The six prototypes will be actually developed and will give rise to the famous artillery tractors used by the Germans on all the theatres of operation in 1939-1945. The half-tracked vehicles of categories 1 and 3 tons will give rise to the freight vehicles of infantry which will equip Panzergrenadiere in many forms. In 1935, the plans of future Panzerdivision are almost established and the first tanks (Pz.Kpfw I and II) are in manufacture. In order to transport a section of infantry or a group of combat of 10 men, a half-tracked vehicle of transport was to be developed. The chassis of the tractor of 3 tons corresponded perfectly and was selected as bases for this new vehicle. The development began truly in 1937. The chassis of 3 t was equipped (with few changes) with a superstructure (without roof) with very tilted cut sides as on the armoured cars. For more safety, it was decided that the men would unload by the back and that thus the engine would be installed in the front. The prototype was called Gepanzerter Mannschaftstransportwagen (armoured vehicle of transport of personnel), or Gp MTW is ready in 1938 and was judged good for the production the same year after conclusive tests. It indeed urgent to equip the motorized infantry, still transported by truck, of these vehicles, only ready to be driven under conditions of combat. The current version of the tractor of 3 tons, H lk 6p, will be used for this purpose and until the end of the war with of course of many modifications.
Mittlere Schützenpanzerwagen (Sd.Kfz.251/1) HANOMAG.

src: Italeri
Le châssis produit par Hanomag était surmonté par une caisse provenant de chez Büssing-NAG dotée d'un blindage frontal de 14.5 mm et de 8 mm sur les côtés. Ce véhicule est officiellement dénommé Sd.Kfz.251 et baptisé Mittlerer Schützenpanzerwagen (véhicule blindé moyen d'infanterie). Les premiers engins sortirons des chaînes d'assemblage en 1939 et iront directement équiper une compagnie d'infanterie de la 1re Panzerdivision. L'Inspecteur général des troupes blindés, le Général Guderian est très impressionné par ce nouveau véhicule et en exige l'emploi général pour toute la Panzertruppe. En septembre 1939, lors du début de l'invasion de la Pologne, les Sd.Kfz.251 équipent deux Panzerdivisions (1 et 2) et forment avec les chars le fer de lance de l'offensive et une partie intégrante du concept du Blitzkrieg (la guerre éclaire).
The chassis produced by Hanomag was surmounted by a superstructure coming from Büssing-NAG equipped with a frontal shielding of 14.5 mm and 8 mm on the sides. This vehicle is officially called Sd.Kfz.251 and baptized Mittlerer Schützenpanzerwagen (medium armoured vehicle of infantry). The first machines will leave the assembly lines in 1939 and directly will equip an infantry company of 1st Panzerdivision. The general Inspector of the armoured troops, the General Guderian is very impressed by this new vehicle and requires of it general employment for all Panzertruppe. In September 1939, at the time of the beginning of the invasion of Poland, Sd.Kfz.251 equip two Panzerdivisions (1 and 2) and form with the tanks the spearhead of the offensive and an integral part of the concept of Blitzkrieg (the lightning war).
En général, les conceptions allemandes étaient très perfectionnées pour leur époque au contraire de celles des pays alliés, à part les Américains (et leurs fameux M3). Le châssis était aux trois-quarts chenillé: les roues avant pour la direction et la force motrice était transmise aux barbotins avant, du long train de roulement chenillé qui supportait la majorité du poids du véhicule. Le dispositif de pilotage était de type Cletrac, c'est-à-dire transmission à différentiel asservi avec freins de direction sur l'arbre, était monté dans le système de transmission sur l'essieu avant de la suspension. Les barbotins étaient munis de rouleaux et non de dents pour entraîner les chenilles. Le dispositif Cletrac entrait en action à mesure que les roues étaient braquées, ce qui entraînait un freinage approprié des chenilles pour permettre un virage plus facile. Les chenilles étaient très sophistiquées avec des roulements à aiguilles à bain d'huile sur les axes de chenille et des patins en caoutchouc amovibles vers l'intérieur pour amortir le passage des galets et enclencher les rouleaux dentés. Ces chenilles avaient une grande longévité et une excellente adhérence mais étaient en contre partie très chères. Par après les véhicules seront équipés de pignons de type classique et de chenilles à axes secs afin de simplifier et de rendre plus abordable la production. La suspension était faite de barres de torsion suspendues et les galets (disques perforés à bandage plein en caoutchouc) étaient décalées et imbriquées. Cette suspension fournissait une bonne tenue de route mais était très vulnérable à la neige verglacée.
In general, the German designs were very sophisticated for their time contrary to those of the Allied countries, with share the Americans (and their famous M3). The chassis was tracked in three-quarter: the nose gear wheels for the direction and the power was transmitted to the front sprocket-wheels, of the longtracked train which supported the majority of the weight of the vehicle. The device of direction was of Cletrac type, i.e. servo-differential transmission with steering brakes on the driveshaft, was assembled in the system of transmission on the front axle of the suspension. The sprocket-wheels were provided with rollers and not with teeth to involve the tracks. The Cletrac device entered in action as the wheels were directed, which involved a suitable braking of the tracks to allow an easier turn. The tracks were very sophisticated with needle bearings with oil bath on the axes of track and the removable rubber links towards the interior to deaden the passage of the road wheels and to engage the indenting rollers. These tracks had a great longevity and an excellent adherence but were in against part very expensive. By after the vehicles will be equipped with pinions of the traditional type and tracks with dry axes in order to simplify and to make more accessible the production. The suspension was made with suspended torsion bars and road wheels (perforated discs with rubber solid tyre) were shifted and imbricated. This suspension provided a good handling but was very vulnerable to icy snow.
Pilot station and radio station.
Les engins de la série Sd.Kfz.251 étaient munis d'une boîte de vitesse principale à 4 rapports et une auxiliaireà 2 rapports pour les déplacements en tout terrain. Il y avait donc 8 vitesses en marche avant et deux vitesses en marche arrière. La direction de type Ackerman ainsi que le dispositif de pilotage à différentiel asservi intervenaient dès que les roues avant étaient braquées sous un certain angle. Les freins à main et les freins à pied agissaient tout deux sur les freins de chenilles. Le châssis à cadre classique étaient constitués de longerons soudés avec des traverses. Le châssis étaient munis de plaques de blindage ventrales (6 mm) . La caisse était en deux sections: la section avant accueillant le compartiment moteur et le poste de pilotage et la section arrière accueillant les passagers (max. 12) et le poste de tir. Parfois la caisse était soudée ou rivetée, celadépendait des équipements des différentes firmes participant à la production. Le moteur était un Maybach HL 42 6 cylindres de 4 litres de cylindrée (refroidissement par eau) développant 100CV permettant d'atteindre la vitesse maximum sur route de 55 km/h. Le Sd.Kfz.251 sera produit en très grand nombre, en effet en 1944, 16000 exemplaires avaient été fabriqués par un consortium incluant les firmes Skoda, Adler et Auto-Union et la production passera au chiffre impressionnant de 7800 unités par an la même année.
The machines of the Sd.Kfz.251 series were provided with a principal gear box to 4 speeds and a auxiliary with 2 speeds for displacements in any ground. There were thus forward 8 speeds and two reverse speeds. The direction of the Ackerman type as well as the direction device with servo-differential intervened as sooon the brakes of tracks. The traditional framework chassis consisted of members welded with cross-pieces. The chassis was provided with ventral armour-plates (6 mm). The hull was in two sections: the nose section accomodating the engine compartment and the cockpit and the rear section accomodating the passengers (max. 12) and fire post. Sometimes the hull was welded or riveted, that depended to equipment of the various firms taking part in the production. The engine was Maybach HL 42 6 cylinders of 4 liters cubic capacity (water cooling) developing 100HP making it possible to reach the maximum speed on road of 55 km/h. Sd.Kfz.251 will be produced in very great number, indeed in 1944, 16000 specimens had been manufactured by a consortium including the firms Skoda, Adler and Car-Union and the production will pass to the impressing figure of 7800 units per annum the same year.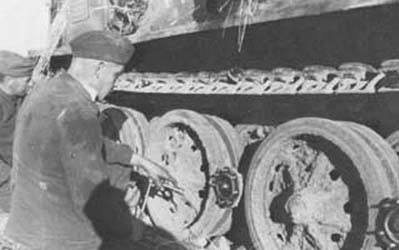 Sources: