Leichte Schützenpanzerwagen Sd.Kfz.250 (Armored Personnel Carrier)
Sd.Kfz.250/1
Pour compléter la gamme des half-tracks blindés lourds (châssis de 3 tonnes), toute une gamme de véhicules légers (châssis de 1 tonne) fut développé sous la désignation de leichter Schützenpanzerwagen (véhiculé blindé léger d'infanterie). Le premier modèle (non blindé) construit par Demag fit son apparition en 1934-1935 parmi d'autres séries de prototypes. Cet engin était uniquement destiné aux tâches d'infanterie comme par exemple le remorquage du canon antichar de 37 mm, de l'obusier d'infanterie de 75 mm ou encore de remorques de munitions. Ce modèle était doté d'un simple capot de camion et d'une superstructure ouverte. Il entra en service sous le nom de leichter Zugkraftwagen (tracteur léger) Sd.Kfz.10. Les modèles de pré-production aboutiront au Demag 7 en 1939, qui fut fabriqué jusqu'en 1944. En 1939, le prototype Hanomag du half-track de 3 tonnes (Sd.Kfz.251), donnait entièrement satisfaction. L'Armée décida d'utilisé le half-track de 1 tonne de la même manière en l'équipant d'une caisse blindée. Ce half-track était très petit (4.65 m de long, 1.80 m de haut et 1.75 m de large) et sous-motorisé avec son Maybach HL 42 de 100 cv. L'ajout d'une caisse blindé faisait craindre aux ingénieurs un affaiblissement notable des performances. Ces derniers trouvèrent la solution en raccourcissant la suspension chenillée d'un galet de roulement.
To supplement the series of the heavy armoured half-tracked vehicles (chassis of 3 tons), a whole series of light vehicles (chassis of 1 ton) was developed under the designation of leichter Schützenpanzerwagen (light armoured vehicle of infantry). The first model (not armoured) built by DEMAG made its appearance in 1934-1935 among other series of prototypes. This machine was only intended for the tasks of infantry such as for example the towing of the anti-tank gun of 37 mm, the howitzer of infantry of 75 mm or of trailers of ammunition. This model was equipped with a simple cap of truck and an open superstructure. It entered in service under the name of leichter Zugkraftwagen (light tractor) Sd.Kfz.10. The models of pre-production will end to DEMAG 7 in 1939, which was manufactured until 1944. In 1939, the Hanomag prototype of the half-track vehicle of 3 tons (Sd.Kfz.251), entirely gave satisfaction. The Army decided used half-track vehicle of 1 ton in the same way by equipping it with an armoured hull. This half-tracked vehicle was very small (4.65 m of length, 1.80 m in height and 1.75 m broad) and was under-motorized with its Maybach HL 42 of 100 hp. The addition of an armoured hull made fear to the engineers a notable weakening of the performances. The latter found the solution by shortening the tracked suspension of a road wheel.
| | |
| --- | --- |
| | |
| Section of infantry jumping of a light half-tracked vehicle on the front line. | leichter Schützenpanzerwagen Sd.Kfz.250/1 in North Africa. |
| src: Connaissance de l'Histoire (Hachette), n°5 - Août-Septembre 1978, Véhicules blindés allemands 39-45 | src: Panzer colors 2 |
Büssing-NAG dessina une version raccourcie de la caisse blindée du Sd.Kfz.251 et la monta sur un prototype fourni par Demag. Le prototype donna satisfaction et fut mis immédiatement en production. L'half-track léger ne pouvait transporter que 6 hommes (au lieu de 10 pour le lourd) et était moins performant que celui de 3 tonnes. Néanmoins il réalisa certaines tâches parfaitement. En effet il était parfait comme véhicule de commandement (Rommel en faisait régulièrement usage), véhicule d'observation ou pour porter le mortier de 80 mm. En fait il soulageait son grand frère de tâches secondaires, faisant de ce petit véhicule un engin très utile. L'half-track léger blindé (1 tonne) fut dénommé Leichter Schützenpanzerwagen Sd.Kfz.250. Environ 14 variantes furent produites correspondant plus ou moins au variantes du Sd.kfz.251. Le modèle de base mesurait 4.56 m de long, 1.95 m de large et 1.66 m de haut. Il pouvait atteindre sur route la vitesse de 60 km/h. Il était doté d'une boîte Variorex Maybach à 7 vitesses en marche avant et 3 vitesses en marche arrière. Mécaniquement, le Sd.Kfz.250 était identique au Sd.Kfz.251: la suspension, les galets de roulement et l'arrangement des chenilles est la même mais avec une disposition matérielle différente.
Büssing-NAG drew a shortened version of the armoured hull of Sd.Kfz.251 and assembled it on a prototype provided by DEMAG. The prototype gave satisfaction and was put immediately in production. The light half-tracked vehicle could transport only 6 men (instead of 10 for the heavy model) and was less powerful than that of 3 tons. Nevertheless it carried out certain tasks perfectly. Indeed it was perfect as (Rommel made use regularly of it), command vehicle, vehicle of observation or to carry the mortar of 80 mm. In fact it relieved its big brother of secondary tasks, making of this small vehicle a very useful machine. The armoured light half-tracked vehicle (1 ton) was called Leichter Schützenpanzerwagen Sd.Kfz.250. Environ 14 alternatives were produced corresponding more or less to the alternatives of Sd.kfz.251. The basic model was 4.56 m long, 1.95 m broad and 1.66 m in height. It could reach on road the speed of 60 km/h. It was equipped with a Variorex Maybach box with 7 forward speeds and 3 reverse speeds. Mechanically, Sd.Kfz.250 was identical to Sd.Kfz.251: the suspension, the road wheels and the arrangement of the tracks are the same one but with a different material provision.
Le poids de combat du véhicule de base était de 5.8 tonnes (charge utile de 1 tonne). La caisse blindée du Sd.Kfz.250 était dotée de plaques de blindage épaisses de 12 mm à l'avant et 8 mm sur les autres faces. C'est en 1940, que les premiers exemplaires entrèrent en service, lors de l'invasion de la France en mai-juin. La production continua jusqu'en octobre 1943 sans modification de la caisse (Alte modell). Un total de 4250 exemplaires du modèle d'origine furent produit par Büssing-NAG, Weserhütte, Wumag, Wegmann, Ritscher et Deutsche Werk. A cette date, la caisse fut simplifiée pour accélérer la production et diminuer les coûts. Les petites dimensions de ce véhicule faisait que les emplacements de stockage étaient très compactés. La superstructure à l'origine avait une forme très incurvée vers l'extérieur pour fournir le maximum d'espace aux passagers. La caisse était à pans coupés avec des plaques à angles multiples. Après 1943, le nombre de panneaux utilisés fut quasiment réduit de moitié, les parties avant et arrière faites d'une seule pièce et les coffres latéraux furent incorporés à la coque. Les sabords de vision (avec volets blindés) furent remplacés par de simples fentes et une porte arrière plus grande fut installée. Des arceaux furent également installés pour soutenir une tente en forte toile recouvrant le compartiment arrière. Sur ce modèle tardif, les phares furent remplacés par un éclairage pour conduite de nuit "Notek". Le Sd.Kfz.250/1 Neu fut produit à 2378 exemplaires par Weserhütte, Deutsche Werke, Wegmann, Wumag. En tout 6628 Sd.Kfz.250/1 furent produits durant la deuxième guerre mondiale.
The weight of combat of the basic vehicle was 5.8 tons (payload of 1 ton). The armoured hull of Sd.Kfz.250 was equipped with armour-plates thick of 12 mm in front and 8 mm on the others faces. It is in 1940, that the first specimens entered in service, during the invasion of France in May-June. The production continued until October 1943 without modification of the hull (Alte modell). A total of 4250 specimens of the model of origin were produced by Büssing-NAG, Weserhütte, Wumag, Wegmann, Ritscher and Deutsche Werk. On this date, the hull was simplified for to accelerate the production and to reduce the costs. Small dimensions of this vehicle made that the sites of storage were very compacted. The superstructure in the beginning had a very curved form towards outside to provide the maximum of space to the passengers. The hull was with cut sides with multiple angles plates. After 1943, the number of panels used was almost reduced to half, the front parts and rear plates made of only one part and the side trunks were incorporated in the hull. The ports of vision (with armoured shutters) were replaced by simple slits and a more larger rear door was installed. Arches were also installed to support a tent in strong fabric covering the back compartment. On this late model, the headlights were replaced by a lighting for night walk, "Notek". Sd.Kfz.250/1 Neu was produced with 2378 specimens by Weserhütte, Deutsche Werke, Wegmann, Wumag. In all 6628 Sd.Kfz.250/1 were produced during the Second World War.
leichter Schützenpanzerwagen Sd.Kfz.250/1. Variation of the hull (before and after 1943).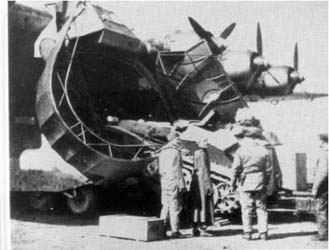 leichter Schützenpanzerwagen Sd.Kfz.250 charged in a heavy transport.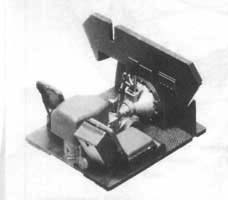 Driving post.
Le modèle de base fut essentiellement utilisé comme transport de personnel sous l'appellation Sd.Kfz.250/1. Il fut utilisé par les commandants de compagnie et les chefs de section. Son armement était constitué comme son grand frère de deux mitrailleuses MG34 de 7.92 mm sur affûts pivotants. Parfois une seule mitrailleuse était embarquée et certains exemplaires furent doté d'un affût tripode lourd. En plus de son poste radiophonique standard, le véhicule pouvait accueillir si besoin un autre poste pour une fonction de commandement. Tous les véhicules de la série Sd.Kfz.250 furent équipés à l'avant de la superstructure, devant les sièges des passagers, du côté du pilote d'un poste radiophonique de type Funksprechgerät F - FuG spf 'f').
The basic model was primarily used as transport of personnel under Sd.Kfz.250/1 name. It was used by the commanders of company and the leaders of section. Its armament was made up like its big brother of two machine-guns MG34 of 7.92 mm on swivelling mountings. Sometimes only one machine-gun was embarked and certain specimens were equipped with a heavy tripod mounting. In addition to its standard radiophonic station, the vehicle could accomodate if need another station for a command function. All the vehicles of the Sd.Kfz.250 serues were equipped in front of the superstructure, in front of the seats of the passengers, side of the pilot of a radiophonic station of type Funksprechgerät F - FuG spf ' F ').
7.92 mm MG 13 & 34

Penetration of a shielding plate (mm) under a plunging angle of 30°

Ammo

Weight

Velocity

100 m

500 m

1000 m

1500 m

2000 m

Patr Smk

0.0115 kg

785 m/s

8

3

-

-

-
Data Sd.Kfz.250/1
Dimensions

Weight:

5800 kg, 5300 kg (Neu) -

Crew:

2+6 -

Length:

4.56 m, 4.61 m (Neu) -

Width:

1.95 m -
Height: 1.66 m, 1.98 m (Neu) -

Ground clearance:

0.28 m -

Track width:

240 mm
Propulsion

Engine:

Maybach HL 42 TRKM, 6L, 100 hp - Maybach HL 42 TURKM, 6L, 100 hp (Neu) -

Fuel:

Gasoline (140L)
Performances

Speed:

60 km/h (on road) - ? km/h (off road) -

Range:

320km (on road), ? km (off road)


Turning radius (diameter):

9 m
Armament

Type: 1-2 x 7.92 mm MG 34 - Ammo: 1010

Armor

Hull lower front:

14.5 mm / 78°, 15 mm / 78° (Neu)


Hull upper front:

10 mm / 60°


Hull lower sides:

8 mm / 60°


Hull upper sides:

8 mm / 55°


Rear:

8 mm / 45° & 73°, 8 mm / 45° & 80° (Neu)


Belly:

6 mm / 0°


Roof:

Open
leichter Schützenpanzerwagen Sd.Kfz.250/1 on the Russian front.


Sources: