Captured (Beute) Halftracks
Durant la deuxième guerre mondiale, l'armée allemande, en raison d'une production déficiente en véhicules propres fut obligée de s'équiper d'un grand nombre de véhicules capturés. Ces véhicules étaient réparés, modifiés et repeints avec des couleurs et inscriptions allemandes. Certains des ces véhicules furent utilisés en service actif dans des rôles de reconnaissance, de police, ...
Au total l'armée allemande utilisa 300 véhicules semi-chenillés et 400 véhicules blindés semi-chenillés d'origine étrangère durant la deuxième guerre mondiale.
Voici la liste par pays des véhicules utilisés par l'allemagne durant la seconde guerre mondiale: les lignes en retrait représentent l'appélation allemande du véhicule (et ses conversions).
During the Second World War, the German army, because of a defective production in the own vehicles was obliged to be equipped with a great number of captured vehicles. These vehicles were repaired, modified and repainted with German colors and inscriptions. Some as of the these vehicles were used in active service in roles of reconnaissance, police force...
On the whole the German army used 300 half-tracked vehicles and 400 half-tracked armoured vehicles of foreign origin during the Second World War.
Here the list by countries of the vehicles used by Germany during the second world war: the lines in withdrawal represent the German appelation of the vehicle (and its conversions). Note: this list relates to only the armoured cars and the half-tracked vehicles.
Belgium
Panhard/Citroën-Kégresse Hinstin - transport semi-chenillé

Zugkraftwagen P302/302(b) - transport de matériel ou de personnel

Panhard/Citroën)Kégresse Hinstin - half-track carrier

Zugkraftwagen P302/302(b) - supply and personnel carrier
France
Panhard-Kégresse - transporteur blindé

Gepanzerter Transportkraftwagen P380(f) - combat, transport de personnel, reconnaissance et entraînement

Somua MCG - tracteur semi-chenillé

Leichte Zugkraftwagen S307(f) - tracteur d'artillerie, transport de matériel
mittlere SPW S307(f) - transport de personnel avec mortier français de 81 mm (1943)
Panzerjäger mit 75 mm Pak 40 L/46 - chasseur de char (1944)
mit Reinhewerfer: porte mortier

Unic Kégresse P107 - tracteur semi-chenillé

Zugkraftwagen P107/304(f) - tracteur d'artillerie, transport de matériel
leichte SPW U304(f) - transport de personnel

Tracteur Somua MCL - tracteur semi-chenillé

Mittlere Gepanzerter Zugkraftwagen S303(f) - tracteur d'artillerie, transport de matériel
mittlere SPW S303(f) - transport de personnel avec lance-roquettes multiple de 80 mm (R-Vielfachwerfer) ou porte-mortiers en gradins (Reihenwerfe) ou encore lance-roquettes (15 cm Panzerwerfer 42)

Citroën-Kégresse Hinstin - transport semi-chenillé

Zugkraftwagen P302/302(f) - transport de matériel ou de personnel

Panhard-Kégresse - armored carrier

Gepanzerter Transportkraftwagen P380(f) - combat, personnel carrier, reconnaissance et training
Somua MCG - half-tracked tractor

Leichte Zugkraftwagen S307(f) - artillry tractor, supply carrier
mittlere SPW S307(f) - personnel carrier with 81 mm french mortar (1943)
Panzerjäger mit 75 mm Pak 40 L/46 - tank destroyer (1944)
mit Reinhewerfer: mortar carrier

Unic Kégresse P107 - half-tracked tractor

Zugkraftwagen P107/304(f) - artillry tractor, supply carrier
leichte SPW U304(f) - personnel carrier

tractor Somua MCL - half-tracked tractor

Mittlere Gepanzerter Zugkraftwagen S303(f) - artillry tractor, supply carrier
mittlere SPW S303(f) - personnel carrier with 80 mm multiple rocket launcher (R-Vielfachwerfer) or tiered mortar carrier (Reihenwerfe) or rocket launcher (15 cm Panzerwerfer 42)

Citroën-Kégresse Hinstin - half-tracked carrier

Zugkraftwagen P302/302(f) - supply or personnel carrier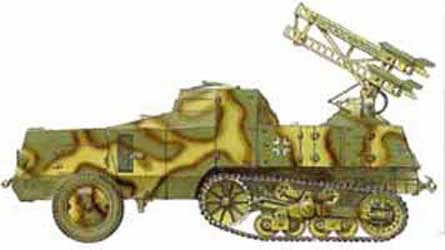 Mittlere Gepanzerter Zugkraftwagen S303(f)
src: Blindés de la Seconde Guerre Mondiale (Histoire & Collections) - Dessin Jean Restayn
United-States
M3 - transport semi-chenillé

Schutzenpanzerwagen M3 ---(a) - combat et reconnaissance
M3 - half-tracked carrier

Schutzenpanzerwagen M3 ---(a) - combat and reconnaissance
| | |
| --- | --- |
| | |
| Schützenpanzerwagen M2 | Schützenpanzerwagen M3 |
| src: Afrika Korps in Action, Squadron/Signal Publications | |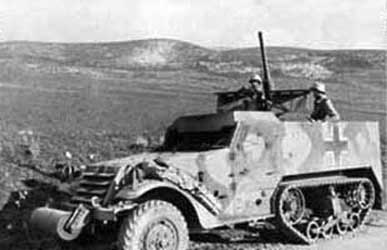 T-19
src: Afrika Korps in Action, Squadron/Signal Publications


Sources: