Special Vehicles: Mine-Exploders
Mineräumwagen Sd.kfz.300 Borgward BI und BII
Le BI conçu en 1939 était un véhicule contrôlé à distance chargé de faire sauter les mines. Il était doté d'une suspension et d'un ventre capables de résister à l'explosion qu'il provoquait. De 1939 à mai 1940, 50 Sd.Kfz.300 BI furent produits. En avril 1940, une nouvelle version, le BII fut commandée.
The BI designed in 1939 was a remotely controlled vehicle charged to destroy the mines. It was equipped with a suspension and a belly able to resist to the explosion which it caused. From 1939 to May 1940, 50 Sd.Kfz.300 BI were produced. In April 1940, a new version, the BII was ordered.
La production de 100 exemplaires devait commencer en juillet 1940. Le BII plus large était propulsé par un 6 cylindres. Seulement deux prototypes furent livrés et utilisés dans une Mineraeum-Kompanie. Une variante amphibie fut également produite, connue sous le nom de "Ente" (Canard). Seul des prototypes furent fabriqués. Le BI, lui, ne dépassa jamais le stade des tests dans une Minenraeum-Kompanie. Le contrôle de ces engins se faisait à partir d'un Kleiner Panzer Befehlswagen I (Sd.Kfz.265).
The production of 100 specimens was to start in July 1940. The broader BII was propelled by one 6 cylinders. Only two prototypes were delivered and used in Mineraeum-Kompanie. An amphibian version was also produced, known under the name of "Ente" (Duck). Only prototypes were manufactured. BI, never exceeded to it the stage of the tests in Minenraeum-Kompanie. The control of these machines was done starting from Kleiner Panzer Befehlswagen I (Sd.Kfz.265).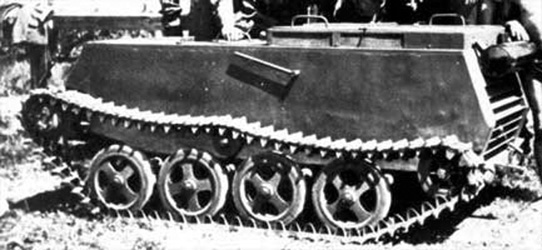 Sd.Kfz.300 Borgward BII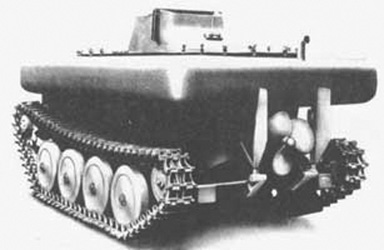 Sd.Kfz.300 Borgward BII "Ente"
Data Sd.Kfz.300 Borgward BI/II
Dimensions

Weight:

1150 kg (Bi), 2300 kg (B2) -

Crew:

none -

Length:

1.85 m -

Width:

0.80 m -

Height:

0.65 m
Propulsion

Engine:

Borgward 4M 15 RII, 4cyl., 29hp (BI), Borgward 6 M23 RTBV, 6cyl., 29/hp (BII) -

Fuel:

Gasoline
Performances

Speed:

5 km/h (on road) - ? km/h (off road) -

Range:

18 km (on road) (BI), 30 km (on road) (II)
Armament

Type: none - Ammo: none

Armor

none
Alkett Räumgerät
Le design fut réalisé par Alkett, Krupp et Mercedes-Benz et leur construction se termina en 1942. Le corps de cet étrange engin été construit sur le l'affût d'un canon lourd avec une cabine comprenant le compartiment de combat, le compartiment moteur et qui était surmontée d'une tourelle de Panzer I (2 MG34). Le blindage variait de 20 à 40 mm sur le corps de l'engin. Le dessous pour pouvoir résister aux mines allait jusqu'à 80 mm. La direction se faisait à l'aide de la petite roue située à l'arrière, deux roues plus grandes complétaient la suspension. Les roues en acier étaient munies de sabots d'acier similaires à ceux utilisés par les canons lourds allemands lors de la première guerre mondiale. Les roues proviennent de camions caterpillar. Elles devaient en théorie résister aux charges explosives des mines. Les test démontrèrent que sa faible vitesse et sa taille imposante en faisait une cible de choix.
This design was carried out by Alkett, Krupp and Mercedes-Benz and its construction finished in 1942. The body of this strange machine built on the mounting of a heavy gun with a cabin including the compartment of combat, the engine compartment and which was surmounted by a turret of Panzer I (2 MG34). The shielding varied from 20 to 40 mm on the body of the machine. The lower part to be able to resist to the mines was of 80 mm. The direction was done using the small wheel located at the back, two larger wheels supplemented the suspension. The steel wheels were provided with steel shoes similar to those used by the German heavy guns at the time of the First World War. The wheels come from Caterpillar trucks. They were in theory to resist the explosive loads of the mines. The test showed that its low speed and its imposing size made a target of choice of it.
Alkett Raümgerät
Les pertes encourues dans les rangs des panzers par les mines soviétiques sont à l'origine du développement d'un tel engin. Son rôle devait consister à ouvrir un chemin dans les champs de mines pour les panzers. Il s'avéra rapidement que des chars ordinaires reconvertis étaient beaucoup plus pratiques et cet AFV (Armored Fighting Vehicle) fut abandonné. Cet AFV allemand fut découvert au nombre de 10, par les Russes à Kummersdorf en 1945. En 1947, les Russes les testèrent, mais les tests furent faussés par l'état déplorable de la mécanique des engins.
The losses incurred in the rows of the panzers by the Soviet mines are at the origin of the development of such a machine. Its role was to consist to open a way in the minefields for the panzers. It proved quickly that reconverted ordinary tanks were much more practical and this AFV (Armored Fighting Vehicle) was abandoned. 10 of these German AFV were discovered by the Russians at Kummersdorf in 1945. In 1947, the Russians tested them, but the tests were distorted by the deplorable state of the mechanics of the machines.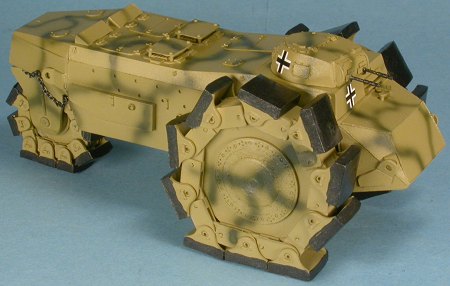 Alkett Raümgerät
Data Alkett Raümgerät
Dimensions

Weight:

50000 kg -

Crew:

? -

Length:

6.20 m-

Width:

3.22 m -

Height:

2.90 m
Propulsion

Engine:

? -

Fuel:

?
Performances

Speed:

? km/h (on road) - ? km/h (off road) -

Range:

? km (on road) (BI), ? km (off road)
Armament

Type: 2x 7.92mm MG34 - Ammo: ?

Armor
10-40 mm
Krupp Raumer S (Selbstrantrieb) Schwerer Mineräumfahrzeug
En 1944, Krupp réalisa le prototype d'un véhicule démineur super lourd. Ce monstre de 130t était articulé en son centre, et suspendu sur des roues en acier de 2.7m recouvertes de patins. Chaque partie du Raümer S était propulsée par un Maybach HL90. Le prototype du Räumer S fut capturé à la fin de la guerre par l'U.S. Army.
In 1944, Krupp constructed the prototype of a super heavy mines destroyer. This monster of 130 t was articulated in its center, and was suspended on 4 wheels out of steel of 2.7m covered with shoes. Each part of Raümer S was propelled by Maybach HL90. The prototype of Räumer S was captured at the end of the war by the U.S. Army.

Krupp Räumer S


Sources: