Bergepanther Armored Recovery Vehicle
La croissance exponentielle des chars allemands, posait un problème lors de la récupération des véhicules endomagés abandonnés sur le champ de bataille. Jusqu'alors on utilisait les tracteurs de 18t FAMO, mais trois d'entre-eux étaient nécessaires pour tracter un Tiger ! Quelques Tigers endomagés seront reconvertis en véhicules de récupération mais les Tigers étant trop précieux comme chars de combat, la tentative tourna cours. On décida dès lors d'utiliser les châssis des Panther Ausf.D retournés à l'usine pour réparation comme base pour un nouveau véhicule de récupération de chars lourds. Cette conversion fut appellée Bergepanzer V Bergepanther.
The exponential growth of the German tanks, posed a problem during the recovery of the domaged vehicles abandoned on the battle field. Hitherto one used the tractors of 18t FAMO, but three of between-them were necessary to tow a Tiger! Some domaged Tigers will be reconverted in recovery vehicles but Tigers being too invaluable like tanks, the attempt turned course. One consequently decided to use the chassis of the Panther Ausf.D turned over to the factory for repair as bases for a new vehicle of recovery for heavy tanks. This conversion was called Bergepanzer V Bergepanther.
La tourelle du Panther Ausf.D fut supprimée et le centre du plateau du char (ou se trouvait la circulaire de la tourelle) fut ouvert. L'orifice était seulement protégé par une superstructure en acier-bois. A l'intérieur était installé le système procurrant la puissance du treuil de remorquage. L'installation occupait tout le compartiment de combat. Le treuil pouvait servir au remorquage ou à la manoeuvre de la large pelle installée sur charnière à l'arrière du char. Une potence de levage adaptable sur chaque côté du Bergepanther pouvait également utiliser la force motrice du treuil pour soulever des charges. A l'avant la plaque amovible au dessus du compartiment de conduite fut supprimée. Un simple couverture en toile protégeait le compartiment des intempéries. Ce compartiment était séparé du compartiment de treuillage par une parois pare-feu en acier. Le Bergepanther pouvait aisèment tirer des charges de plus de 40 tonnes. Seul problème il faillait arrêter le moteur chaque fois qu'on devait installer le treuil pour le rédémarrer afin de manoeuvre celui-ci. Tous les Bergepanther ne disposait pas de pelle à l'arrière et n'étaient utilisés que comme tracteur.
The turret of the Ausf.D Panther was removed and center of the roof of the tank (where was the circular of the turret) was open. The opening was only protected by a steel-wood superstructure. Inside was installed the system that provides the power for the winch of towing. The installation occupied all the compartment of combat. The winch could be used for the towing or the operation of the broad shovel installed on hinge at the back of the tank. A bracket of lifting adaptable on each side of Bergepanther could also used the driving force of the winch to raise loads. In front the removable plate on the top of the frontal compartment was removed. A simple canvas cover protected the compartment from the bad weather. This compartment was separated of the compartment of winching by a steel fire wall. Bergepanther could easely tracted loads of more than 40 tons. Only problem it failed to turn off the engine each time that one was to install the winch and to re-starte it in order to operate the winch. All Bergepanther did not have shovel at the back and were used only like tractor.
Bergepanzer V Bergepanther

src: Pz.Kpfw V in action, Armor Number 11 (squadron/signal publications, inc.)

src: Tank Illustrated n°2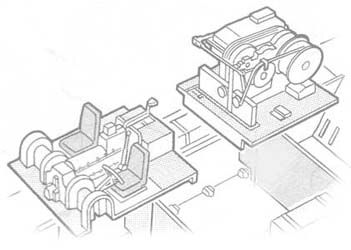 Bergepanther winch and driving compartment
Pour sa défense, le Bergepanther ne disposait que d'un canon de 20 mm monté sur un affût triangulaire à l'avant du véhicule sur le glacis. Encore une fois, tous les Bergepanther n'en disposait pas. Le Bergepanther en opération, dans un premier temps au moyen de son treuil tractait si c'était le cas, le véhicule embourbé sur un terrain plus ferme, puis dans une deuxième temps au moyen de barres de remorquage (montables à l'arrière) tractait le véhicule jusqu'aux ateliers de réparation. Des pare-chocs installés à l'avant permettaient aussi de pousser un véhicule).
For its defense, Bergepanther had only one gun of 20 mm assembled on a triangular mounting in front of the vehicle on the glacis. However, all Bergepanther did not have which it. Bergepanther in operation, initially by means of its winch towed if it were the case, the emsabled vehicle on a firmer ground, then in the second time by means of tow bars (mounted at the back) towed the vehicle to the repair shops. Bumpers installed in front also made it possible to push a vehicle).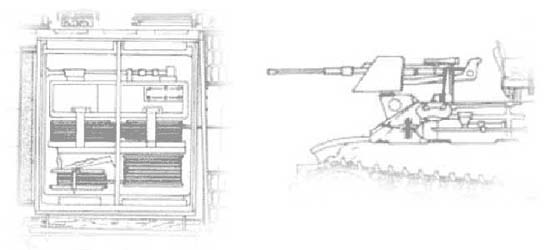 Bergepanther winch and 20 KwK gun
20 mm KwK 30/38 L/55

Penetration of a shielding plate (mm) under a plunging angle of 30°

Ammo

Weight

Velocity

100 m

500 m

1000 m

1500 m

2000 m

PzGr 39

0.148 kg

780 m/s

20

14

9

-

-

PzGr 40

0.1 kg

1050 m/s

49

-

-

-
Bergepanther Ausf.D mit 3.7cm FlaK 37
Cette version est une conversion improvisée sans existence officielle que l'on peut dénommer Bergepanther Ausf.D mit 3.7cm FlaK 37 ou 3.7cm FlaK 37 auf Bergepanther Ausf.D. On ignore si ce véhicule était encore utilisé comme char de dépannage mais il est probable que vu son armement principal il fut utilisé pour des missions d'appui-feu.
This version is an improvised conversion without official existence that can denominate Bergepanther Ausf.D mit 3.7cm FlaK 37 or 3.7cm FlaK 37 auf Bergepanther Ausf.D. It is unknown whether this vehicle was still used as a recovery tank, but it is likely that saw its main armament it was used for fire support missions.


Sources: