10.5cm leFH18(Sf) auf Geschützwagen II Wespe (Self-Propelled Howitzer)
Le retrait du Panzer II dès 1942 des unités de combat des Panzerdivisions représenta une excellente opportunité pour fournir à toutes sortes d'armes antichars ou autres pièces d'artillerie une mobilité qui leur faisait défaut. De plus le châssis du Panzer II fut produit en très grand nombre, plus que le nombre réel de chars complétés. Le Wespe basé sur le châssis du Panzer II entre dans cette catégorie d'armes, plus précisément dans celle de l'artillerie blindée mobile ou Panzerartillerie. L'artillerie allemande de campagne était essentiellement composée de l'obusier léger de 105 mm et de l'obusier lourd de 150 mm. Le dernier sera monté sur un châssis hybride de Panzer III/IV (GW III/IV) pour donner naissance au Hummel. Pour l'obusier léger de 105 mm fut donc choisi le châssis du Panzer II puisqu'il était abondamment disponible et très performant. Alkett réalisa le design de cet obusier automoteur vers la mi-1942. Il fut donc armé du leichte Feldhaubitze 18/2 de 105 mm et désigné officiellement leichte Feldhaubitze 18/2 auf Fahrgestell Panzerkampfwagen II (Sf) Wespe (Guêpe) et reçut le numéro de matériel Sd.Kfz.124.
The withdrawal of Panzer II as of 1942 of the units of combat of Panzerdivisions represented an excellent advisability to provide to all kinds of anti-tank weapons or other pieces of artillery a mobility which was missing to them. Moreover the chassis of Panzer II was produced in very great number, more than the real number of completed tanks. Wespe based on the chassis of Panzer II is included in this category of weapons, more precisely in that of mobile armoured artillery or Panzerartillerie. The German field artillery was primarily made up of the light howitzer of 105 mm and of the heavy howitzer of 150 mm. The last will be assembled on a hybrid chassis of Panzer III/IV (GW III/IV) to give rise to Hummel. For the light howitzer of 105 mm, the chassis of Panzer II was thus selected since it was abundantly available and very powerful. Alkett carried out the design of this motorized howitzer towards the semione. It was thus armed with the leichte Feldhaubitze 18/2 of 105 mm and was indicated officially leichte Feldhaubitze 18/2 auf Fahrgestell Panzerkampfwagen II (Sf) Wespe (Wasp) and accepted the material number of Sd.Kfz.124.
10.5cm sFH18(Sf) auf GW II Wespe
Cet engin devait fournir un appui feu indirect, c'est-à-dire à partir de la seconde ligne, à toutes sortes de formations mobile. Il ne devait en aucun cas engager directement l'ennemi, son blindage léger ne s'y prêtant pas. Il était cependant doté de projectiles perforants en cas de mauvaises rencontres. Le Wespe étant avant tout une pièce d'artillerie mobile, il opérerait au sein de batteries et son feu était commandé depuis le les premières lignes par des véhicules d'observation (Beobachtungswagen) par radio. Le châssis du Panzerkampfwagen II Ausf.F fut choisi pour servir de base à cette conversion. Un total de 1400 châssis de cette version de Panzer II avait été produit par FAMO et seulement 524 furent complétés en tant que Panzer II Ausf.F entre 1941 et 1943. Cela faisait plus 800 châssis disponibles pour réaliser des conversions. Le moteur fut déplacé au centre de l'engin pour ménager un compartiment de combat suffisant pour l'obusier de 105 mm et ses servants. La suspension fut renforcée pour compenser l'augmentation du poids et également le recul de l'arme. Par après le châssis sera allongé (espace plus important entre le dernier galet et la poulie de tension) pour agrandir le compartiment de combat. Ce châssis allongé était connu en tant que Geschützwagen II (Porteur d'arme). Ce changement fournira deux versions distinctes.
This machine was to provide an indirect fire support, i.e. starting from the second line, for all kinds of mobile formations. It was not to in no case to engage directly the enemy, its light shielding not lending itself to it. It was however equipped with piercing projectiles in the event of bad meetings. Wespe is principally a mobile piece of artillery, it would operate within batteries and its fire was ordered since the first lines by vehicles of observation (Beobachtungswagen) by radio. The chassis of Panzerkampfwagen II Ausf.F was selected to be used as a basis for this conversion. A total of 1400 chassis of this version of Panzer II had been produced by FAMO and only 524 were completed as Panzer II Ausf.F between 1941 and 1943. That made more 800 chassis available to realize conversions. The engine was moved in the center of the machine to spare a compartment of combat sufficient for the howitzer of 105 mm and its being useful. The suspension was reinforced to compensate the increasing of the weight and also the recoil of the weapon. By after the chassis will be lengthened (more significant space between the last roller and the pulley of tension) to increase the compartment of combat. This lengthened chassis was known as Geschützwagen II (Carrier of weapon). This change will provide two distinct versions.
105 mm sFH 18 L/28

Penetration of a shielding plate (mm) under a plunging angle of 30°

Ammo

Weight

Velocity

100 m

500 m

1000 m

1500 m

2000 m

PzGr

14 kg

470 m/s

63

59

54

50

46

Gr 39 H1/A

12.3 kg

495 m/s

80

59

54

50

-

Gr 39 H1/B

12.1 kg

495 m/s

90

59

54

50

-

Gr 39 H1/C

12.35 kg

495 m/s

100

59

54

50

-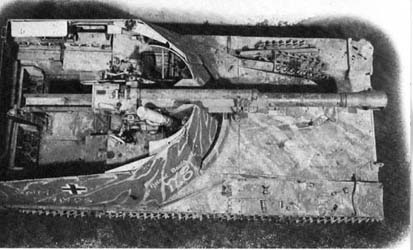 10.5cm sFH18(Sf) auf GW II Wespe
Cependant les deux versions disposaient de la même suspension: 5 galets de roulements et 3 rouleaux porteurs. Le Wespe était équipé de chenilles de 300 mm de large (108 patins par chenille). Le groupe propulseur était du modèle standard monté sur le Panzer II Ausf.F composé du moteur 6 cylindres (essence) Maybach HL 62TR développant 140 cv et de la boîte de vitesse ZF Aphon SSG46 (marche avant: 6 vitesses - marche arrière: 1 vitesse). Comme le Panzer II Ausf.F, le Wespe embarquait 170 l d'essence dans deux réservoirs ce qui lui permettait une autonomie de 220 km. Le Wespe pouvait atteindre sur route les 40 km/h.
However the two versions had the same suspension: 5 road wheels and 3 return rollers. Wespe was equipped with 300 mm broad trakcs (108 links per track). The power plant was standard model assembled on Panzer II Ausf.F made up of the six-cylinder (gasoline) Maybach HL 62TR developing 140 hp and of the gear box ZF Aphon SSG46 (forward: 6 speeds - reverse: 1 speed). Like Panzer II Ausf.F, Wespe embarked 170 gasoline L in two tanks what allowed it an autonomy of 220 km. Wespe could reach on road the 40 km/h.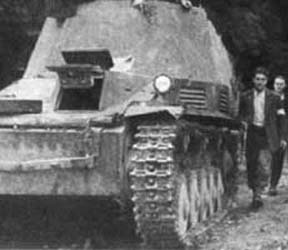 Munitionsspanzer für Wespe
Le Wespe comme précité était armé de l'obusier léger de 105 mm. Cette arme qui fut conçue lors de la première guerre mondiale était présente dans tous les régiments d'artillerie de l'armée allemande lors du deuxième conflit. C'est une version de cette arme, le leFH 18/2, qui fut installée au dessus du moteur derrière un bouclier pivotant dans une superstructure ouverte sur le dessus. Cette superstructure était constituée de plaques de 10 mm d'épaisseur ce qui protégeait que légèrement le compartiment de combat accueillant 32 obus de 105 mm. Le poste radio FuG Sprf était également installé dans le poste de combat. L'espace interne du poste de combat était très étroit en raison des dimensions de l'engin. L'obusier de 105 mm avait un champ de tir latéral limité à 17° de chaque côté et un champ de tir vertical variant entre -5° et +42°. Le leFH18/2 tirait habituellement des obus explosifs avec une portée utile de 8400 m (maximum 10000 m) mais également si nécessaire des obus perforants pour assurer sa défense contre des blindés ennemis. Le matériel optique était de type Rblf 36. Pour sa défense rapprochée, le Wespe disposait également d'une mitrailleuse de 7.92 mm MG 34 mise à feu depuis le compartiment de combat à provision de 600 cartouches (optionnel) et deux mitraillettes de 9 mm MP38.
Wespe as above mentioned was armed with the light howitzer of 105 mm. This weapon which was designed at the time of the First World War was present in all the artillery regiments of the German army at the time of the second conflict. It is a version of this weapon, the leFH 18/2, which was installed on the top of the engine behind a swivelling shield in a superstructure open on the top. This superstructure consisted of 10 mm thickness plates what protected that slightly the compartment of combat accomodating 32 rounds of 105 mm. The station radio FuG Spr f was also installed in the station of combat. The internal space of the station of combat was very narrow because of dimensions of the machine. The howitzer of 105 mm had a side field of fire limited to 17° on each side and a vertical field of fire variable between -5° and +42°. The leFH18/2 usually shoots high-explosive rounds with a useful range of 8400 m (maximum 10000 m) but also if necessary piercing rounds to ensure its defense counters enemy armoured tanks. The optical material was of type Rblf 36. For its brought closer defense, Wespe also laid out of a machine-gun of 7.92 mm MG 34 firing since the compartment of combat with provision of 600 cartridges (optional) and two sub-machine-guns of 9 mm MP38.
L'équipage était composé du pilote, du tireur, du chargeur (parfois 2 ?) et du commandant. Le pilote était installé dans le poste de pilotage à l'avant du char et le reste dans le poste de combat. Le compartiment de combat étant exigu , les Wespes devaient disposer de véhicules porte munitions pour assurer un cadence de tir acceptable. Ce véhicule sera réalisé à partir d'un Wespe standard auquel on aura retiré l'arme principal et installé des râteliers à munitions dans le compartiment de combat. Cette conversion qui fut appelée Munitions SF auf Fgst PZ.Kpfw II pouvait transporter jusqu'à 90 obus supplémentaire et était dirigé par un équipage de trois homme. Ce transport de munitions fut produit à seulement 159 exemplaires. Notons que l'obusier était facilement remonté pour si besoin fournir un Wespe standard opérationnel.
The crew was composed of the pilot, the gunner, the loader (sometimes 2?) and the commander. The pilot was installed in the cockpit in front of the tank and the remainder in the station of combat. The compartment of combat being exiguous, Wespes were to have ammunition carriers to ensure an acceptable rate of shooting. This vehicle will be produced starting from standard Wespe to which one will have withdrawn the howitzer and will have installed racks with ammunition in the compartment of combat. This conversion which was called Munitions SF auf Fgst PZ.Kpfw II could transport to 90 additional rounds and was directed by a crew of three man. This transport of ammunition was produced with only 159 specimens. Let us note that the howitzer had easily mounted for if need be to provide operational standard Wespe.
| | |
| --- | --- |
| | |
| Changement du canon sur un wespe. Cette opération était assez aisée et praticable sur le front même. | Wespe abondamment camouflé. |
| Change of the gun on a wespe. This operation was rather easy and practicable on the front even. | Abundantly camouflaged Wespe. |
| | |
Le Wespe fut produit par FAMO à 676 exemplaires bien qu'une commande initiale prévoyait 1000 engins de ce type, entre février 1943 et juillet 1944. Les premiers exemplaires réalisés seront versés dans les batteries d'artillerie motorisée des Panzerdivisions dès le printemps 1943. Une batterie était composée en théorie de 6 Wespe et 2 Munitions Wespe. Cette arme prouvera son efficacité sur tous les fronts jusqu'à la fin de la guerre. Plus de 300 Wespes étaient encore en service en mars 1945. Un grand nombre fut utilisé notamment lors de la bataille de Koursk durant juillet 1943.
Wespe was produced by FAMO with 676 specimens although an initial order envisaged 1000 machines of this type, between February 1943 and July 1944. The first specimens realized will be versed in the motorized artillery batteries of Panzerdivisions as of spring 1943. A battery was made up in theory of 6 Wespe and 2 Ammunition Wespe. This weapon will prove its effectiveness on all fronts until the end of the war. More than 300 Wespes were still in service in March 1945. A great number was used in particular at the time of the battle of Koursk during July 1943.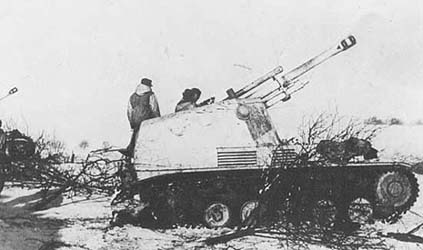 Wespe pilonnant des positions ennemies sur le front russe. Cette arme avait été spécialement conçue pour fournir plus de mobilité à l'artillerie.
Wespe ramming of the enemy positions on the Russian front. This weapon had been especially designed to provide more mobility to artillery.
Notons que les Wespes équipèrent aussi bien les unités d'artillerie motorisés des Panzerdivisions de la Whermacht que de la Waffen-SS entre 1943 et 1945.
Let us note that Wespes as well equipped the motorized artillery units of Panzerdivisions of Whermacht as of Waffen-SS between 1943 and 1945.


Sources:
Connaissance de l'Histoire (Hachette) - N°17 - " Les chars de combat allemands 39-45"
Connaissance de l'Histoire (Hachette) - N°5 - " Véhicules blindés allemands 39-45"
Les Blindés de la Seconde Guerre Mondiale (Atlas)
Sturmartillerie & Panzerjäger 1939-1945 (Osprey Military) - New Vanguard N°34
Site "Achtung Panzer" - http://www.achtungpanzer.com
Site "WWII Vehicles" - http://www.wwiivehicles.com
Site "Second World War Armour" - http://www.onwar.com/tanks/index.htm