Sturmpanzer VI Sturmtiger Assault Rocket Mortar
Le Sturmpanzer VI (char d'assaut VI) connu également en tant que Sturmtiger ou Sturmmörser (mortier d'assaut) fut le champion de sa catégorie. Il était destiné à pourvoir aux besoins de la Wehrmacht sérieusement malmenée dans les rues de Stalingrad et dans d'autres villes russes transformées en forteresses. Sa dénomination complète est 380mm Mörser RW 61 auf Sturmtiger (mortier de 380mm Type 61 sur châssis d'assaut Tiger). L'idée de cette conversion revient à Adolf Hitler. Au début le canon de 210mm fut choisi, mais il n'existait pas de modèle qui puisse convenir à une telle conversion. Le Führer, proposa donc l'utilisation du Raketenwerfer (lance-fusées) 61 L/54 de Rheinmetall-Borsig qui était en fait à l'origine une arme de lutte anti-sous-marine mise au point pour la marine allemande.
Sturmpanzer VI (assault tank VI) known also as Sturmtiger or Sturmmörser (assault mortar) was the champion of its category. It was intended to provide for the needs of Wehrmacht seriously abused in the streets of Stalingrad and other Russian cities transformed into fortresses. Its complete denomination is 380mm Mörser RW 61 auf Sturmtiger (mortar of 380mm Type 61 on assault chassis of Tiger). The idea of this conversion returns in Adolf Hitler. At the beginning the gun of 210mm was chosen, but there was not model which can be appropriate for such a conversion. Führer, thus proposed the use of Raketenwerfer (rocket launchers) 61 L/54 of Rheinmetall-Borsig which was in fact in the beginning a weapon of anti-submarine fight developed for the German navy.
Le 20 octobre 1943, le premier modèle de Sturmtiger fut présenté à Hitler et en août 1944, la production en série put débuter. Alkett utilisa le châssis de 10 Tigres de fin deproduction pour réaliser les premiers modèles à Berlin-Spandau, les superstructures étaient fabriquées par Brandenburger Eisenwerke. En vue de son utilisation contre des positions fortifiées et des rassemblements de troupes, le Sturmtiger était fortmenent blindé. Si la suspension, la transmission, le moteur et la caisse en générale étaient ceux du Tigre, une imposante superstructure blindée était montée à l'avant. Celle-ci était constituée de plaques de blindage laminées soudées. Les plaques latérales (80mm) s'emboîtaient avec celle de devant (150mm) et celle de derrière (également 80mm). Une épaisse bande renforçait encore l'extérieur de la jointure entre les plaques frontales et le la plaque de glacis.
October 20, 1943, the first model of Sturmtiger was presented to Hitler and in August 1944, the mass production could begin. Alkett used the chasssis of 10 Tigers of late production to carry out the first models in Berlin-Spandau, the superstructures were manufactured by Brandenburger Eisenwerke. For its use against fortified positions and gatherings of troops, Sturmtiger was strong armored. If the suspension, the transmission, the engine and the hull into general were those of the Tiger, an imposing armored superstructure was assembled to the front one. This one consisted of welded rolled armor-plates. The side plates (80mm) were encased with that of front (150mm) and that of behind (also 80mm). A thick tape still reinforced the outside of the joint between the frontal plates and the glacis.
Sturmtiger abandonné au cours des derniers affrontements de la 2e GM.

Sturmtiger given up during last confrontations of WW2.
L'imposant lance-fusée était légèrement décalé sur la droite de la plaque frontale de la superstructure et était constitué d'une pièce moulée tubulaire, un fourreau à rayures espacées et un bouclier moulé. Les gaz étaient déviés entre le tube et le fourreau et étaient évacués par un anneau perforé à l'extrémité de la gueule. Sur le toit de la superstructure se trouvait une écoutille rectangulaire (en 3 pièces) servant aux chargement des projectiles de 380 et à l'évacuation des douilles. Une petite grue montée à l'arrière de la superstructure permettait d'effectuer ces opérations. Une trappe circulaire se trouvait également au centre de la plaque arrière de la superstructure.
The imposing rocket launcher was slightly shifted on the right frontal plate of the superstructure and consisted of a tubular casting, a sleeve with spaced stripes and a moulded shield. The gases were deviated between the tube and the sleeve and were evacuated by a ring perforated at the end of the muzzle. On the roof of the superstructure was a rectangular hatchway (in 3 parts) being used for the loading of the projectiles of 380 and the evacuation of the casings. A small crane assembled to the back of the superstructure made it possible to carry out these operations. A circular trap door was also in the center of the back plate of the superstructure.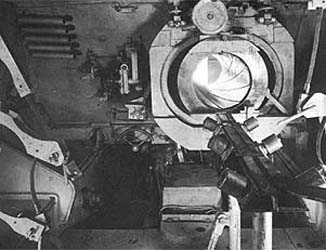 Vue interne du poste de combat.
Inside view of the combat compartment.
A l'interieur dans le poste de combat, les projectiles étaient rangés par deux dans 6 casiers à munitions permettant un total de 12 coups maximum. Un treizième coup pouvait être entreposé directement dans le tube de lancement. Les projectiles utilisés par le Sturmtiger étaient à charge creuse et à explosif à grande puissance. Le R Sprenggranät 4581, calibre 380 avait une longueur totale de 1.42m et pesait 345kg ! La portée de tir maximum du Sturmtiger était de 5670m. Tout ce qui se trouvait sur le point d'impact et aux alentours était pulvérisé! L'armement du Sturmtiger était complété par une MG34 montée sur rotule se trouvant sur la plaque frontale à la droite du lance-fusée. Pour évacuer les fumées à l'interieur du poste de combat un ventilateur était disposé sur le toit.
At the interior in the station of combat, the projectiles were arranged by two in 6 ammunition racks allowing a total of 12 rounds maximum. A thirteenth blow could be stored directly in the tube of launching. The projectiles used by Sturmtiger were with hollow-charge and explosive with great power. The R Sprenggranät 4581, gauges 380 had a total length of 1.42m and weighed 345kg! The maximum range of shooting of Sturmtiger was of 5670m. All that was on the point of impact and in the neighbourhoods was pulverized! The armament of Sturmtiger was supplemented by a MG34 assembled on ball being on the frontal plate to the right of the rocket launcher. To evacuate the smoke at the interior of the station of combat a ventilator was laid out on the roof.
Vue interne du poste de combat.

Roquette de 380mm.

Inside view of the combat compartment.

380mm Rocket.
L'équipage du Sturmtiger était composé de 5 hommes: le commandant, le pilote, le tireur et deux chargeurs. Le Sturmtiger fut une arme très efficace contre les positions fortifiées et les rassemblements d'hommes et de matériels. Seulement comme le Tigre il souffrait de défaillances mécaniques qui causèrent beaucoup d'abandons d'équipage. Ce monstre imposant n'était de plus pas à l'abri des armes antichars ennemies à cause de sa masse facilement repérable. L'arrière du Sturmtiger était plus vulnérable et la plupart des attaques se situaient sur ce point. Au total seulement 18 Tigres furent convertis en Sturmtiger. Ces géants de 68 tonnes furent versés dans des Sturmtigers Kompanies et participèrent surtout à des combats défensifs.
The crew of Sturmtiger was composed of 5 men: the commander, the pilot, the gunner and two chargers. Sturmtiger was a very effective weapon against the fortified positions and the gatherings of men and hardware. Only as the Tiger it suffered from mechanical failures which caused many abandonments of crew. This imposing monster was not moreover not in the shelter of the enemy anti-tank weapons because of its easily locatable mass. The back of Sturmtiger was more vulnerable and the majority of the attacks were on this point. On the whole only 18 Tigers were converted into Sturmtiger. These giants of 68 tons were versed into Sturmtigers Kompanies and took part especially in defensive actions.
| | |
| --- | --- |
| | |
| Chargement d'un projectile de 380mm. Ce n'était pas simple ! | Soldats américains inpresionnés par la taille du mortier et de ses munitions. |
| Loading of a projectile of 380mm. It was not simple! | American soldiers impressed by the size of the mortar and its ammunition. |
| | |
Les Sturmtigers furent versés dans trois Panzer Sturmmörser Kompanien (PzStuMrKp)-1000, 1001 et 1002 surtout utilisées sur le front Ouest. A l'origine chaque compagnie devait être équipée de 14 Sturmtigers, mais en raison de la production tros limitée le nombre a été réduit à quatre par compagnie (deux par peloton). La première compagnie , la PzStuMrKp 1000, fut formée le 13 août, 1944, suivie de la PzStuMrKp 1001 en septembre et de la PzStuMrKp 1002 en October-Novembre. Les Sturmtigers seront utilisés pour la première fois à Varsovie, le 19 août, 1944, où deux véhicules furent utilisés pendant le soulèvement de la ville dans des combats de rue. Les PzStuMrKp 1000 et PzStuMrKp 1001, disposaient d'un total de sept Sturmtigers, et furent envoyées à l'Ouest pour participer à l'ultime offensive allemande dans les Ardennes belges. Ils participèrent ensuite à la bataille finale sur le territoire allemand en 1945. Il va sans dire que les 18 Sturmtigers produits, n'eurent guère d'effet sur le déroulement de la guerre. Cependant c'étaient d'excellentes armes défensives mais étaient lents et mécaniquement peu fiables. En effet bon nombres furent abandonnés et détruits par leurs équipages en raison de pannes mécaniques ou de pannes d'essence. Leur blindage épais les protégeaient contre n'importe quel char ennemi, et il faillait souvent utiliser l'artillerie lourde et l'aviation d'attaque au sol pour les anéantir. Pour preuve de sa puissance de feu, en janvier 1945, un seul tir d'un Sturmtiger de la PzStuMrKp 1001 détruisit trois chars moyens américains M-4 Sherman à Visé en Belgique durant la bataille des Ardennes.
Organisation d'Unité:
KstN 1161 Panzer-Sturm-Mörser-Kompanie " Tigre " (15 Sept 1944)
Personnel: 79
Véhicules: 4 Sturmpanzer VI Sturmtiger,
1 SPW (SdKfz 251/18 Beobachtungswagen)?, 11 Lkw., 4 Zgkw.
HQ: 1 moto 1 moto avec sidecar, 1 voiture légère, 1 SPW (SdKfz 251/18 Beobachtungswagen)
Peloton (x2): 1 moto, 2 Sturmpanzer VI Sturmtiger
Section d'Entretien: 1 voiture légère, 2 camions (3 tonnes)
Trains: 1 moto avec sidecar, 1 voiture légère, 9 camions (3 tonnes)
Sturmtigers were versed in three Panzer Sturmmörser Kompanien (PzStuMrKp)-1000, 1001 and 1002 were especially used on the Western front. With the origin each company was to be equipped with 14 Sturmtigers, but because of the very limited production the number was limited to four per company (two by group). The first company, PzStuMrKp 1000, was formed on August 13, 1944, was followed of PzStuMrKp 1001 in September and PzStuMrKp 1002 in October-November. Sturmtigers will be used for the first time in Warsaw, August 19, 1944, where two vehicles were used during the revolt of the city in street battles. PzStuMrKp 1000 and PzStuMrKp 1001, had a total of seven Sturmtigers, and were sent to the West to take part in the ultimate German offensive in the Belgian Ardennes. They took part finally in the ultimate battle on the German territory in 1945. It goes without saying that the 18 Sturmtigers produced, hardly had effect on unfolding of the war. However it was excellent defensive weapon but was slow and mechanically not very reliable. Indeed good numbers were abandonned and destroyed by their crews because of mechanical breakdowns or gasoline shortages. Their thick shielding protected it against any enemy tank, and it often failed to use heavy artillery and the ground-attack aviation to destroy it. For proof of its fire power, in January 1945, only one shooting of Sturmtiger of PzStuMrKp 1001 destroyed three American medium tanks M-4 Sherman in Visé in Belgium during the battle of the Bulge.
Organization of Unit:
KstN 1161 Panzer-Sturm-Mörser-Kompanie " Tiger " (15 Sept 1944)
| | |
| --- | --- |
| | |
| La puissance de feu du Sturmtiger était dévastatrice. | Sturmtiger capturé dans les faubourgs de la ville de Drolshagen en Allemagne, le 11 avril 1945, par la 8e ID américaine. |
| The fire power of Sturmtiger was frightening and promise of significant destruction. | Sturmtiger captured in the suburbs of the city of Drolshagen in Germany, April 11 1945, by the 8th American ID. |
| | src: Tank Illustrated n°9 |
La Sturm-Mörser-Kompanie 1000: Cette Kompaniedisposant seulement de trois Sturmtigers opérationnels, en même temps que la St.Mrs.Kp.1001 vers la mi Décembre 1944 fut transferrée de la 15e Armee aux groupes d'assaut de la 6e SS-Panzer Armee en vue de l'offensive "Wacht Am Rhein" dans l'Ardennes belges. En raison du transport et des difficultés mécaniques, les véhicules de la Stu.Mrs.Kp.1000 n'atteignirent jamais leur point de jonction, et certaines sources placent un véhicule de cette unité en Alsace en janvier 1945 durant l'opération ratée "Nordwind".
La Sturm-Mörser-Kompanie 1001: Après avoir atteint la zone de départ de l'opératon "Wacht Am Rhein", la Kompanie 1001 fut utilisée sur le front de l'Eifel près de Duren et d'Euskirchen en décembre de 1944. Après la retraite elle prit position sur la rive est du Rhin, et fut utilisée une dernière fois dans la région de Bonn près de Drolshagen début 1945. En raison de problèmes techniques, les 3 Sturmtigers survivants furent sabordés par leurs équipages.
La Sturm-Mörser Kompanie 1002: Cette Kompanie débuta sur le front ouest lors terrible la bataille du Reichswald. En mars 1945 effectue une retraite à travers le Rhin à Rheinberg, elle fut ensuite utilisée brièvement près de Kirschellen. Durant sa retraite vers la Kompanie faisait feu sur ses poursuivants puis effectua un arrêt près de Polsum; près de la Marne, et à proximité de Datteln. Manquant de carburant, de lubrifiants, et de munitions, en mars, près de Minden, les équipages des deux derniers véhicules sabordèrent ces derniers et se rendirent aux Alliés.
Sturm-Mörser-Kompanie 1000: This unit having only three Sturmtigers operational, at the same time as St.Mrs.Kp.1001 mid December 1944 was transferred from 15th Armee into the groups of attack of 6th SS-Panzer Armee for the offensive " Wacht Am Rhein " in the Belgian Ardennes. Because of transport and mechanical difficulties , the vehicles of Stu.Mrs.Kp.1000 never reached their assemblage point, and certain sources place a vehicle of this unit to Alsace in January 1945 during the missed operation " Nordwind ".
Sturm-Mörser-Kompanie 1001: This unit after to have reached the starting zone of the operation " Wacht AM Rhein ",was used on the front of Eifel close to Duren and Euskirchen in December of 1944. After the retirement behind the eastern bank is of the Rhine, and was used last once in the area of Bonn close to Drolshagen at the beginning of 1945. Because of technical problems, the 3 Sturmtigers survivors were scuttled by their crews.
Sturm-Mörser Kompanie 1002: This unit began on the western front at the time terrible the battle of Reichswald. In March 1945 carries out a retirement through the Rhine at Rheinberg, it was then used briefly close to Kirschellen. During its retirement towards Kompanie made fire on its prosecutors then carried out a stand Polsum; close to the marl, and near Datteln. Lack of fuel, lubricants, and ammunition, in March, close to Minden, the crews of the last two vehicles scuttled these last and went to the Allies.



Sources:
Tiger in action, Armor Number 27 (squadron/signal publications, inc.)
Connaissance de l'Histoire (Hachette) - N°17 - " Les chars de combat allemands 39-45"
Connaissance de l'Histoire (Hachette) - N°5 - " Véhicules blindés allemands 39-45"
Les Blindés de la Seconde Guerre Mondiale (Atlas)
Tiger I Heavy Tank 1942-1945 (Osprey Military) - New Vanguard N°5
Sturmartillerie & Panzerjäger 1939-1945 (Osprey Military) - New Vanguard N°34
Site "Achtung Panzer" - http://www.achtungpanzer.com
Site "WWII Vehicles" - http://www.wwiivehicles.com
Site "Second World War Armour" - http://www.onwar.com/tanks/index.htm