Sturmpanzer II Bison Assault Gun
Dès les premiers mois de la guerre, il devient évident que le Panzer II était obsolète en tant que char de combat et il fut décidé d'utiliser son châssis toutefois excellent pour tout une série d'armes automotrices, c'est pourquoi un grand nombre de châssis furent produits, qui jamais ne furent complétés en tant que char de bataille. Le châssis du Panzer II fut donc utilisé pour servir de base à un canon d'assaut doté d'une superstructure ouverte, le Sturmpanzer II. Un premier prototype improvisé fut testé à Kummersdorf le 13 juin 1940 et au mois d'octobre de la même année, Alkett produisit un autre prototype sur base du Pz.Kpfw II Ausf.B qui cependant n'offrait pas un espace adéquat pour une arme de gros calibre et en tout cas ne pouvait absorber son recul.
From the first months of the war, it becomes obvious that Panzer II was obsolete as a battle tank and it was decided to use its chassis however excellent for a series of motorized weapons, this is why a great number of chassis were produced, which never were not completed as battle tanks. The chassis of Panzer II was thus used to be used as a basis for an assault gun equipped with an opened superstructure, Sturmpanzer II. A first prototype was tested in Kummersdorf on June 13, 1940 and in October of the same year, Alkett produced another prototype on the basis of Pz.Kpfw II Ausf.B which however did not offer an adequate space for a large gauge weapon and in any case could not absorb its recoil.
En février 1941, cependant le Sturmpanzer II sur base du châssis du Pz.Kpfw II fut accepté pour la production. En juillet-août 1941, le premier exemplaire du Sturmpanzer II "Bison" basé sur un châssis rallongé de Panzer II fut produit. Alkett en produisit seulement 12: 7 en 1941 et 5 début 1942. Pour accueillir un imposant canon, le châssis fut élargie de 32 cm et allongé de 60 cm, ce qui nécessita l'addition d'un sixième galet de roulement. En fait peu de composants du Panzer II furent conservés, le moteur fut remplacés par exemple par un 8 cylindres (essence) Bussing-NAG développant 155 cv. L'armement principal du Sturmpanzer II était l'obusier lourd d'infanterie de 150 mm, le sIG 33 L/11 monté dans une superstructure ouverte couvrant le centre et l'arrière du char. L'obusier avait une portée maximum de 4700 m et pouvait tirer sous une position verticale de 75°. Son champ de tir horizontal était toutefois très limité. Cette arme selon l'élévation pouvait servir de canon d'infanterie ou comme mortier lourd. Il ne pouvait cependant accueillir que 10 coups de 150 mm. L'équipage était composé de 4 hommes: le commandant, le tireur, le chargeur et le pilote. Le montage d'une arme de ce calibre fit passer le poids à 16 tonnes, ce qui limitait fortement les performances de l'engin sur route et surtout en tout terrain.
In February 1941, however Sturmpanzer II on the basis of chassis of Pz.Kpfw II was accepted for the production. In July-August 1941, the first specimen of Sturmpanzer II "Bison" based on a lengthened chassis of Panzer II was produced. Alkett produced only 12: 7 in 1941 and 5 early 1942. To accomodate an imposing gun, the chassis was widened of 32 cm and lengthened of 60 cm, which required the addition of a sixth road wheel. In fact few components of Panzer II were preserved, the engine was replaced for example by one 8 cylinders (gasoline) Bussing-NAG developing 155 hp. The principal armament of Sturmpanzer II was the heavy howitzer of infantry of 150 mm, the sIG 33 L/11 assembled in an open superstructure covering the center and the back of the tank. The howitzer had a maximum range of 4700 m and could shoot until a maximum vertical elevation of 75°. Its horizontal field of fire however was very limited. This weapon according the elevation could be used as gun of infantry or like heavy mortar. It could not however accomodate that 10 rounds of 150 mm. The crew was composed of 4 men: the commander, the gunner, the loader and the pilot. The assembly of a weapon of this gauge made pass the weight to 16 tons, which strongly limited the performances of the machine on road and especially in cross-country.
150 mm sIG 33/1 L/11

Penetration of a shielding plate (mm) under a plunging angle of 30°

Ammo

Weight

Velocity

100 m

500 m

1000 m

1500 m

2000 m

GR 39 H1/A

25 kg

280 m/s

?

178

167

157

148
Tous les véhicules furent envoyés en Afrique du Nord (Libye) rassemblés dans deux compagnies de canons d'assaut lourds , les 707e et 708e sIG Kp (Sfl.), en avril 1942. Sur ce terrain spécial, les Sturmpanzers II souffrirent constamment de problèmes mécaniques et peu purent être maintenus opérationnels, le reste servant à fournir des pièces de rechange. Les Sturmpanzers II servirent dans le Deutsche Afrika Korps jusqu'au printemps 1943 quand le dernier fut abandonné. Les Britanniques en capturèrent 6 abandonnés et un autre démantelés dans un atelier de réparation. Notons que le canon de 150 mm et la superstructure du Sturmpanzer II fut également installé sur le Panzer III. Cette conversion fut réalisé sur le terrain, en Afrique du Nord, dans les ateliers du DAK.

All the vehicles were sent in North Africa (Libya) gathered in two companies of heavy assault guns, the 707th and 708th sIG Kp (Sfl.), in April 1942. On this special ground, Sturmpanzers II suffered constantly from mechanical problems and little could be maintained operational, the remainder being used to provide spare parts. Sturmpanzers II were useful in Deutsche Afrika Korps until spring 1943 when the last was abandoned. The British captured 6 abandoned and another dismantled in a repair shop. Let us note that the gun of 150 mm and the superstructure of Sturmpanzer II were also installed on Panzer III This conversion was a field conversion, in North Africa, in the workshops of the DAK.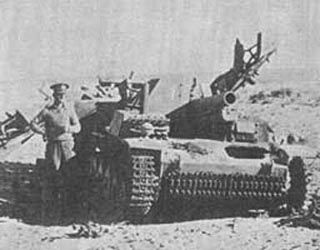 Sturmpanzer II capturé par les Britanniques en en afrique du Nord
Sturmpanzer II Bison captured by British in North Africa.
src: Les Blindés de la Seconde Guerre Mondiale (Atlas)



Sources:
Connaissance de l'Histoire (Hachette) - N°17 - " Les chars de combat allemands 39-45"
Connaissance de l'Histoire (Hachette) - N°5 - " Véhicules blindés allemands 39-45"
Les Blindés de la Seconde Guerre Mondiale (Atlas)
Sturmartillerie & Panzerjäger 1939-1945 (Osprey Military) - New Vanguard N°34
Site "Achtung Panzer" - http://www.achtungpanzer.com
Site "WWII Vehicles" - http://www.wwiivehicles.com
Site "Second World War Armour" - http://www.onwar.com/tanks/index.htm