Sturmgeschütz III Assault Gun
StuG III Ausf.A
Le StuG III fut sans aucun doute un des plus célèbre canon automoteur allemand de la deuxième guerre mondiale. Il fit son entrée en 1936 lorsque le Heereswaffenprüfamt (Direction de l'armement de l'armée de terre) accepte une demande de l'Inspection de l'infanterie qui souhaitait la création d'un canon automoteur de support. Daimler-Benz fut invité à établir les plans en se servant du châssis du Panzer III comme base pour ce nouveau véhicule blindé. La production de la superstructure et de l'armement fut confiée à Krupp. Le châssis utilisé pour les prototypes (O-serie) fut celui du Pz.Kpfw III Ausf.B. Ces engins étaient reconnaissable avec les portes d'accès présente sur le nez de la caisse. 5 prototypes de cette série furent fabriqués. Ce châssis fut recouvert d'une superstructure blindée (boulonnées) enveloppante rabaissée en place de la tourelle qui donnait au véhicule une silhouette de faible hauteur (ce qui était demandé). L'armement choisi fut le 75mm KwK 37 L/24 déjà monté sur le Panzer IV, à faible vitesse initiale (conçu pour un rôle d'appui-feu). Le canon de 75mm ne disposait que d'une traverse limitée de 12° de chaque côté. Aucune protection anti-éclats n'était prévue à l'origine, ce qui pouvait être très dangereux lorsque le canon était en élévation maximum. Seule une housse en toile entourait l'affût pour protéger l'équipage contre les intempéries. Le blindage était de 50mm à l'avant et de 10mm ailleurs.
StuG III was without any doubt one of the most famous German self-propelled gun of the Second World War. It made its entry in 1936 when Heereswaffenprüfamt (Direction of the armament of the Army) accepts a request of the Inspection of the infantry which wished the creation of a self-propelled gun of support. Daimler-Benz was invited to establish the plans while being useful of the chassis of Panzer III as bases for this new armoured vehicle. The production of the superstructure and the armament was entrusted to Krupp. The chassis used for the prototypes (O-series) was that of Pz.Kpfw III Ausf.B. These machines were recognizable with the access doors present on the nose of the hull. 5 prototypes of this series were manufactured. This chassis was covered with a lowered enveloping armoured superstructure (bolted) in place of the turret which gave to the vehicle a low silhouette (what was required). The selected armament was the 75mm KwK 37 L/24 already assembled on Panzer IV, at low initial speed (conceived for a role of fire support). The gun of 75mm did not have that a limited traverse of 12° on each side. No protection anti-glares was provided in the beginning, which could be very dangerous when the gun was in maximum elevation. Only a canvas cover surrounded the mounting to protect the crew against the bad weather. The shielding was of 50mm in front and of 10mm elsewhere.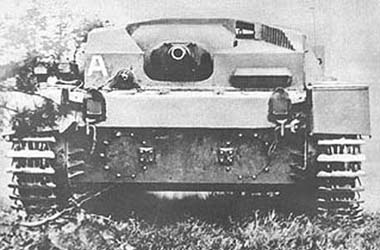 O-serien
A l'origine l'engin fut appelé Selbstfährlafette für Sturmgeschütz 75mm KwK (affût blindé pour canon d'assaut de 75mm) mais sera appelé par la suite simplement Sturmgeschütz III ou StuG III. Le premier modèle de production, basé sur le Pz.Kpfw III Ausf.F, produit à 30 exemplaires par Alkett, reçut la désignation de Sturmgeschütz III Ausf.A (Sd.Kfz 142). Ces engins seront fabriqués entre janvier 1940 et Mai 1940. Les premiers livrés participeront au début de la campagne de France au sein de 4 batteries.
With the origin the machine was called Selbstfährlafette für Sturmgeschütz 75mm KwK (mounting armoured for assault gun of 75mm) but will be called thereafter simply Sturmgeschütz III or StuG III. The first model of production, based on Pz.Kpfw III Ausf.F, product with 30 specimens by Alkett, accepted the designation of Sturmgeschütz III Ausf.A (Sd.Kfz 142). These machines will be manufactured between January 1940 and Mai 1940. The first delivered will take part in the beginning of the campaign of France within 4 batteries.
75 mm StuK 37 L/24

Penetration of a shielding plate (mm) under a plunging angle of 30°

Ammo

Weight

Velocity

100 m

500 m

1000 m

1500 m

2000 m

K Gr rot Pz

6.8 kg

385 m/s

41

39

35

33

30

Gr 38 H1/A

4.4 kg

450 m/s

70

39

35

33

30

Gr 38 H1/B

4.57 kg

450 m/s

75

39

35

33

30

Gr 38 H1/C

4.80 kg

450 m/s

100

39

35

33

30
Le moteur V-12 (essence) Maybach HL 120TR et la boîte de vitesse Variorex (10 vitesses en marche avant et 1 vitesse en marche arrière) lui donnaient des performances identiques au Panzer III. Le poids de combat était de 19600kg et l'équipage était composé de 4 hommes logé dans le compartiment de combat. L'espace intérieur du compartiment de combat permettait de transporter 44 obus de 75mm. L'engin était divisée en deux compartiments, celui de combat accueillant tout l'équipage, ainsi que le pilote et le compartiment moteur. L'accès au compartiment de combat se faisait via les 3 trappes présentes sur le toit. Les trappes d'inspection sur le glacis pouvaient servir de sortie de secours au pilote si nécessaire. Le pilote était assis dans le coin avant-gauche devant le gunner. Le commandant était assis dans le coin arrière-gauche et le radio-chargeur dans le coin arrière-droit. Un trou au fond d'un enfoncement (en V) sur la partie avant de la superstructure permettait au gunner d'utiliser sa lunette Rblf32. Cet enfoncement était strié pour empêcher les éclats d'atteindre l'orifice. Les gros défauts de ce premier modèle était la vulnérabilité des optiques et le manque de mitrailleuse pour la défense rapprochée. La suspension est identique à celle du Pz.Kpfw III Ausf.F avec les chenilles de 360mm. Le blindage était de 50mm à l'avant et 30mm ailleurs.
The V-12 engine (gasoline) Maybach HL 120TR and the gear box Variorex (10 foreward speeds and 1 reverse speed) gave it performances identical to Panzer III. The weight of combat was of 19600kg and the crew was composed of 4 men placed in the compartment of combat. The interior space of the compartment of combat made it possible to transport 44 rounds of 75mm. The vehicle was divided into two compartments, that of combat accomodating all the crew, as well as the pilot and the engine compartment. The access to the compartment of combat was done via the 3 trap doors present on the roof. The trap doors of inspection on the glacis could be used as escape exit to the pilot so necessary. The pilot had sat in the front-left corner in front of the gunner. The commander had sat in the back-left corner and the radio-loader in the back-right corner. A hole at the bottom of a depression (V-shape) on the front part of the superstructure made it possible to the gunner to use its sight tube, Rblf32. This depression was striated to prevent the glares to reach the opening. The large defects of this first model was the vulnerability of optics and the lack of machine-gun for brought closer defense. The suspension is identical to that of Pz.Kpfw III Ausf.F with the tracks of 360mm. The shielding was of 50mm in front and 30mm elsewhere.


Sources:
Connaissance de l'Histoire (Hachette) - N°17 - " Les chars de combat allemands 39-45"
Connaissance de l'Histoire (Hachette) - N°5 - " Véhicules blindés allemands 39-45"
Les Blindés de la Seconde Guerre Mondiale (Atlas)
Sturmartillerie & Panzerjäger 1939-1945 (Osprey Military) - New Vanguard N°34
Sturmgeschütz III in Action, squadron/signal publications, ARMOR N°14
Site "Achtung Panzer" - http://www.achtungpanzer.com
Site "WWII Vehicles" - http://www.wwiivehicles.com
Site "Second World War Armour" - http://www.onwar.com/tanks/index.htm