Heuschrecke 10 Assault Gun
En 1942, Krupp-Gruson sur base du châssis "Geschützwagen IV", mis au point un Waffenträger (porteur d'arme) muni d'une tourelle (ouverte au dessus) entièrement pivotante. Cette tourelle pouvait être retirée via une grue située à l'arrière du véhicule et transportée sur une remorque.Le véhicule sans sa tourelle pouvait être utilisé comme transport de munitions ou véhicule re décupération. L'arme principale était le leFH 18/1 L/28 (obusier léger de campagne de 105mm) pour le prototype mais les modèles de production devaient être armés du 105 mm LeFH 43 L/28. L'équipage était composé du commandant, du pilote et des trois servants du canon. Le blindage variait entre 10 et 30 mm. Le prototype de ce Waffenträger était équipé du moteur de 12 cylindres Maybach HL90 développant 360 ch qui devait sur les modèles de série être remplacé par le le moteur de 12 cylindres Maybach HL100. Le châssis était le même que celui utilisé pour les canons automoteurs Hummel et Nashorn. Seulement 3 prototypes furent produits en 1942-1943 par Krupp et indiqués en tant qu' Heuschrecke 10 ou 10.5 cm leFH 18/1 L/28 auf Waffenträger GW IVb.
In 1942, Krupp-Gruson on the basis of "Geschützwagen IV" chassis , developped a Waffenträger (weapon carrier) provided with an entirely swivelling turret (opened with the top). This turret could be withdrawn via a crane located at the back of the vehicle and transferred onto a trailer. Vehicle without its turret could be used like transport of ammunition or recovery vehicle. The principal weapon was the leFH 18/1 L/28 (light field howitzer of 105mm) for the prototype but the models of production were to be armed with the 105mm LeFH 43 L/28. The crew was composed of the commander, the pilot and the three gun's crewmen. The shielding varied between 10 and 30 mm. The prototype of this Waffenträger was equipped with the engine of 12 cylinders Maybach HL90 developing 360 hp which owed on the models series being replaced by the engine of 12 cylinders Maybach HL100. The chassis was the same one as that used for the self-propelled guns Hummel and Nashorn. Only 3 prototypes were produced in 1942-1943 by Krupp and were indicated as Heuschrecke 10 or 10.5 cm leFH 18/1 L/28 auf Waffenträger GW IVb.

Heuschrecke 10 (Krupp)
Un modèle fort semblable fut mis au point par Rheinmetall-Borsig, le 10.5 cm leFH 18/40/2 auf Geschützwagen III/IV (Sf) et produit par Deutsche Eisenwerke. Skoda travailla également sur des projets similaires basés sur le char moyen T-25 (Skoda) ou sur le VK1602 Leopard. On pensa également utiliser le châssis du Pz.Kpfw V Panther pour réaliser un Heuschrecke 15 mais ce ne fut jamais réalisé. Ces engins devaient en principe fournir une plus grande mobilité à l'obusier de campagne de 105 mm.
An extremely similar model was developed by Rheinmetall-Borsig, 10.5 cm leFH 18/40/2 auf Geschützwagen III/IV (Sf) and produced by Deutsche Eisenwerke. Skoda also worked on similar projects based on the medium tank T-25 (Skoda) or on the VK1602 Leopard. One also thought of using the chassis of Pz.Kpfw V Panther to realize Heuschrecke 15 but it was never realized. These machines were to in theory provide a greater mobility to the field howitzer of 105 mm.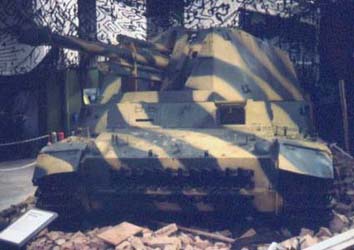 Heuschrecke 10 (Reihnmetall-Borsig)
105 mm leFH 18 L/28

Penetration of a shielding plate (mm) under a plunging angle of 30°

Ammo

Weight

Velocity

100 m

500 m

1000 m

1500 m

2000 m

PzGr

14 kg

470 m/s

63

59

54

50

46

GR 39 H1/A

12.3 kg

495 m/s

80

59

54

50

-

GR 39 H1/B

12.1 kg

495 m/s

90

59

54

50

-

GR 39 H1/C

12.35 kg

495 m/s

100

59

54

50

-
Heuschrecke 10 (Aberdeen Museum)


Sources:
Connaissance de l'Histoire (Hachette) - N°17 - " Les chars de combat allemands 39-45"
Connaissance de l'Histoire (Hachette) - N°5 - " Véhicules blindés allemands 39-45"
Les Blindés de la Seconde Guerre Mondiale (Atlas)
Sturmartillerie & Panzerjäger 1939-1945 (Osprey Military) - New Vanguard N°34
Site "Achtung Panzer" - http://www.achtungpanzer.com
Site "WWII Vehicles" - http://www.wwiivehicles.com
Site "Second World War Armour" - http://www.onwar.com/tanks/index.htm