Marder II Tank Destroyers
Marder II Ausf.A/B/C/F
Le retrait du Panzer II dès 1942 des unités de combat des Panzerdivisions représenta une excellente opportunité pour fournir à toutes sortes d'armes antichars ou autres pièces d'artillerie une mobilité qui leur faisait défaut. De plus le châssis du Panzer II fut produit en très grand nombre, plus que le nombre réel de chars complétés. Le Marder II basé sur le châssis du Panzer II entre dans cette catégorie d'armes, plus précisément dans celle de l'artillerie antichar blindée mobile ou Panzerjägers. Le Marder II fut réalisé à partir des châssis disponibles de Pz.Kpfw II Ausf.A/B/C/F équipés du canon de 75 mm Pak 40/2 L/46 antichar dans une superstructure ouverte. Sa désignation officielle était 7.5 cm Pak 40/2 auf Fahrgestell Pz.Kpfw II (Sf). Le Marder II utilisait le châssis et la superstructure standard du Panzer II avec un compartiment de combat central entièrement réaménagé. Le Marder II était dirigé par un équipage de trois hommes: le pilote dans le poste de pilotage, le commandant-tireur et le chargeur dans le poste de combat. Le canon de 75 mm disposait d'une réserve de 37 obus. Le compartiment de combat était légèrement protégé et était ouvert au dessus et à l'arrière.
The withdrawal of Panzer II from 1942 of the units of combat of Panzerdivisions represented an excellent advisability to provide to all kinds of anti-tank weapons or other pieces of artillery a mobility which was missing to them. Moreover the chassis of Panzer II was produced in very great number, more than the real number of completed tanks. Marder II based on the chassis of Panzer II is included in this category of weapons, more precisely in that of the mobile armoured anti-tank artillery or Panzerjägers. Marder II was realized starting from the chassis available of Pz.Kpfw II Ausf.A/B/C/F equipped with the anti-tank gun of 75 mm Pak 40/2 L/46 in an open superstructure. Its official designation was 7.5 cm Pak 40/2 auf Fahrgestell Pz.Kpfw II (Sf). Marder II used the chassis and the standard superstructure of Panzer II with a central compartment of combat entirely refitted. Marder II was directed by a crew of three men: the pilot in the cockpit, the commander-gunner and the loader in the station of combat. The gun of 75 mm had a reserve of 37 rounds. The compartment of combat was slightly protected and opened on the top and the back.
Le 75 mm Pak 40/2 L/46 possédait un champ de tir horizontal limité à 32° sur la gauche et 25° sur la droite et un champ de tir vertical variant entre -8° et +10°. Pour sa défense rapprochée, le Marder II disposait d'une mitrailleuse de 7.92 mm MG 34 mise à feu à partir du compartiment de combat. L'arme standard du Marder II était le 75 mm Pak mais en raison de pénuries dans les livraisons de ce canon, plusieurs Marders II furent équipés du canon de 50 mm Pak 38 L/60 antichar. Ces Marders spéciaux furent appelés 5cm Pak 38 L/60 auf Fahrgestell Panzerkampfwagen II (Sf).
The 75 mm Pak 40/2 L/46 had a horizontal field of fire limited to 32° on the left and 25° on the right and a vertical field of fire variable between -8° and +10°. For its brought closer defense, Marder II laid out of a machine-gun of 7.92 mm MG 34 firing starting from the compartment of combat. The standard weapon of Marder II was the 75 mm Pak but because of shortages in the deliveries of this gun, several Marders II were equipped with the anti-tank gun of 50 mm Pak 38 L/60. These Marders special were called 5cm Pak 38 L/60 auf Fahrgestell Panzerkampfwagen II (Sf).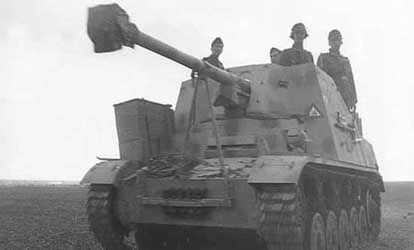 Marder II Ausf.A/B/C/F
75 mm Pak 40 L/46

Penetration of a shielding plate (mm) under a plunging angle of 30°

Ammo

Weight

Velocity

100 m

500 m

1000 m

1500 m

2000 m

PzGr 39

6.8 kg

790 m/s

106

96

85

74

64

PzGr 40

4.1 kg

990 m/s

143

120

97

77

-
Le Marder II fut produit dans les usines FAMO, MAN et Daimler-Benz entre juin 1942 et juin 1943 à 576 exemplaires. Notons que 75 Marders II supplémentaires seront convertis entre juillet 1943 et mars 1944. Comme tout Panzerjäger, le Marder II fut versés dans les Panzerjäger Abteilungen des Panzerdivisions.
Marder II was produced in the factories FAMO, MAN and Daimler-Benz between June 1942 and June 1943 to 576 specimens. Let us note that additional 75 Marders II will be converted between July 1943 and March 1944. Like any Panzerjäger, Marder II was versed in Panzerjäger Abteilungen of Panzerdivisions.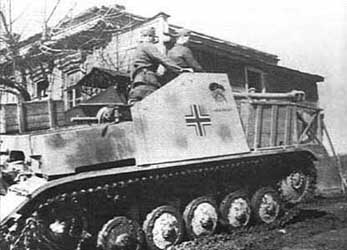 Marder II Ausf.A/B/C/F
Le Marder II fut utilisé à partir de 1942 sur tous les principaux théâtres d'opération jusqu'à la fin de la guerre bien qu'il ne représentait qu'une solution intérimaire en attendant la mise au point de la deuxième génération de chasseurs de chars les Jagdpanzers (super chasseurs de char). Le Marder II avec son 75 mm Pak 40/2 était une redoutable arme antichar, très efficaces lors des engagements à longue distance et dans les embuscades, mais en raison de son faible blindage était complètement inadapté pour des combats rapprochés, chars contre chars.
Marder II was used since 1942 on all the principal theatres of operation until the end of the war although it represented only one temporary solution while waiting for the development of the second generation of tank destroyers, the Jagdpanzers (super tank destroyers). Marder II with its 75 mm Pak 40/2 was a frightening anti-tank weapon, very effective during engagements at long distance and in the ambushes, but because of its weak shielding was completely unsuited for close combats, tanks against tanks.



Sources: