Panzerkampfwagen VI Tiger I Heavy Tank
Models: Tiger I (Early Production Model)
Le Tigre du début de production différait du modèle original (VK 4501 (H)) par la présence sur les côtés de la tourelle de sabords de tir pour armes légères, garde-boues avants antidérapants et une large boîte de rangement à l'arrière de la tourelle. L'autre différence, il a été aussi équipé de pré-filtres à air Feifel pour contre-carrer l'ingestion de poussière fine par le moteur. Les Tigres envoyés en Afrique du Nord furent tous équipés de ce système et furent appelés Tigers(Tp) (Tp=Tropisch) ou Tigres tropicaux. Les filtres ne seront plus montéspar la suite pour des raisons d'économies.
The Tiger of the beginning of production differed from the original model (VK 4501 (H)) by the presence on the sides of the turret of ports of shooting for light weapons, non-skid front mud-guards and a broad canister to the back of the turret. The other difference, it was also equipped with air prefilters "Feifel" to thwart the ingestion of fine dust by the engine. The Tigers sent in North Africa all were equipped with this system and were called Tigers(Tp) (Tp=Tropisch) or tropical Tigers. The filters will not be any more monted later for reasons of economies.
Des garde-boue ont été aussi installés des deux côtés de la coque. 6 générateurs de fumée de 90mm ont été montés sur chaque côté de la tourelle parfois remplacés par un lanceur de grenade de 90 mm installé sur le toit du char. La suspension consistait en 2 x 24 roues de route avec des bandages en caoutchouc.
Mudguards were also installed on the two sides of the hull. 6 generators of smoke of 90mm were assembled on each side of the turret sometimes replaced by launchers of grenade of 90 mm installed on the roof of the tank. The suspension consisted of 2 X 24 wheels of road with rubber bindings.
Tigre I doté d'un tube télescopique Snorchel destiné à approvisionner le moteur en air quand le char était immergé (profondeur max. 3.96m) . Ce dispositif trop compliqué sera abandonné après 450 exemplaires.

Tiger I equipped with a telescopic tube Snorchel intended to supply the engine in air when the tank was immersed (max. depth 3.96m). This too complicated device will be abandoned after 450 specimens.
Différents types de coffres de tourelle des premiers Tigres.


Different types of turret boxes of the first Tigers.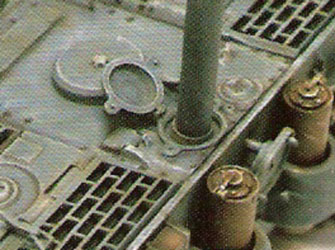 Models: Tiger I (Mid Production Model)
Le tigre du début de la production souffrait de différents problèmes connus par tout nouveau véhicule et des améliorations seront donc apportées (à la demande les équipages engagés dans les zones de combat). Les plus significatives furent le remplacement de la coupole de commandant du modèle " tambour " (les episcopes avec les verres blindés offrait seulement une vision restreinte) par une coupole (à partir de juillet, 1943) avec sept episcopes, une trappe pivotante et une circulaire de mitrailleuse antiaérienne, et la supression des pré-filtres à air Feifel pour simplifier et soulager la production.
The Tiger of the beginning of production suffered from different problems which knew all the new vehicles. improvements will be so brought (in the demand notably crews on the battle zones). The most significant was the replacement of the commander's impressive cupola of style "drum" (the episcopes with armoured glasses offered only a restricted vision) by a cupola (from July, 1943) with seven episcopes, a swivelling hatch and a support for antiaircraft machine gun, and the supression of Feifel pre-air cleaners to simplify and relieve the production.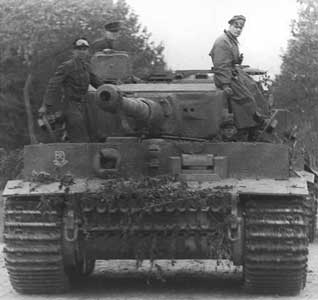 Tiger I (Mittlere Produktion Modell)
src: Tiger in action, Armor Number 27
(squadron/signal publications, inc.)
À partir de septembre, 1943, un fini de " Zimmerit " (pâte antimagnétique pour empêcher la pose des mines) sera appliquée aux parois verticales. Une chaise de route fut installée sur le plateau arrière du Tigre un mois plus tard pour maintenir le canon immobile pendant le transit. Les deux phares placés sur l'avant du toit de la caisse seront remplacés par un seul phare monté sur le centre de la plaque frontale de la superstructure. Du début de 1944, les sabordsd de tir sur la tourelle seront supprimés. Ces tigres avaient toujours les galets avec bandages en caoutchouc, mais la plupart du temps les galets extérieurs étaient retirées dans la zone de bataille (8 galets) pour diminuer les risques de blocage provoqués par les boues et la neige gelée sur le front oriental. Autre fait remarquable vu de l'extérieur, sur le masque du canon, les deux trous de la lunette binoculaire du gunner étaient protégés par un bloc blindé. Les tigres qui furent produits entre juillet, 1943 et février 1944, furent versés dans cette catégorie et environ 470-480 copies de ce type furent réalisées et envoyées pour la plupart en Russie. Il est nécessaire de noter que cette classification n'est pas absolue en effet les tigres intermédiaires présentant les caractéristiques de deux périodes rendent difficile leur classification.
From September, 1943, " Zimmerit's " cover (anti-magnetic pate to prevent the pose of mines) will be applied to the vertical walls. A gun lock was installed on the rear deck of Tiger one month later to maintain immovable cannon during the transit. Both lighthouses placed on the front of the roof of the hull will be replaced by an unique lighthouse mounted on the center of the frontal plate of the superstructure. From the beginning of 1944, the scubbles of shot on the turret will be abolished. These Tigers preserved still the road wheels with rubber bandages, but mostly the outside road wheels were removed in battle zone (in everything 8 road wheels less) to decrease the risks of blocking caused by muds and the snow frozen on the eastern front. The other remarkable fact of the outside, on the mantlet, both holes of the binocular sight of the gunner were protected by an armoured block. Tigers which were produced between July, 1943 and January, 1944, was classified in this category and about 470-480 copies of this type were realized and sent for the greater part to Russia. It is necessary to notice that this classification is not absolute indeed the intermediate Tigers presented the characteristics of two periods make difficult their classification.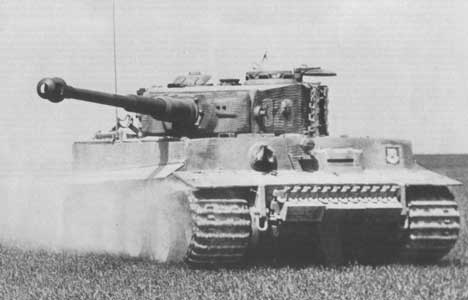 Tiger I (Mittlere Produktion Modell)
src: Tiger in action, Armor Number 27
(squadron/signal publications, inc.)
Models: Tiger I (Late Production Model)
En raison des difficultés rencontrés par l'industrie de guerre allemande et l'approvisionnement de matières premières ou encore le besoin de plus en plus urgent de tanks de remplacement, la production du Tiger fut rationnalisé. De nombreux composents furent standardisés pour passer aisèment d'un modèle de char à un autre (par exemle entre un Panther et un Tiger ou entre un Tiger et un Tiger II). Le changement le plus remarquable fut l'adoption de nouveaux galets de route plats à bandages d'acier dans une disposition moins compliquée de seulement 16 galets par côtés. La maintenance de la suspension en fut grandement simplifiée.
Because of the difficulties met by the war industry of Germay and the supply of raw materials or still the more and more urgent need of tanks of replacement, the production of Tiger was rationalized. Of numerous composents were standardized to pass easely of a model of tank in the other one (by exemle between Panther and Tiger or between Tiger and Tiger II). The most remarkable change was the adoption of new flat road wheels with bandages of steel in an arrangement less complicated with only 16 road wheels by sides. The maintenance of the suspension was largely simplified.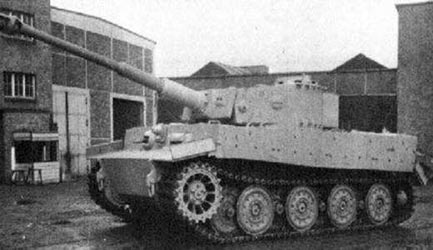 Tiger I (Spätes Produktion Modell/Modèle de fin de production) avec les galets entièrement en acier.
Remarquez qu'ils ont encore la lunette binoculaire dont on voit les deux orifices sur le masque.
Tiger I (Spätes Produktion Modell/Late Production Model) with the steel wheels.
Notice that they still have the binocular sight which one sees the two openings on the mantlet.
Other change, the sight of the gunner which on the previous models was binocular was replaced by a monocular sight with only a single hole on the mantlet.
Autre changement, la lunette de visée du tireur qui sur les modèles antérieurs était binoculaire fut remplacée par une lunette monoculaire ne laissant qu'un seul trou sur le bouclier du canon.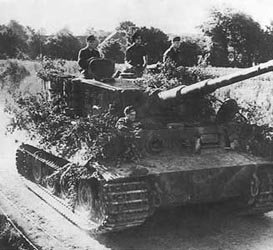 Tigre de fin de production bien camouflé voyageant sur une route normande.
Tiger of late production well camouflaged travelling on a Norman road.


Sources:
Tiger in action, Armor Number 27 (squadron/signal publications, inc.)
Connaissance de l'Histoire (Hachette) - N°17 - " Les chars de combat allemands 39-45"
Connaissance de l'Histoire (Hachette) - N°5 - " Véhicules blindés allemands 39-45"
Les Blindés de la Seconde Guerre Mondiale (Atlas)
Tiger I Heavy Tank 1942-1945 (Osprey Military) - New Vanguard N°5
Site "Achtung Panzer" - http://www.achtungpanzer.com
Site "Germany's vehicle history" - http://www.wwiivehicles.com
Site "Second World War Armour" - http://www.onwar.com/tanks/index.htm