Panzerkampfwagen VI Tiger I Heavy Tank
Design: Engine Compartment
Le moteur qui équipait les premiers Tigres était le V12 Maybach HL 210 P45 de 21 litres de cylindrée qui fut vite jugé insuffisant et remplacé par le HL 230 P45 de 24 litres à partir de la fin 1943. Les Tigres qui participèrent aux ultimes moments de la campagne d'Afrique (et aux affrontements estivaux en Russie) étaient aussi équipé du système de filtrage d'air Feifel qui était fixé à l'arrière et était relié au moteur via des tuyaux convergeant sur le plateau arrière vers la trappe du compartiment moteur (ces chars seront appelés Tigres(Tp) pour Tigres Tropicaux). Ce système cependant fut vite abandonné afin de simplifier la production du Tigre dès la fin des combats en Tunisie en 1943. Le Tigre était également équipé d'un système de direction entièrement régénérateur et continu à double système de braquage dans chaque train. La boîte de vitesse Maybach comportait 8 rapports en marche avant et en raison de son présélecteur procurait au Tigre une assez grande agilité et liberté de manoeuvre.
The engine which equipped the first Tigers was V12 Maybach HL 210 P45 of 21 liters of capacity which was fast considered insufficient and replaced by the HL 230 P45 of 24 liters from the end of 1943. The Tigers which participated at the ultimate moments in the campaign of Africa (and in the summery confrontations in Russia) were also equipped with the system of air cleaning Feifel which was fixed behind and was connected with the engine via pipes converging on the rear deck to the trapdoor of the engine compartment (these tanks will be called Tigers (Tp) for Tropical Tigers). This system however was fast abandoned to simplify the production of the Tiger from the end of the fights in Tunisia in 1943. The Tiger was also equipped with a completely regenerative and continuous system of steering with double system of stickup in every train. The gearbox Maybach contained 8 speeds (forwards) and because of its preselector got to Tiger a rather big suppleness and a high freedom of operation.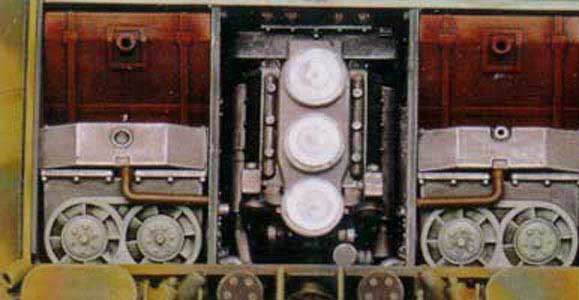 L'arbre de transmission comme sur les autres chars allemands traversait toute la caisse en longueur du moteur àla boîte de vitesse. Le système de direction était monté dans le compartiment de conduite. Les Tigres à l'origine furent équipés pour le franchissement de plans d'eau jusqu'à une profondeur de 4m d'un Schnorkel (mât télescopique) procurant l'air nécessaire. Trop coûteux ce système fut abandonné pour simplifier la production et les Tigres suivants ne furent plus capables que de franchissements à une profondeur de 1.20m. Contrairement à ce que l'on pourrait croire l'aptitude du Tigre à négocier les obstacles et les terrains lourds était aussi bonne, si pas meilleure que les autres véhicules à moteur allemands et alliés. Cependant, le Tigre exigea une série de modifications mineures afin de corriger de nombreux problèmes mécaniques qui étaient: des freins peu aptes pour un tel char, de nombreuses fuites, et une suspension insuffisante qui était initialement conçue pour un véhicule de 40 tonnes.
The shaft of transmission as on the other German tanks crossed all the hull in length from the engine to the gearbox. The system of steering had mounted in front. Tigers originally were equipped for the fording until a depth of 4m with Schnorkel (telescopic mast) getting the necessary air. Too expensive this system was abandoned to simplify the production and the following Tigers were not capable more than to ford in a depth of 1.20m. Contrary to what one could believe the capacity of the Tiger to negotiate the obstacles and the heavy grounds was so as good, better than the other German and allied motor vehicles. However, the Tiger required a series of minor modifications to correct numerous mechanical problems which were: little capable brakes for such a tank, numerous leaks, and insufficient suspension which was initially conceived for a vehicle of 40 tons.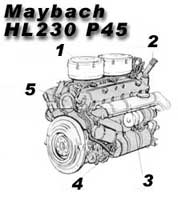 Air filters

Pipe of cooling

Exhaust

Radiator of oil

Water pump
Aux mains d'équipages expérimentés la conduite du Tigre exigeait des arrêts d'entretien, fréquents mais gardait un état opérationnel satisfaisant. Le Fgst Nr 250001, premier Tigre de série avec le moteur Nr 46052 était en rodage par Henschel avec seulement 25 kilomètres de route, avant d'être envoyé à Kummersdorf pour être tester. Pendant un essai de mobilité, le 28 mai 1942, après seulement 52 kilomètres, un blocage s'est produit dans la direction. Ce tigre changera trois fois de moteur lors des essais. Au 3 août 1942, ce tigre avait couvert un distance totale de 1046 kilomètres, au 31 mars 1943 de 5623 kilomètres et au 31 juillet 1943 un total de 7736 kilomètres. Ces chiffres démontrent qu'une fois les ennuis de démarrage surmontés, le Tigre pouvait résister à beaucoup d'abus (intentionnels) générés pendant les programmes d'essai.
In the hands of experimented crews the drive of the Tiger required frequent stops of maintenance, but kept an operational satisfactory state. Fgst Nr 250001, first Tiger of series with the engine Nr 46052 was breaking in by Henschel with only 25 kilometres of road, before being sent to Kummersdorf to be to made out a will. During an test of mobility, on May 28, 1942, after only 52 kilometres, a blocking occurred in the steering. This tiger will change three times engine during the attempts. On August 3, 1942, this tiger had covered one total distance of 1046 kilometres, on March 31, 1943 of 5623 kilometres and on July 31, 1943 a total of 7736 kilometres. These figures demonstrate that once the surmounted troubles of starting up, the Tiger could resist to many (deliberate) abuses generated during the trial programs.
Rear and different exhausts covers of Tiger I.

Rear deck with pre-air cleaners "Feifel"
Standard rear deck
Contrairement à ce que l'on croît, le Tiger était aussi mobile que la plupart des autres chars allemands et alliés. Comme tout nouveau modèle, le Tiger connu de nombreux problèmes en début de série qui requirent de nombreuses modifications en vue d'en améliorer le fonctionnement. Parmis ces problèmes, notons des freins, une suspension, impropres à un char de ce poids qui à l'origine devait peser dans les 45 tonnes. Le moteur lui même suffisait à peine à mouvoir l'engin et de nombreuses haltes étaent nécessaires pour garder le Tiger dans des conditions opérationnelles suffisantes. Cependant aucun de ces problèmes ne seront résolus durant la production même si une nouvelle suspension moins compliquée mais pas plus efficace sera installée sur les derniers modèles.
Contrary to what one believes, Tiger was as mobile as most of the other German and allied tanks. As any new model, Tiger known for numerous problems in the beginning of series which required numerous modifications to improve the functioning of it. Parmis these problems, let us note brakes, suspension, unfit in a tank of this weight which originally should weigh of 45 tons. The engine it even was enough hardly to move the machine and the numerous stopping places were necessary to keep Tiger in sufficient operational conditions. However none of these problems will not be resolved during the production even if a new less complicated but no more effective suspension will be installed on the last models. This suspension had for only advantages to be easier to maintain and to be less subject to the blockings provoked by the mud or the ice-cold snow.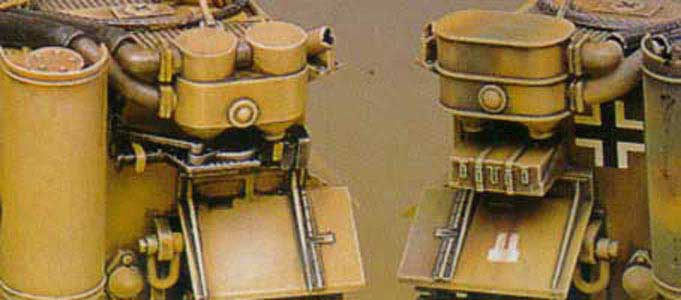 Two type of pre-air cleaners "Feifel" used by Frühe Produktion Modell and the Tiger(Tp).
Cette suspension avait pour seuls avantages d'être plus facile à entretenir et à être moins sujette aux blocages provoqués par la boue ou la neige gelée. Malgré tout ces problèmes, le Tiger gardait un degré appréciable de performance: Il pouvait atteindre les 45.4 km/h sur route en vitesse de pointe (quoique que ce ne fut pas conseiller afin de ne pas griller le moteur) même si la plupart du temps il se contentait d'une vitesse de 20 km/h et de 15 km/h hors route. Pour un tel char, le Tiger était assez agile, en effet il pouvait effectuer un demi-tour sur seulement 3.44 m. Il pouvait encore franchir des tranchées de 2.5 m de large, surmonter des obstacles hauts de 0.79 m, grimper des pentes de 35° et franchir des cours d'eau à une profondeur d'1.6 m (les premiers Tigres équipés du système de prise d'air snorchel pouvait traverser des plants d'eau à une profondeur d'environ 3.20m). Bien entendu, le poids de combat de 57 tonnes du Tiger, n'était pas sans conséquence sur la mobilité du char. Son énorme pression au sol (0.735 kg par cm2) lui interdisait les terrains trop moux. En effet de nombreuses photographies sur le front est montrent des Tigres prisonniers de la boue s'enfonçant inexorablement, piégés par leur propre poids. Cette donne limitait fortement l'emploi des Tigres en rase campagne. Autre effet pervers du poids du Tiger, sa consommation de carburant, elle état énorme ! Sur route il usait environ 500 litres au 100 km ce qui lui permettait une autonomie de 117 km, hors des sentiers fermes, sa consommation explosait jusq'à 900 km aux 100 réduisant son autonomie à seulement 67 km. Il n'est donc pas étonnant que la moindre défaillance dans le ravitaillement soit fatale au Tiger. Lors de la bataille des Ardennes, les équipages du Kampfgruppe Peiper durent abandonner tout leurs chars intacts à La Gleize faute de carburant et s'enfuir à pied ! Ces caractéristiques montre clairement les faiblesses du Tiger comme arme d'assaut mobile et le destinne plus logiquement à un rôle plus défensif donc moins mobile. En effet la dépendance du Tiger point de vue carburant l'obligeait à rester à faible distance des véhicules de ravitaillement à l'arrière ce qui en faisait pas vraiment un fer de lance.
Nevertheless these problems, Tiger kept a considerable degree of performance: It could reach 45.4 kph on road in maximum speed (although that it was not to advise not to roast the engine) even if most of the time it contented itself with a speed of 20 kph and 15 kph off road. For such a tank, Tiger was rather agile, indeed it could make an about-turn on only 3.44 m. It could again cross trenches of 2.5 m of wide, surmount high obstacles of 0.79 m, climb hillsides of 35 ° and cross streams in a depth of 1.6 m (the first Tigers equipped with the system of air inlet snorchel could cross water plants in a depth about 3.20m). Naturally, the weight of fight of 57 tons of Tiger, was not without consequence on the mobility of the tank. The enormous pressure on the ground (0.735 kg by cm2) forbade it too soft grounds. Indeed numerous photos on the front show Tigers prisoners of the mud, sinking inexorably, trapped by their own weight. This look limited strongly the employment of Tigers in the open countryside. The other opposite effect of the weight of Tiger, its consumption of fuel, it enormous state! On road it used about 500 liters per 100 km what allowed it an autonomy of 117 km, outside the firm grounds, the consumption explode until 900 l per 100 km reducing the autonomy to only 67 km. It is not so surprising that the slightest failing in the provisioning is fatal to Tiger. During the battle of the Ardennes, the crews of Kampfgruppe Peiper should abandon quite their intact tanks to "La Gleize" fault of fuel and run away on foot! These characteristics watch clearly the weaknesses of Tiger like mobile assault weapon and intend it more logically in a more defensive role so less mobile. Indeed the dependence of the Tiger point of view fuel obliged it to stay in weak distance of the vehicles of provisioning behind what made it not really an iron of lance.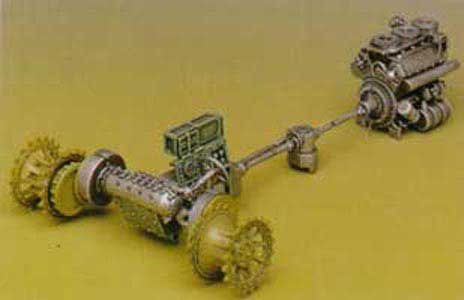 Système de propulsion du Tiger avec la transmission et les barbotins avants, l'arbre et le moteur.
Propulsion systel Tiger with the transmission and the sprocket wheels, the shaft and the engine.
Design: Suspension
La suspension du Tigre était composée de grands galets (à bandages de caoutchouc) imbriqués (triple recouvrement). Ces galets (24 de chaque côté) étaient en forme d'assiette. Cette suspension fut adoptée car elle permettait une répartition optimale de l'énorme poids du Tigre. Chaque côté avait 8 essieux avec barres de torsion disposés en quinconce.
The suspension of the Tiger consisted of big imbricated (triple covering) road wheels (rubber bandages). These road wheels (24 on each side) were in shape of plate. This suspension was adopted because it allowed an optimal distribution of the enormous weight of the Tiger. Every side had 8 axles with torsion bars arranged in staggered rows.
Suspension avec galets estampilés à bandages de caoutchouc
Suspension avec galets plats à bandages d'acier
Suspension with estampiled road wheels and rubber bendings
Suspension with flat road wheels with steel bendings
En effet les essieux de droite étaient disposés en arrière des essieux de gauche. Cette disposition était indispensable vu le nombre élevé d'essieux (16 en tout) traversant la caisse et permettait (avantage non négligeable) un déplacement doux et stable pour un tel monstre. Le Tigre utilisait deux types de chenilles, une de 520mm de large pour la route (ou le transport) et l'autre de 725mm de large pour le combat. Dans le premier cas, les galets externes étaient enlevés pour l'installation sur des wagons de chemin de fer. Cependant bien qu'offrant de grands avantage point de vue mobilité, cette suspension très sophistiquée était difficile à entretenir vu sa complexité et était assez vulnérable face à la boue et la neige gelées pouvant provoquer un blocage des galets ! Les Russes conscient de ce point faible programmèrent toutes leurs attaques d'hiver à l'aube au moment où les gelées étaient au plus fort. Plus tard les galets d'origines seront remplacés par des galets tout acier élastiques (comme sur le Tigre II et les derniers Panthers) à cause de la pénurie de caoutchouc. Les galets seront aussi moins nombreux (16 de chaque côté).
Indeed right axles were arranged at the back of left axles. This arrangement was indispensable seen the high number of axles (16 in everything) crossing the hull and allowed (not unimportant advantage) a sweet and stable movement for such a monster. The Tiger used two types of tracks, one of 520mm of wide for the road (or the transport) and other one of 725mm of wide for the fight. In the first case, the external road wheels were removed for the installation on rail cars. However although offering of big point of view mobility favors, this very sophisticated suspension was difficult to maintain seen its complexity and was rather vulnerable in front of the mud and the snow frozen being able to provoke a blocking of road wheels! The Russians conscious of this weak point programmed all their winter attacks at dawn as frosts were in the most hardly. Later the road wheels of previous history will be replaced by road wheels with any steel elastics bandages (as on the Tiger II and the last ones Panthers) because of the rubber scarcity. Road wheels will be also less numerous (16 on each side).
Design: Armor
Le Blindage du Tigre dans le but de faciliter la production était entièrement constituée de surface planes en acier laminé. La caisse et la superstructure était soudées, à la différence des modèles antérieurs utilisant une jointure boulonnée. La superstructure frontale et arrière du tiger étaient faites d'une seule pièce et des jointures à emboîtement, fixées par soudure étaient utilisées dans la construction du bas de caisse et de la superstructure.
Armor of the Tiger with an aim of facilitating the production entirely consisted of laminated steel plane surfaces. The lower hull and the superstructure were welded, unlike the former models using a bolted joint. The frontal and back superstructure of the tiger were made of only one part and joints with fitment, fixed by welding were used in the construction of the lower hull and the superstructure.
Red (Turret): 80mm of thickness, vertical wall
Green (Upper Hull): 80mm of thickness, vertical wall
Orange (Lower Hull): 60mm of thickness, vertical wall

Red (Tourret): 80mm of thikness,vertical wall
Orange (Lower Hull): 80mm of thickness, sloped at 82°

Red (Turret): 25mm of thickness, plate at 0 & 9°
Vert (Upper Hull): 25mm of thickness, horizontale plate
Orange (Lower Hull): 25mm of thickness, horizontale plate

src: Vincent Bourguignon
La très large superstructure surplombait de chaque côté les chenilles. Le char avait la même largeur sur toute sa longueur depuis la plaque de blindage frontale jusqu'à la plaque arrière. La plaque supérieur de l'avant de la caisse recouvrait toute la largeur du char. Le plancher était également fait d'une seule pièce épaisse de 25mm et longue de 4.80m, large de 1.80m. Pour les épaisseurs et les angles voir schémas.
The very broad superstructure overhung each side the tracks. The tank had the same width over all its length since the frontal armor-plate to the back plate. The superior plate of front of the hull covered all the width of the tank. The belly was also made of only one thick of 25mm and long of 4.80m, broad of 1.80m. For the thicknesses and the angles to see diagrams.


Sources:
Tiger in action, Armor Number 27 (squadron/signal publications, inc.)
Connaissance de l'Histoire (Hachette) - N°17 - " Les chars de combat allemands 39-45"
Connaissance de l'Histoire (Hachette) - N°5 - " Véhicules blindés allemands 39-45"
Les Blindés de la Seconde Guerre Mondiale (Atlas)
Tiger I Heavy Tank 1942-1945 (Osprey Military) - New Vanguard N°5
Site "Achtung Panzer" - http://www.achtungpanzer.com
Site "Germany's vehicle history" - http://www.wwiivehicles.com
Site "Second World War Armour" - http://www.onwar.com/tanks/index.htm